African American Alumni Council
About the AAAC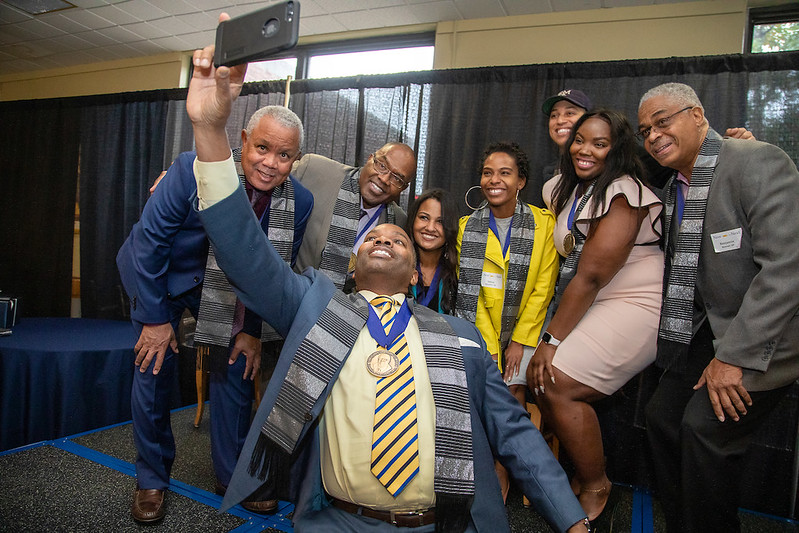 The AAAC engages current students and alumni in a network that connects them to the College and each other through effective, rewarding communication, programs and events. Our council embraces our collective responsibility to those who led the way among F&M's community of color and to those who will follow, both on campus and in the world at large.

The AAAC also celebrates and promotes the rich history of F&M alumni of color by building upon meaningful traditions and dynamic accomplishments. In addition, we represent the interests and issues of alumni of color in the conversations that affect the current and future directions and conditions involving the F&M community.
Virtual Graduation Reception Program
Members of F&M's African American Alumni Council and College community members welcome the Class of 2021 into the alumni body. This program was recorded on Thursday, May 13, 2021.
Blacks in Technology: Perspectives of F&M Black Alumni
The Black Community & Faith: Past, Present and the Future
Election 2020: The Impact and Influence of F&M Black Alumni
Session 2: Mental Health in the Age of Coronavirus and Protests
The Pioneers Club
In the fall of 1946, Dr. Sumner Bohee '50, Franklin & Marshall's first African American student, began his undergraduate studies at the College. Today, that pioneering spirit lives in students and alumni. The Council has created a giving society, the Pioneers Club, to honor the connection between student and alumni of color and the College. Read more about the Pioneers Club.
Meet the AAAC Members
African American Alumni Council Executive Committee
Executive Members at Large
Randolph Carnegie '74
Sharon Johnson '82
Patricia Claybrook '84
Ex Officio Members
Alumni Association Board:
Donnell Bailey '17
Aaron Bass '01
Preston Kilgore '14
Ericka Powell '94
Michelle Russell Flatt '00
Board of Trustees
Modia Butler '95
Shawn Jenkins '10
Ricardo Rivers '93
H. Art Taylor '80
The Sydney N. Bridgett '51 Medal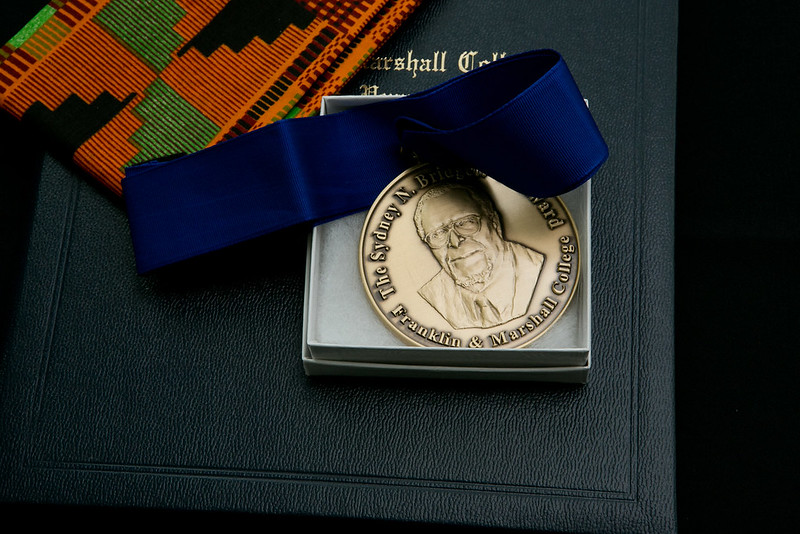 This honor is presented to Franklin & Marshall alumni of African descent for outstanding achievement in a chosen profession or endeavor.
Alumni selected for the Bridgett Medal come from diverse personal and professional backgrounds, exerting influence and providing support in a wide range of areas, including research studies and publications, leadership development, education, academic achievement, community service and the arts.
Bridgett Medal recipients provide positive examples to which current students can aspire, and they remind fellow alumni of our shared responsibility to ensure the continued vitality of F&M's community of color.
The AAAC Executive Committee heartily commends the recipients of the Bridgett Medal, and it extends its most sincere thanks for their extraordinary work as well as the equally extraordinary manner in which they represent alumni of Franklin & Marshall College.
About Sydney N. Bridgett '51
Sydney N. Bridgett '51 was a dedicated F&M alumnus who, after becoming the second African American graduate of the College, served as a civilian employee of the U.S. Air Force and went on to a distinguished career as an educator in the Lancaster area.
In addition, he was a founding member of the African American Alumni Council and a longtime supporter of the Black Student Union.
Past Recipients
2022
Frederick Reed '58, Retired Educator

Michael Hyman '79, Non Profit Director

Jeffrey Levy '83, Investment Banking

Robert "Kwesi" Koomson '97, Educator

Adara Combs, Esq. '09, Victim Advocate for the City of Philadelphia

Shakerra "Kerra Don" Lauther '11, Actress and Professional Dancer
2021
Randolph Carnegie '74, Tech Consulting Managing Director

Clinton McClain '83, Program Human Resources - Information & Systems Manager

Richard W. Rogers Jr. '90, Company President

Dr. Chad Lennon '03, Psychiatrist

Jessica Dunbar '13, "Socialpreneur" and Virtual Assistant

Preston Kilgore '14, Legislative Assistant

Tony Ross '91, AAAC Chair, Former Company Executive & CEO
2020
Shawn M. Lacy, J.D. '74, Trainer and Entrepreneur

Gwendolyn Poles-Corker, D.O. '75, Retired Medical Director

Lonnie E. Fuller Jr., M.D. '84, Physician

Kesha S. Moore, Ph.D. '93, Senior Researcher and Development Specialist & Associate Professor of Sociology

Kyle A. Ross '94, Business Executive

Duran L. Searles '04, Entrepreneur

Kristy Embrack Searles '05, Entrepreneur

Tigist A. Hailu '11, Clinical Research Program Manager
2019
Benjamin P. Bowser, Ph.D. '69 - Author and Retired Educator

William H. Vanderberg '76 - Retired Educator

Yancy D. Edwards, Ph.D. '82 - Educator

Keenan L. Smith '94 - Morning News Anchor

Christina Watlington, Ph.D. '96 - Clinical Psychologist

Intisar "Star" Hamilton '06 - Artist

Dorinda L. Foster, J.D. '09 - Control Room Compliance Officer

Shadoe Genesis Tarver '10 - Nonprofit Executive
2018
Calvin Baker '65 - Business Executive

Peter Rogers '69 - Retired Judge

Larry Coles '77 - Business Executive

Kimberly Fletcher '87 - Nonprofit Executive

Michelle Russell '99 - Educator

Stephen Tyson, Jr. '07 - Nonprofit Executive
2017
Charles Williams '66 - Partner in Law Firm

LeRoy Pernell '71 - Educator

Sharon Myrtice Johnson '82 - Retired, Manager of Sales

Hilary Green '99 - Educator

Marilise Hyacinth '03 - Psychiatrist
2016
Donna Glover '76 - Nonprofit Executive

Sylvester Cox '80 - Judge

Ricardo Rivers '93 - Business Executive

Nick Peterson '02 - Pastor
2015
Dr. Henry Wiggins '55 - Physician

Anthony Williams '79 – PA State Senator

Patricia Claybrook '84 – CEO, Jindan Cleaning

Jinnie Cristerna '94 – Author and Columnist, JET Magazine

Randy Wilkins '01 - Filmmaker
2014
Dr. Wanda Austin '75 – CEO, Aerospace

Horace Madison '88 - Entrepreneur

Dr. Donnell Butler '95 - Educator

Joaquim Hamilton '06 - Educator
2013
Rev. Louis Butcher '65 – Clergy

Louis Stewart '73 – Educator (posthumous)

Donald Marsh '79 – College Basketball Coach

Helen Cannady Saulny '83 – Educator

Mo Butler '95 – Chief of Staff, U.S. Senator Corey Booker

Dr. Cherise Hamblin Murphy '03 – Physician
2012
Antony Mahn '65 - Retired TV Producer

Paula Dow '76 – Judge

Philip Salmon '88 – Business Executive

Dr. Erica Powell '94 – Physician

Aaron Bass '01 - Educator
Graduation Breakfast
Since 1994, the African American Alumni Council has honored graduating seniors with a gift and a ceremony to welcome them officially to the alumni ranks. Graduating seniors join a very special group of more than 600 African and African American alumni. African American Alumni Council members, representatives of the Franklin & Marshall Alumni Association Board and other members of the College community join with family members to celebrate our newest alumni!