A Burning Passion for Anthropology
A childhood spent growing up around Native American artifacts unearthed in her Harleysville, Pa., backyard left Franklin & Marshall senior Madison Fortier with an abiding interest in archaeology.
"Whenever my dad would plant a tree or a tree would fall down or he would just be rototilling the garden, all these artifacts would be turned up," she recalled. "It was really incredible to have that connection to ancient history and I realized that was something that maybe I wanted to do."
Fortier's interest in ancient history began later (around 7th grade) than her archaeology interest, but by high school, she was considering both as a field of study in college.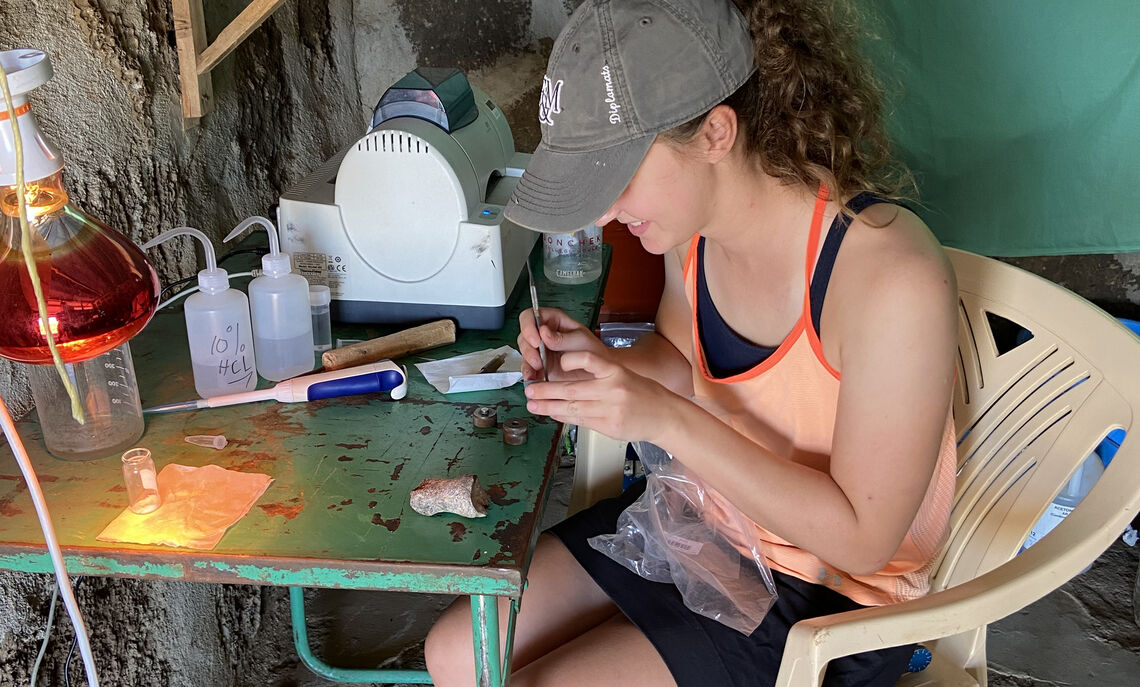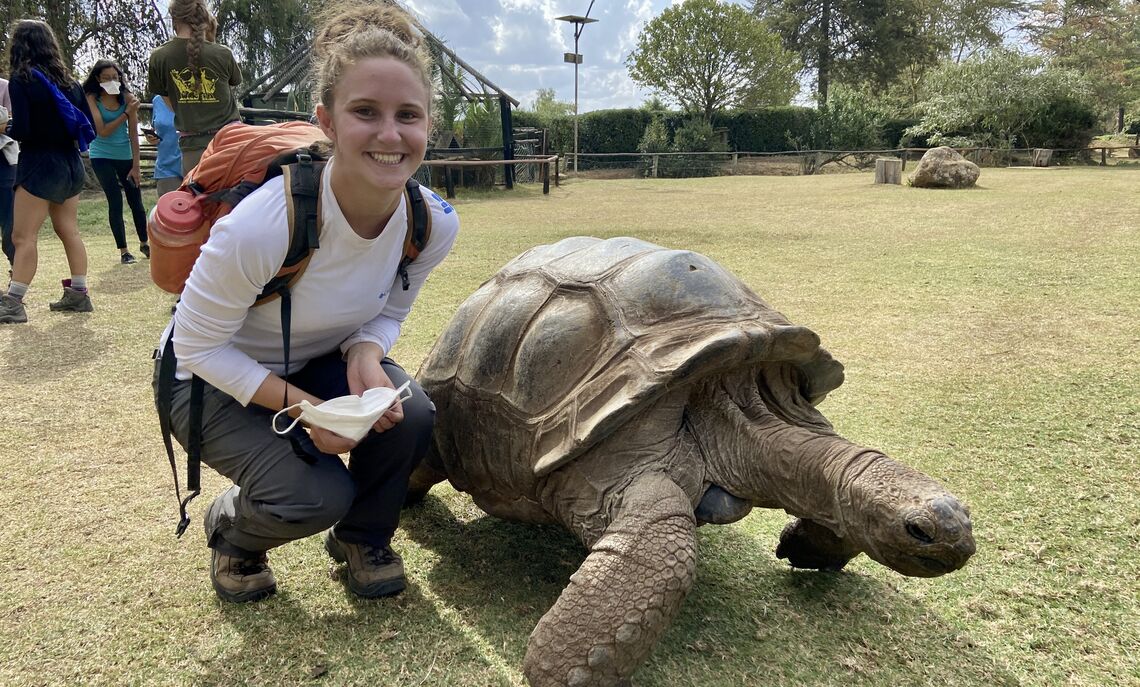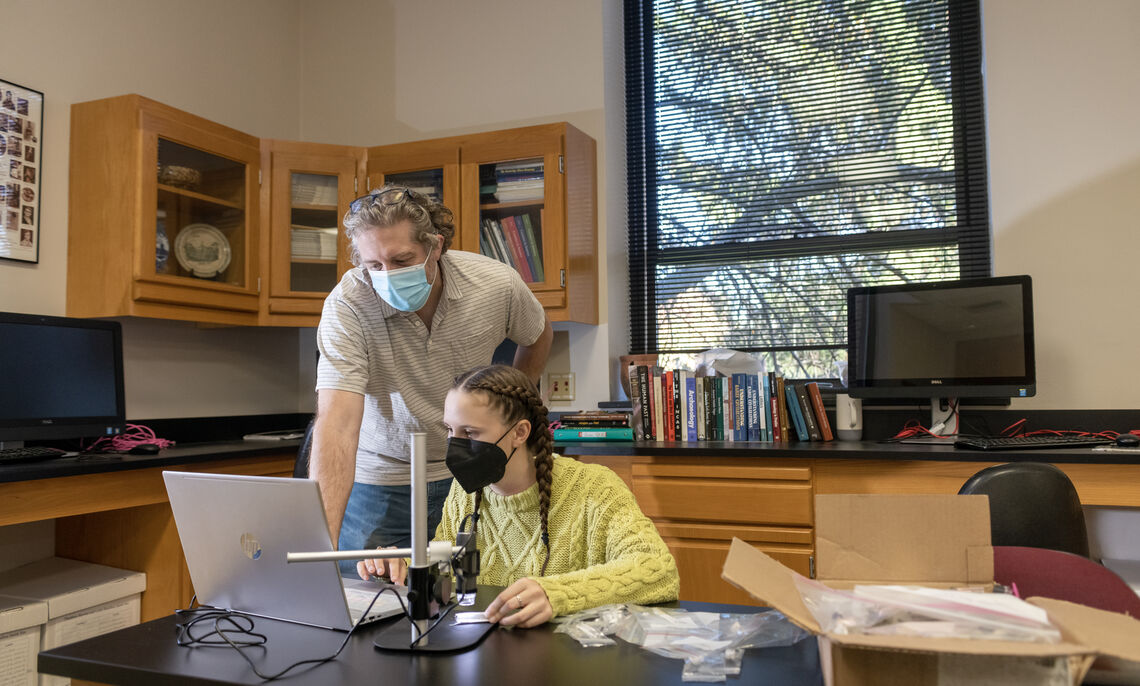 When she visited F&M in her college search, it was the related field of anthropology where she found she could combine her interests.
"I really wanted that small-school aspect with the incredible courses that F&M offered in the Department of Anthropology," she said.
During her tour before applying to F&M, Fortier met Associate Professor of Anthropology Scott Smith. In her first year, she was pleasantly surprised to find he was her academic adviser.
"He was really one of the reasons I decided to come here," she said. "It was also just looking at the courses they had to offer — from anthropology of medicine to anthropology of personhood to archaeology of the Middle East, to the Andes — just a wide range of stuff I could study."
Said Smith, "She came in with a real passion for archaeology. She's one of those students who is always engaged, always clued in to what's going on around campus, likes to be involved."
Fortier also found other aspects of the College conducive to her interests — the College House system (she's in Bonchek College House), the close-knit community, and small class sizes.
"She knows the appropriate scholarship to make her research relevant." — Associate Professor of Anthropology Scott Smith
"It seemed like there was a lot of room for leadership and development," she said. "If I went to a bigger school, yes, there would be more classes, but I wouldn't get that one-on-one attention from a professor and have the opportunities to make those relationships and establish them with professors and my fellow students."
One of the opportunities F&M helped her secure was a seven-week internship last summer in Kenya, where she worked at a 1.5-million-year-old archaeological site. The experience inspired her to study micro-archaeology and paleo-anthropology in graduate school.
"Micro-archaeology, that's when you're working with stuff that is so, so small," she said. "I was working at a site that was a fire site and the square that we were working in was smaller than half of your desk; we were excavating with dental picks, which are very tiny."
At the Koobi Fora formation, a geological landscape in northwestern Kenya, Fortier focused on the structural and morphological effects that fire has on bone cut marks, an experimental archaeological process that she continues to work on in F&M's archaeology lab.
"It's the effect fire has on bones with butchery marks or percussion marks, which is where you would have an anvil hammer stone, you have the bone lying across it, and you hit it with a rock and crack it open to get marrow," she said.
With help from her George Washington University-based mentor in Kenya, Fortier developed testing aspects of the project to determine whether past researchers have correctly read, and thereby understood, cut marks on unearthed bones.
"Students often have very broad questions that need to be narrowed; she'd gone through all the processes to narrow down the question," Smith said. "She knows the appropriate scholarship to make her research relevant."
Related Articles
December 1, 2023
Faculty Awarded $1 Million in Recent Grants
As F&M students turn the final pages of the fall semester, it's important to also celebrate members of the faculty and professional staff who help create an enriching academic environment.
October 6, 2023
Sociology Student Takes Action Against Human Trafficking
Sophomore Gubat Abdullaev spent the summer in Sweden researching the human-trafficking industry and presenting his findings to the Danish Institute for Study Abroad.
September 15, 2023
Student's Research Investigates World War II Mission in Germany
History and archaeology are F&M senior Gavin Vogel's twin studies of interest. This summer, he found himself immersed in both.