Two new production elements have been added to this fall's play, "The Winter's Tale," at Franklin & Marshall College's Roschel Performing Arts Center — a Broadway stage manager and guest professional stage designer.
"We're going to try and do that whenever possible, to have external mentors of that caliber working with the crew alongside our excellent department production professionals," Rachel Anderson-Rabern, associate professor of theatre and theatre program director, said.
The Shakespearean 17th-century play is updated for 2021, but not set in contemporary times.
"Because the play changes genres between the first half and the second half, we tried to create two very different kinds of aesthetic worlds that don't actually exist," Anderson-Rabern said.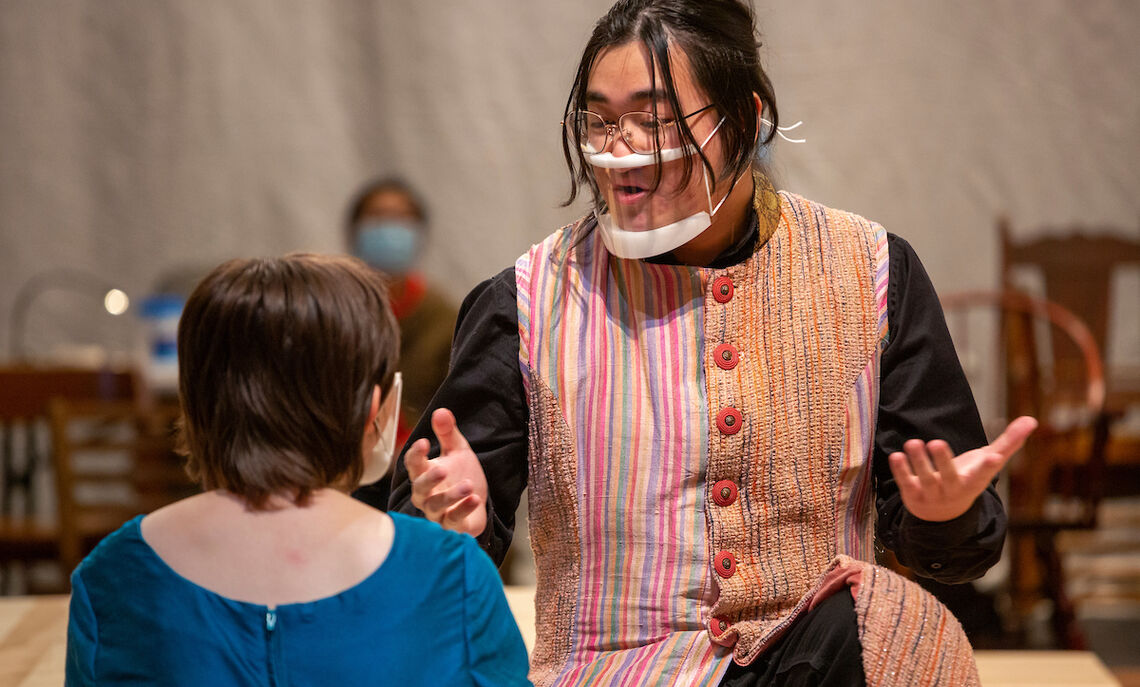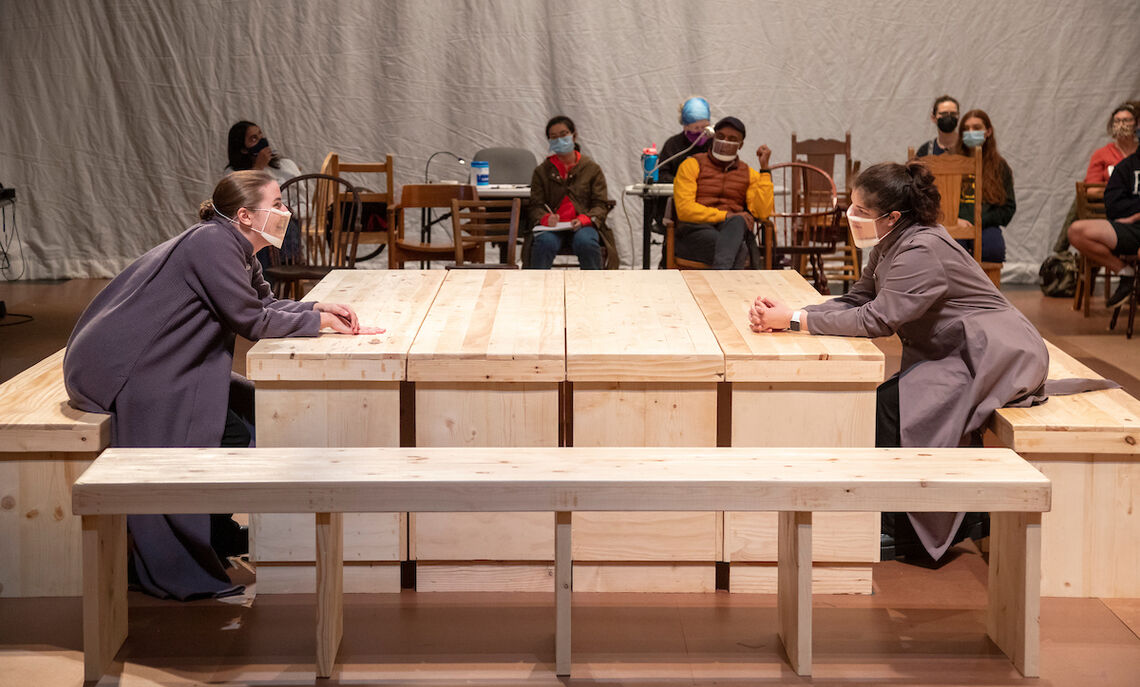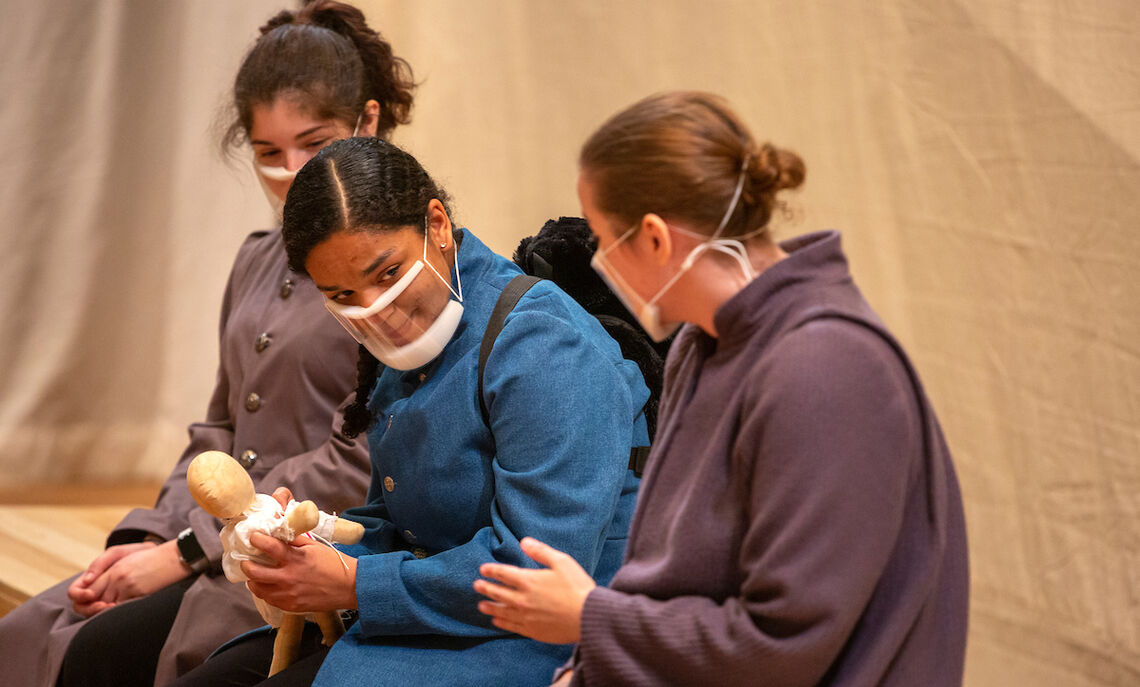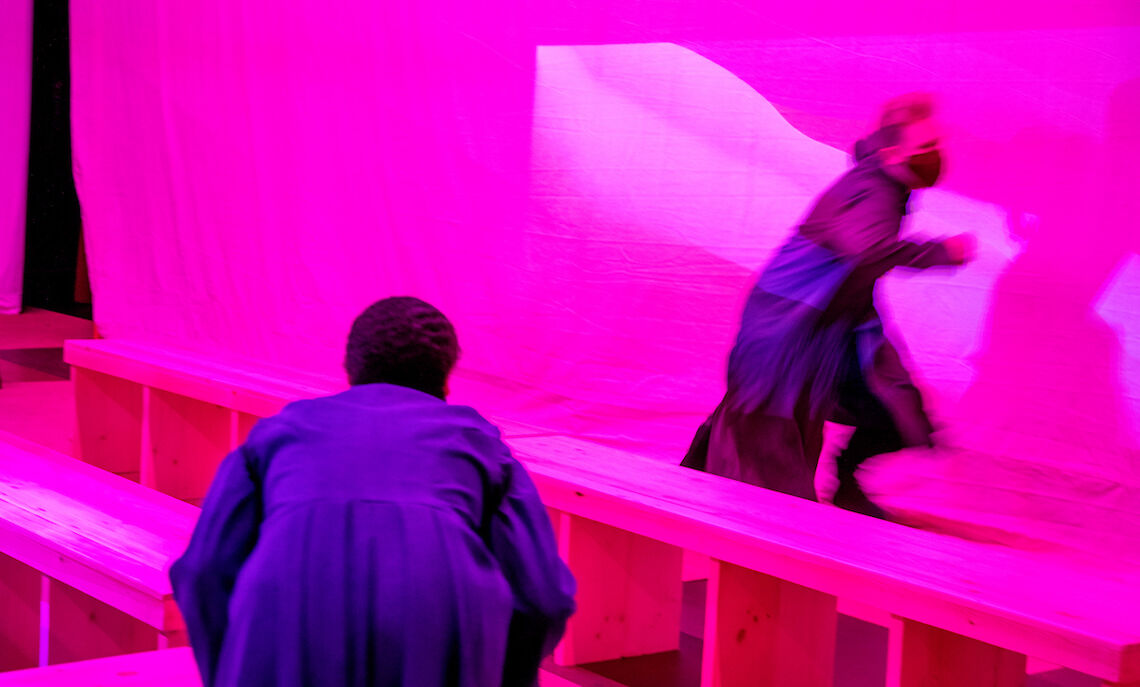 The story involves kings and poison and lovers and begins like "Othello," one of the bard's tragedies, she said. "It's all about the jealousy of one particular king and how that jealousy turns his relationships very toxic, very quickly and his decision-making very toxic, very quickly."
The play's comedic second half moves the story 16 years later. "You're in a completely different country, still following some of the characters, but it essentially feels like a different [Shakespearean] play, closer to 'A Midsummer's Night Dream,' Anderson-Rabern said.
Junior Guotian (Tim) Shu plays one of the kings, Polixenes.
"It is both exciting and challenging to play such a delicate character, and I am really looking forward to presenting his intriguing transition through the play," Shu said.
Fifty-one students participated in the production and presentation, either as one of the 18 cast members or 33 crew members, stage management team members or props designer. One student worked on the production's media.
"We created these little pockets for students to take ownership over certain parts of the show, certain elements of the design, particularly this media portion," Anderson-Rabern said.
Guest scenic, lighting and media designer Kent Barrett, currently a faculty member at Dickinson College, works professionally with major companies in New York and around the world.
"I think the opportunity to work with him on media, lights and scenic-related elements has been a particularly exciting one for the students," Anderson-Rabern said.
Ryan Gibbs, a Broadway stage manager, started early in the semester to train the student stage managers.
"It was just a wonderful opportunity to hear his knowledge and get his advice and to have him there during the rehearsal process and sort of mentor us and talk through certain things and sort of shape our experiences and improve upon the way we do things here," said Anna Waldstien-Torres, one of the stage managers.
Waldstein-Torres aspires to become a professional stage manager. Her duties for the play ranged from helping at rehearsals, text work and running through scenes, ensuring props are properly placed, helping with lighting and sound, and organizing the entertainment during intermission.
"I love doing that," said the sophomore who intends to declare theatre as her major. "It's what I want to do for a living."
Said Anderson-Rabern, "It's really neat to see the student cast and crew take over something when they have that kind of mentorship."
Shu, a junior joint studies major, said it was "absolutely wonderful" to work in the production.
"Being able to step on the stage and perform definitely is one of the most significant and meaningful things that I've done at F&M," he said. "I am also feeling especially grateful for this experience because I get to know a lot of lovely and talented people from our crew."
Related Articles
September 21, 2023
Exploring Theater as a Tool for Social Change, Education, and Awareness
Aviva Katz '24, a government and theatre joint major, discusses how F&M's Diversity and Equality in Education Certificate is helping her along her path toward a career in educational theater.
January 11, 2023
'Dance Brought Me to Life': Meet Kendall Lipham '23
As winter break comes to a close, a group of thespians is hard at work rehearsing the first Franklin & Marshall production of Meet sen Kendall Lipham, director of the latest F&M Players musical theater production
September 6, 2022
Film Faculty Screens First Film Festival
The inaugural Gleaners Film Festival at Franklin & Marshall College Sept. 22-24 will feature director John Waters and Franklin & Marshall College offers students a hands-on education that emphasizes close relationships with faculty. Students flourish in a supportive community that treats them as an individual, and their successes continue long after F&M. The College is a national leader in launching students and alumni to opportunities where they make a difference in the community and the world.