Alone Together: International Sophomore Joyous to Arrive on Campus
The pandemic that began in 2020 changed the world, college campuses and how students respond and adapt to the challenges that lockdowns, Zoom classes and hybrid classes presented. In this ongoing series, Franklin & Marshall students discuss their experiences over the last 19 months.
Name: Liantsoa Rasoanjanahary
Class Year: 2024
Major (or intended major): Business, Organizations & Society intended major
What town do you call home?: Antananarivo, Madagascar
Activities at F&M: Club Council; Treasurer - African Caribbean Association; executive adviser - F&M Founders Society; Harwood Leadership Seminar; Benjamin Franklin Financial Services Honor Society

Liantsoa spent her first semester in Bath, England, in one of F&M's international cohorts. Her second semester was spent remotely at home in Madagascar.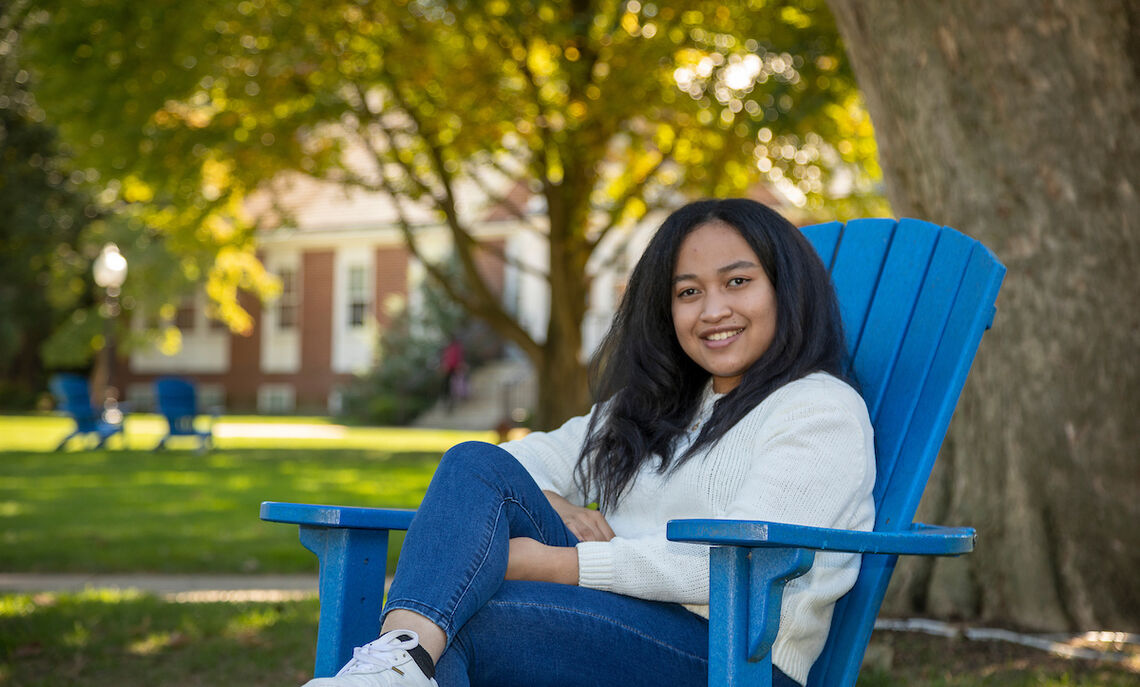 What did you find challenging about your last year at F&M?
With an eight-hour time difference between my home country and the U.S., my spring semester was characterized by technical challenges that disrupted my learning patterns. I remember the countless times I was challenged to go beyond the ordinary in pursuit of growth through the rigorous courses I took. My mind, initially excited about in-person meetings, was slapped by disappointing news of virtual classes that had to be accommodated with an unstable internet connection at home. Also, trying to find the balance between personal life and schoolwork remained a huge struggle during the first few weeks.
What did you find rewarding?
I am grateful for the invaluable opportunity to participate in the Bath program in England during my first semester. It is a program that honed my skills and brought out the best in me. The program fueled my curiosity and laid the foundation through which I began chasing my dreams. My thinking scope expanded after being exposed to different realities from the friendships and connections I formed. My experience at home during the spring was equally rewarding as I got the chance to take on vast challenges, which greatly improved my problem-solving skills. I also engaged in various transformative activities that alleviated the pressing challenges experienced by many local communities in Madagascar.
What was it like stepping on campus for the first time when you arrived this fall?
No words can explain the joy I had when I arrived on campus this fall. I remember the sound of my heart pounding with excitement after walking around various parts of the school. Even though I was a bit sad for leaving my family behind, my heart was satisfied with what I saw: welcoming people, a good-looking environment and a future full of many possibilities. When I learned I'd be coming to campus this fall, it took days and months to accept the reality that I'd have to cope with an environmental and cultural transition. But after that, it took only a few hours to personalize the campus and establish my place in it.
Have you found a place on campus that is meaningful to you?
Being the place where I spend a lot of time, my room is one of my favorite places where I reflect, rejuvenate and re-imagine a better tomorrow. Looking at my suitcase reminds me that I am a traveler and thus I have to keep moving even when things get hectic. A note from my parents on my wall restores the faith that I will make it and complements my beliefs that I came far to go far.
What are you looking forward to this year?
I am looking forward to an accomplished academic semester with a foundation laid by unmatched community service, relentless excellence and an undying desire for a better future. I look forward to challenging myself and growing to greater heights, both academically and professionally. Above all, I look forward to maximizing my impact in the community and being a source of positivity for others on campus.
What challenges do you foresee this year?
Just like any other transition, I expect to be challenged academically, physically and emotionally. The diversity exemplified by the student body will, to a great extent, challenge my beliefs, skills and personality as I maximize my interactions with peers at F&M. Adapting back to in-person classes will be a bit difficult as the online classes already promised flexibility and compatibility. All the same, I am never intimidated by challenges as they have unfailingly shaped me to who I am today and opened new worlds full of many possibilities.
What advice do you have for other sophomores like you?
We are the designers of our own fate and thus we must remain aware of who we are, where we came from and where we are headed. We must champion our visions and missions at all costs and always seek to become the best sophomores we can be. Time flies and therefore planning for the near future is an essential act for anyone seeking to realize their missions and visions. You need to accept that you will face challenges because advancing to another year does not guarantee peace. It comes with both challenges and great opportunities. Start asking the big questions, making big decisions and attaining big impact. In all that, be yourself, believe in yourself, and have fun :)
Any other comments you'd like to share?
A huge thank you to everyone who continues to guide and support me through this journey.
"No words can explain the joy I had when I arrived on campus this fall...I look forward to challenging myself and growing to greater heights, both academically and professionally. Above all, I look forward to maximizing my impact in the community and being a source of positivity for others on campus."
–
Liantsoa Rasoanjanahary
Related Articles
October 6, 2023
Sociology Student Takes Action Against Human Trafficking
Sophomore Gubat Abdullaev spent the summer in Sweden researching the human-trafficking industry and presenting his findings to the Danish Institute for Study Abroad.
August 21, 2023
Genesis Familia: Raising Others Through Philanthropy
For most, home is the place where they are raised. For Genesis Familia, it is also the place to give back by raising others. This summer, the Posse Scholar returned to New York City for an internship with Bloomberg Philanthropies in human resources and management. In addition to her overseeing managerial duties, Familia also contributed to hands-on philanthropic efforts.
July 10, 2023
Child-Robot Research Merges Psychology and Technology
Learn how F&M students conducted an interdisciplinary graduate-level study and gained valuable insights into the future of education.