Alone Together: Finding Community in Getting Involved Virtually
The pandemic that began in 2020 changed the world, college campuses and how students respond and adapt to the challenges that lockdowns, Zoom classes and hybrid classes presented. In this ongoing series, Franklin & Marshall students discuss their experiences over the last 19 months.
Name: Ryan Squires
Class Year: 2024
Major (or intended major): Intended theatre major with an interest in pursuing film and media studies and/or English with a focus in creative writing as well.
What town do you call home?: I have lived in Ellicott City, Md., my entire life until this year.
Activities at F&M: I am a member of F&M Players and was a member of the cast of "A Winter's Tale," the fall play. I am a member of and the treasurer of The Chessmen. I am a DJ on WFNM Radio. I am enrolled in the Harwood Leadership Program. I am a member of the College Chorus. I am a member of Bonchek House.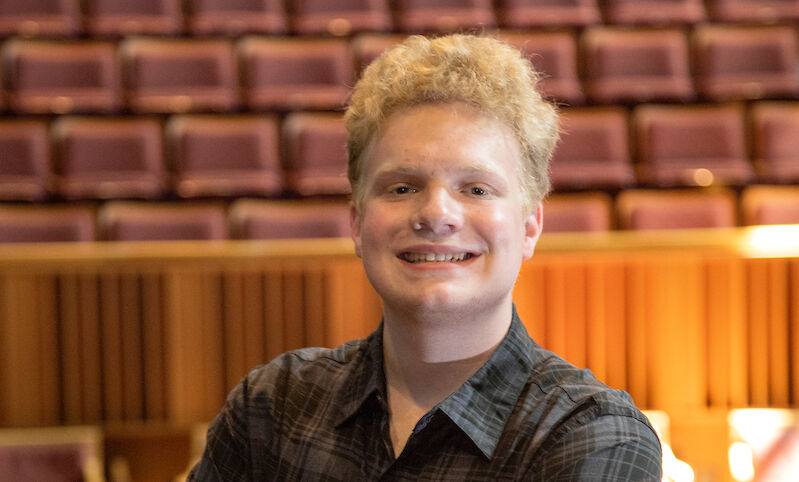 Tell us about your last year at F&M:
My first year at F&M was highly unusual because I was completely virtual for the whole of last year and have only gotten the chance to live on campus for the first time this year.
What did you find challenging?
While attending college from home was a very challenging and isolating experience, it spurred me to come out of my shell and participate in as much as possible in order to continually stay engaged with the community. I may not have had the traditional first-year experience, but I feel that I made the absolute most of my experience by joining as many clubs as possible and diving into everything that interested me. I am glad that I am finally on campus this year and am able to both deepen the connections I have already made and forge new ones as well.
What did you find rewarding?
I found the sheer amount of clubs and extracurricular activities that I was able to be involved with from afar, specifically in the performing arts, to quite frankly be astounding. I found that the more that I was able to participate and be an active part of these communities, the more I felt at home in a place where I was not physically present. I found performing virtually to be a unique, but ultimately very enlightening, challenge where I was unable to play off of my fellow performers in the same way. However, I feel that it helped me make bolder choices both artistically and socially.
What was it like stepping on campus for the first time when you arrived this fall?
I arrived early this fall in order to volunteer with the music pre-orientation program and I really valued that time as a way to acclimate myself to the campus in a smaller group of peers. I would say my first experience on campus was truly exhilarating because I felt that I would finally be able to experience the full campus and all the amenities. I truly valued my experience last year as a way to acclimate myself to the stress and rigors of college academics, but now finally being able to join the campus life in person I feel that I have finally graduated to that new, more free, independent stage of life that I was so excited for.
What are you looking forward to this year?
I am looking forward to being able to experience campus life physically, from finally living in my college house (Bonchek) to being able to study in and enjoy the many beautiful campus spaces. I am excited to get to know every part of F&M's physical community as well as deepen my social and educational relationships that I already began forming. It was wonderful to meet people in person who before I had only seen on Zoom.
What challenges do you foresee this year?
I find that I still struggle with interacting socially after a year and a half of being so isolated and I hope that this year spurs me to come out of my shell even further. I look forward to trying a multitude of new things that I wasn't able to last year.
Did you participate in Sophomore (Re)Orientation? If so, did you find it useful?
I did participate in the Sophomore (Re)Orientation and I found it to be a great way to ease me into the campus community. It helped to familiarize me with the physical spaces of both F&M's campus and the wider Lancaster community before being fully thrust into classes immediately.
Have you found a place on campus that is meaningful to you?
I have found that I spend a great deal of my time in and around the Arts House because that community is so welcoming and nurturing both creatively and socially. I most definitely want to pursue the idea of living there in the future in order to cultivate deeper, more meaningful relationships with my fellow performers and peers.
What advice do you have for other sophomores like you?
If I had any advice for other sophomores, especially those who were not on campus at all last year, it would be that if there is anything that interests you, even a little, there's no harm in going out for it. Whether it be sports, performing arts, government or something else I have found that by involving myself in as much as possible without overextending myself, I never feel isolated or alone. I have built many networks of peers who share similar interests with me. Also it doesn't hurt to branch out into multiple areas, don't hyperfocus too much just yet academically or socially, there is still so much out there to experience.
Related Articles
September 21, 2023
Exploring Theater as a Tool for Social Change, Education, and Awareness
Aviva Katz '24, a government and theatre joint major, discusses how F&M's Diversity and Equality in Education Certificate is helping her along her path toward a career in educational theater.
April 14, 2023
F&M Relief Alliance Helps Wildfire Victims Rebuild
Following 2018's Camp Fire, the deadliest and most destructive wildfire in California history, 17 Franklin & Marshall students spent spring break this year helping rebuild homes in one town....Franklin & Marshall College offers students a hands-on education that emphasizes close relationships with faculty. Students flourish in a supportive community that treats them as an individual, and their successes continue long after F&M. The College is a national leader in launching students and alumni to opportunities where they make a difference in the community and the world.
April 12, 2023
Mindful Moments: Faith & Meaning
Sometimes, it's the quiet and contemplative moments in between class and co-curriculars where the most personal growth occurs. In this mindfulness miniseries, we explore moments of calm and...F&M is a welcome space for all faith and religious affiliations. An ongoing, student-led group discussion dives into the philosophical side of faith.