Celebrating F&M Japanese Language Program with Dance and Drum
To celebrate this year's 25th anniversary of the Japanese language program at Franklin & Marshall College, world-renowned Tamagawa University Dance and Taiko Group will perform for the first time on campus. The public concert is April 10 in Mayser Gym.
The group culminates its day at the College by delivering its thunderous taiko (drum) and dance performance that evening. The performers will lunch in the Dining Hall, where students in the Japanse language program will have an opportunity to meet them.
"They are stunningly beautiful performers," said Kumi Omoto, assistant director and associate teaching professor of the Japanese language program. "They are university students, but they are a semiprofessional group."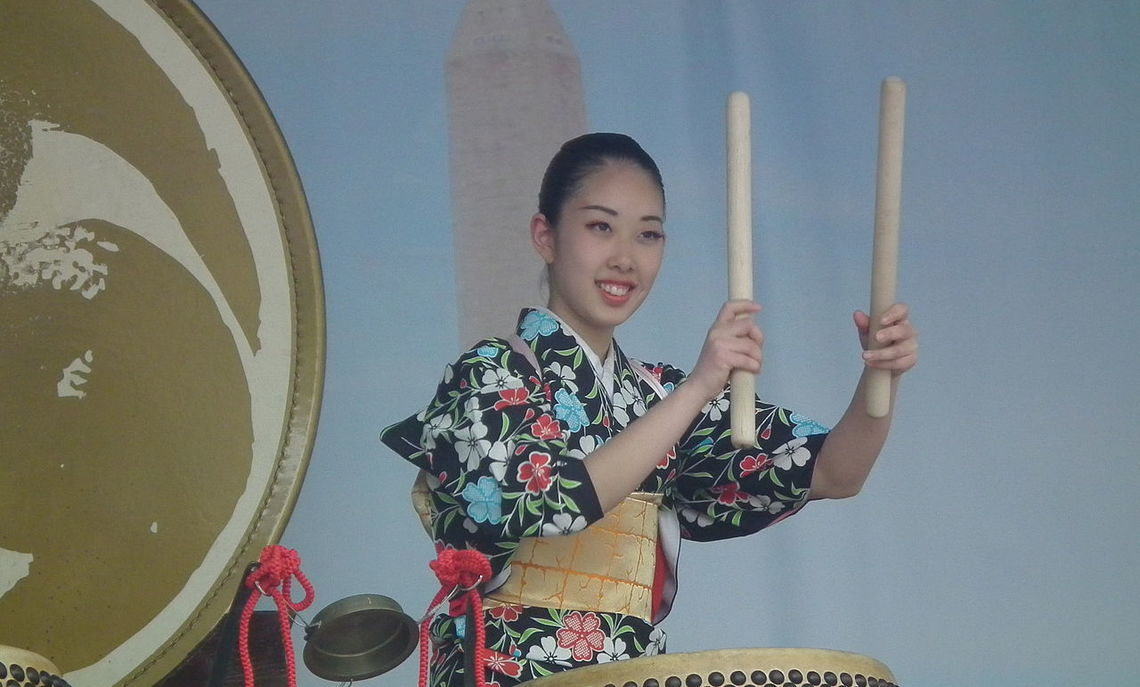 The performers are directed by choreographer and Kabuki-dance master, Isaburoh Hanayagi, a performing arts professor at the Tokyo university. In 2008-2009, Hanayagi served as the Cornell Distinguished Visiting Professor at Swarthmore College.
The group began touring the world in 1961. Every spring since 2003, they have performed at venues in New York, Boston, Washington D.C. (for the National Cherry Blossom Festival), and Philadelphia as well as colleges such as Swarthmore and Haverford.
A traditional instrument, taiko has mythological origins in Japanese folklore. In the last year, as enrollment in F&M's Japanese language program has increased, a taiko group formed, where Ana Anderson, director of the Spanish Writing Center, teachesstudents how to play the drum.
"One of the reasons I asked the group to come here was so students could see an authentic performance," Omoto sad. "Our Japanese students can talk to them in Japanese, ask about their college life, and the experience of performing in the United States."
The Tamagawa University Dance and Taiko Group performs 6 p.m., April 10, in Franklin & Marshall College's Mayser Gym. Admission is free and open to the public.
Related Articles
November 10, 2023
5 Questions with Matthew Butterfield, F&M Professor of Music and Chair of the Department of Music
Music Professor Matthew Butterfield talks teaching and learning, his research, and what motivated him to launch F&M Idol, an all-campus singing competition for students.
May 23, 2023
'97 Alum Reconnects with A Cappella Roots
By the time they graduate, many Franklin & Marshall College students have a favorite place on campus. For music producer Ed Chung '97, room B-11 in the Steinman College Center meant so much to him that he named his business after it. Chung, who majored in music, spent countless hours rehearsing in B-11 with The Poor Richards, F&M's oldest a cappella group. He now owns the production company B-11 Entertainment and recently returned to campus to produce an album with current students.
February 14, 2023
Love, Music and F&M Will Keep Us Together
Leslie Lindeman '13 and Andrew Glennan '13 have always loved music. But in their first year at Franklin & Marshall College, when Lindeman pulled out her violin and Glennan settled behind his cello as new members of the orchestra, they had no idea this mutual love of music would lead them to each other. Since then, Lindeman and Glennan have not forgotten the College and the music program that brought them together. The two remain active in the F&M community and give back in whatever way they can, including by volunteering and making frequent gifts to the College and the Department of Music.