Research Fair: Discovering Discrepancies in Theoretical Physics
Standing before a blackboard filled with equations, Franklin & Marshall College junior Evan Shinn discusses his research, using quantum electrodynamics to determine corrections to a theory on positronium energy levels.
"The whole project is about correcting energy levels for positronium," said the physics major and Hackman Scholar.
Positronium is an unstable system that has an electron and a positron, or anti-electron, bound together in an atom. Its lifetime is one millionth of a second because the two particles — electron and anti-electron — can annihilate each other upon creation to produce a small level of gamma rays.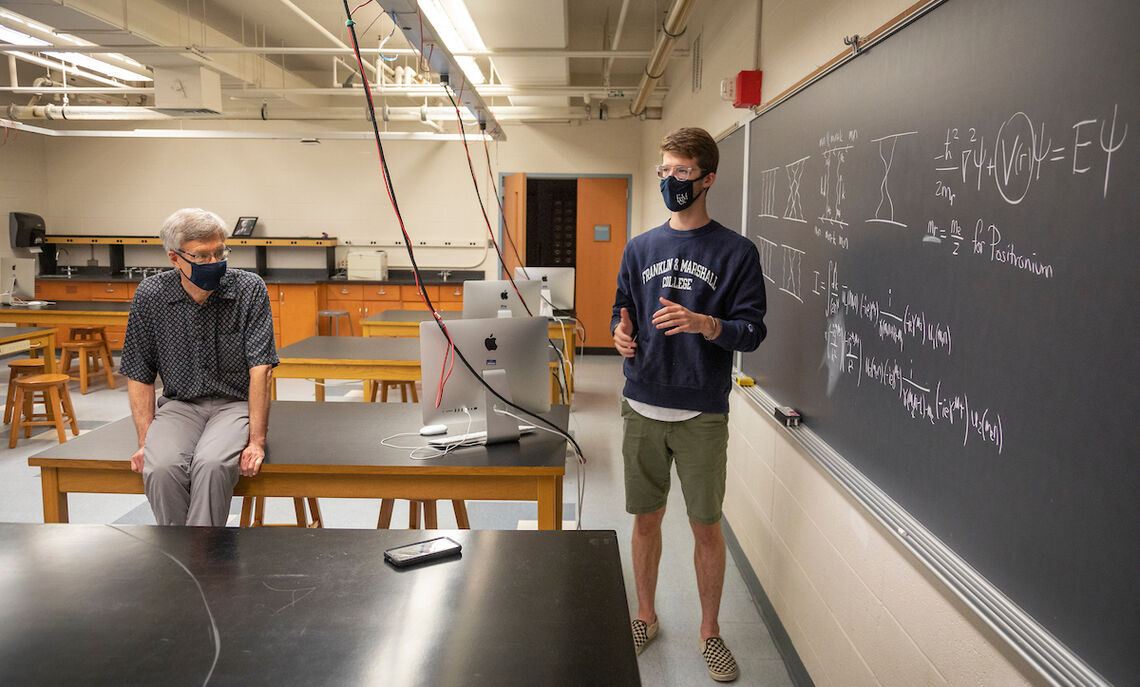 "Recently, at the University College London, an experiment came out where the predicted energy levels from the theory did not line up with the actual evaluated experimental energy levels," Shinn said. "There's some kind of discrepancy between the experiment and the theory."
Working with Greg Adkins, the William G. And Elizabeth R. Simeral Professor of Physics, Shinn preceded his research last spring with a directed reading under Adkins of David J. Griffiths' "Introduction to Elementary Particles," which introduced much of the research he would be doing.
Last summer, the Hackman Scholar spent 10 weeks on the project, each day working in the physics lounge in the Hackman Science Building. He used a whiteboard for his calculations, then copied his work in a notebook before meeting each afternoon with Adkins to discuss his day's research.
"The nature of science is we go back and check our work to make sure that the result that we're getting from the theory is actually what it should be," Shinn said. "We check the experiment to make sure that it was done as it should have been to get the same precise values. If the results still aren't the same, then there's something else going on that we're not quite sure about."
A discrepancy between theory and experiment is exciting to theoretical physicists.
"If you can really confirm that it's a discrepancy, then there's something going on that we don't understand, which is a guide to new physics — a new particle, a new force, a new dimension. We don't know yet, but maybe this would be a guide to what is happening," Adkins said. "Then you're in a new stage of exploration."
Shinn's project is graduate-school level. His post-graduate plan is to study theoretical physics, continuing to build upon the skills and knowledge developed with Adkins.
"I honestly had no idea what I would be getting into, but I'm very happy that this is what I do," he said. "It's made me realize that this study of particles is exactly what I want to do in graduate school."
Related Articles
December 1, 2023
Faculty Awarded $1 Million in Recent Grants
As F&M students turn the final pages of the fall semester, it's important to also celebrate members of the faculty and professional staff who help create an enriching academic environment.
October 6, 2023
Sociology Student Takes Action Against Human Trafficking
Sophomore Gubat Abdullaev spent the summer in Sweden researching the human-trafficking industry and presenting his findings to the Danish Institute for Study Abroad.
September 26, 2023
Students Stargaze at Cherry Springs Retreat
Students attended a recent weekend retreat to Cherry Springs State Park for two nights of stargazing in September. Night sky enthusiasts flock to the park for its spectacular views of the Milky Way.