Dye Magic Changes Yellow to 'Japan Blue'
On a cool autumn afternoon outside Franklin & Marshall's Brooks College House, dozens of students gathered around as Ken-ichi Miura explained shibori, a Japanese tie-dyeing technique.
Miura, senior teaching professor and the director of the Japanese Program, said the practice of traditional Japanese indigo dyeing is called "Aizome," which he demonstrated for students before they began turning their fabric tote bags and T-shirts in various designs of blue.
According to the professor, British scientist William Atkinson visited Japan in the late 19th-century and was fascinated by the various dyed items — curtains, banners, flags — and called the color "Japan Blue."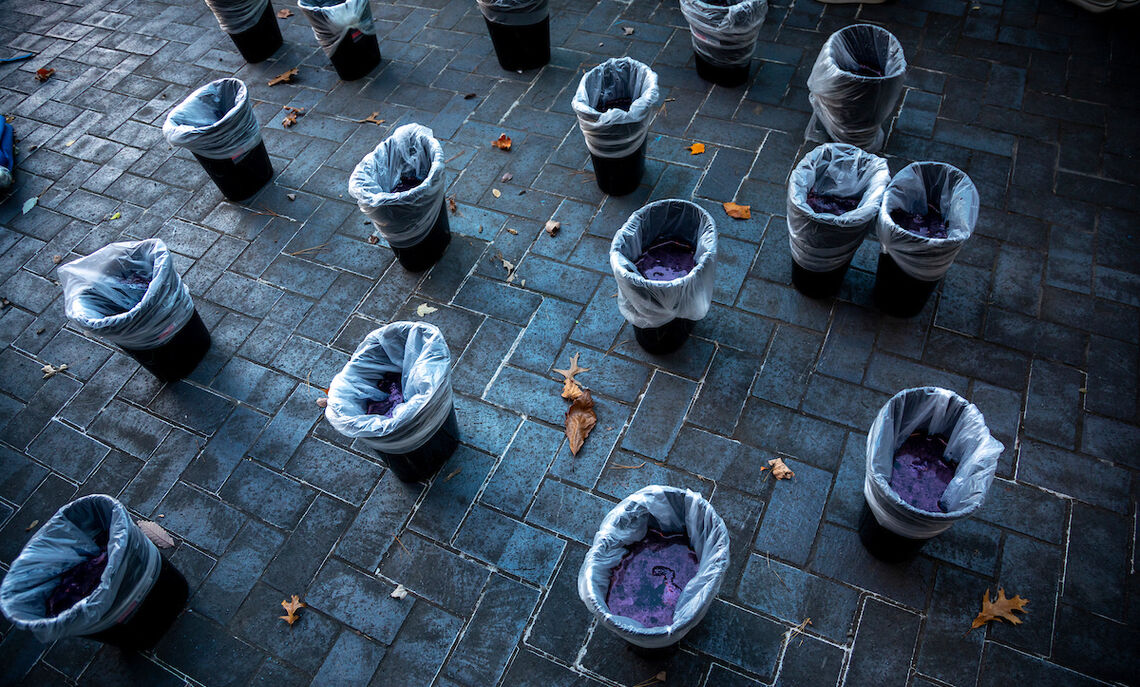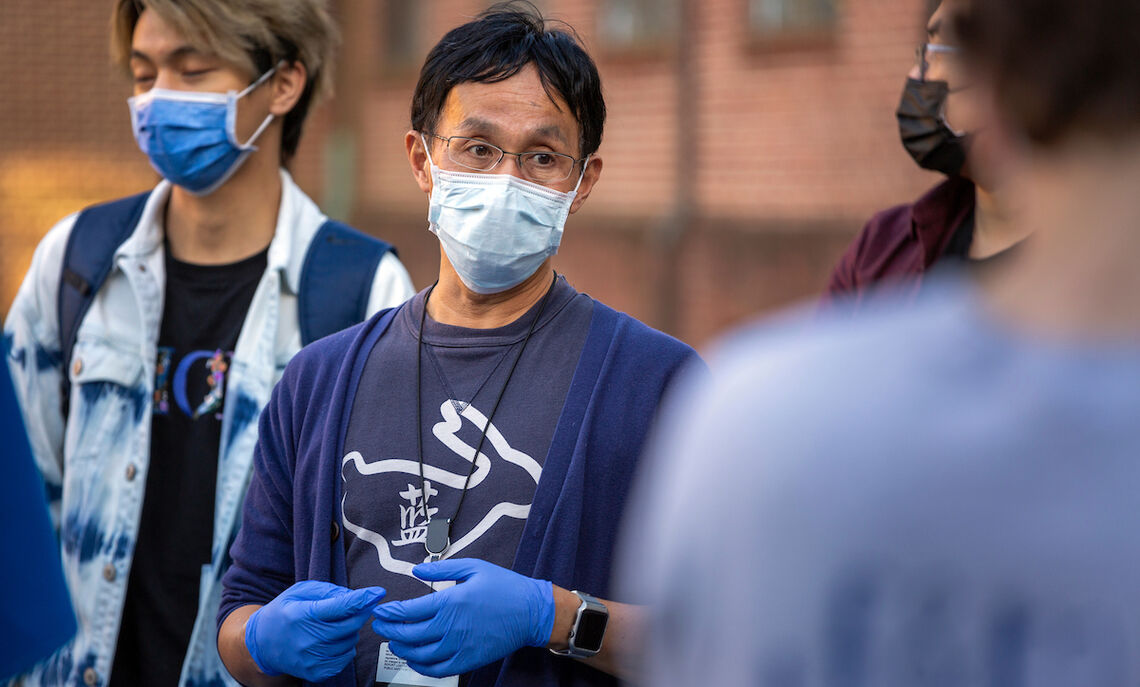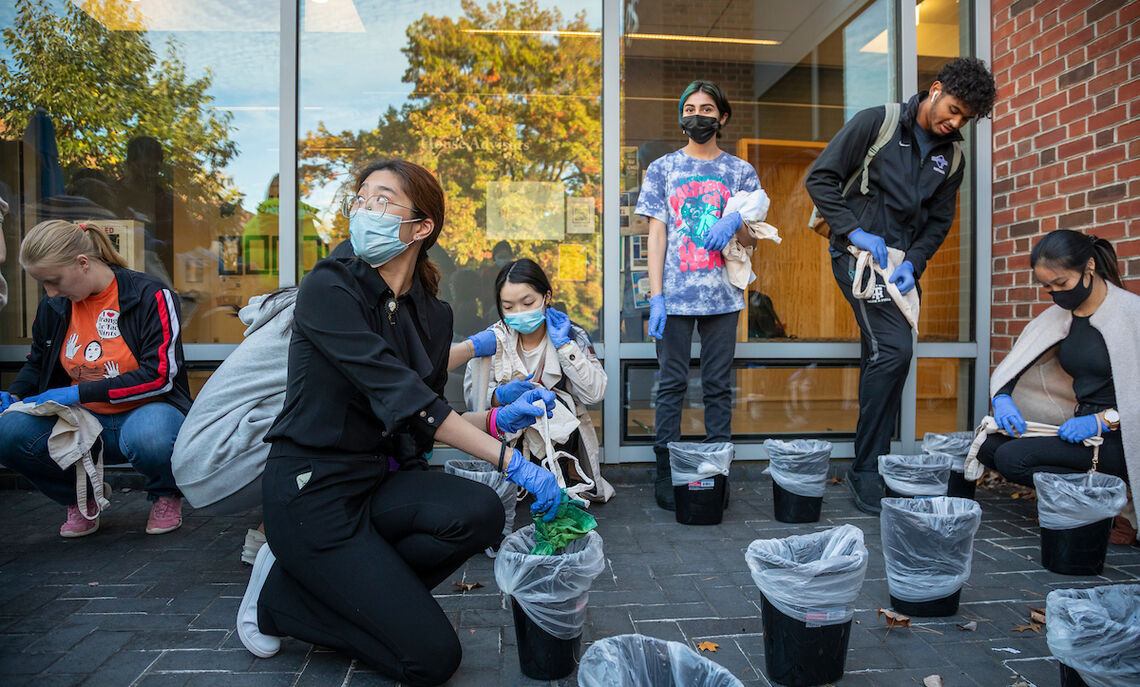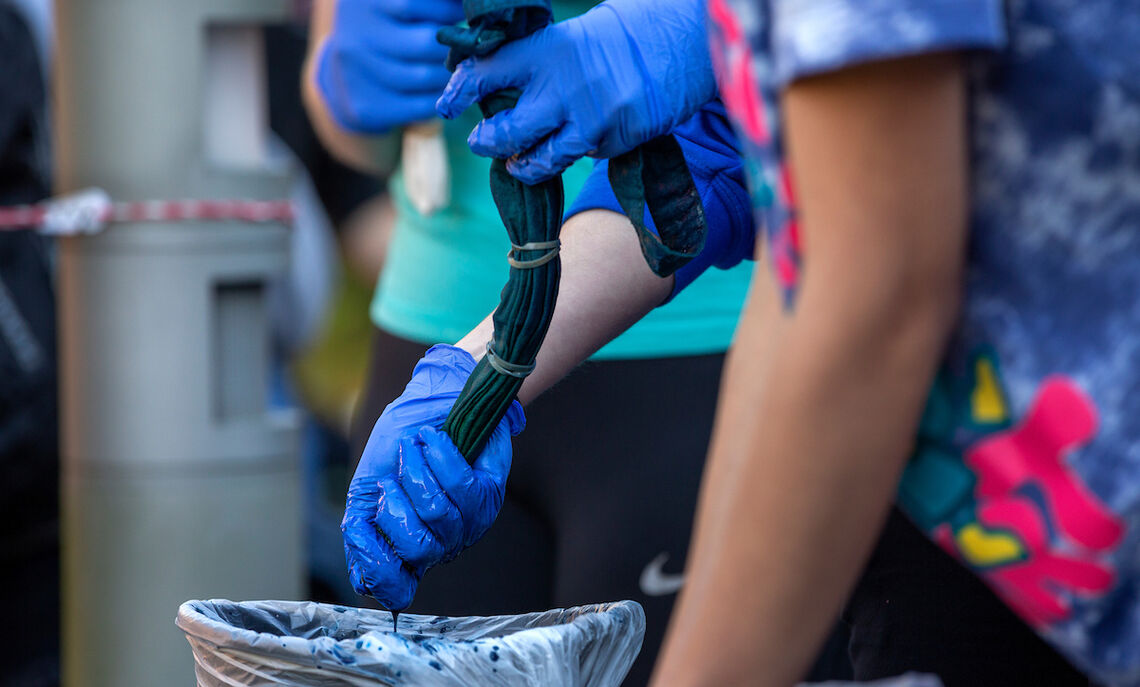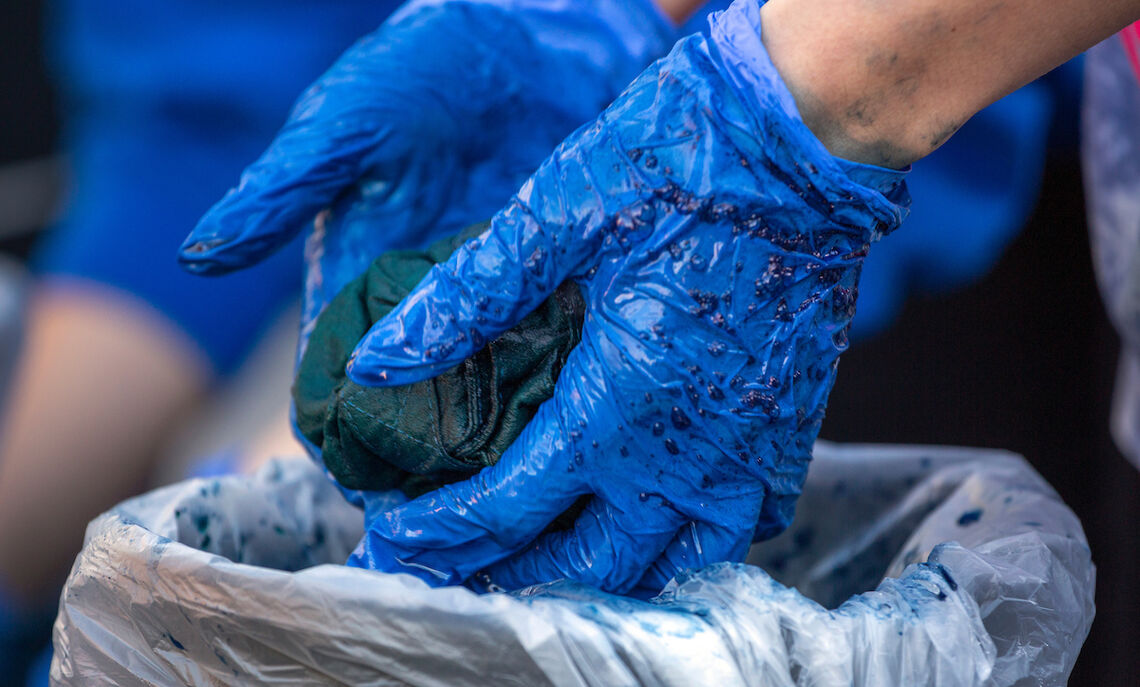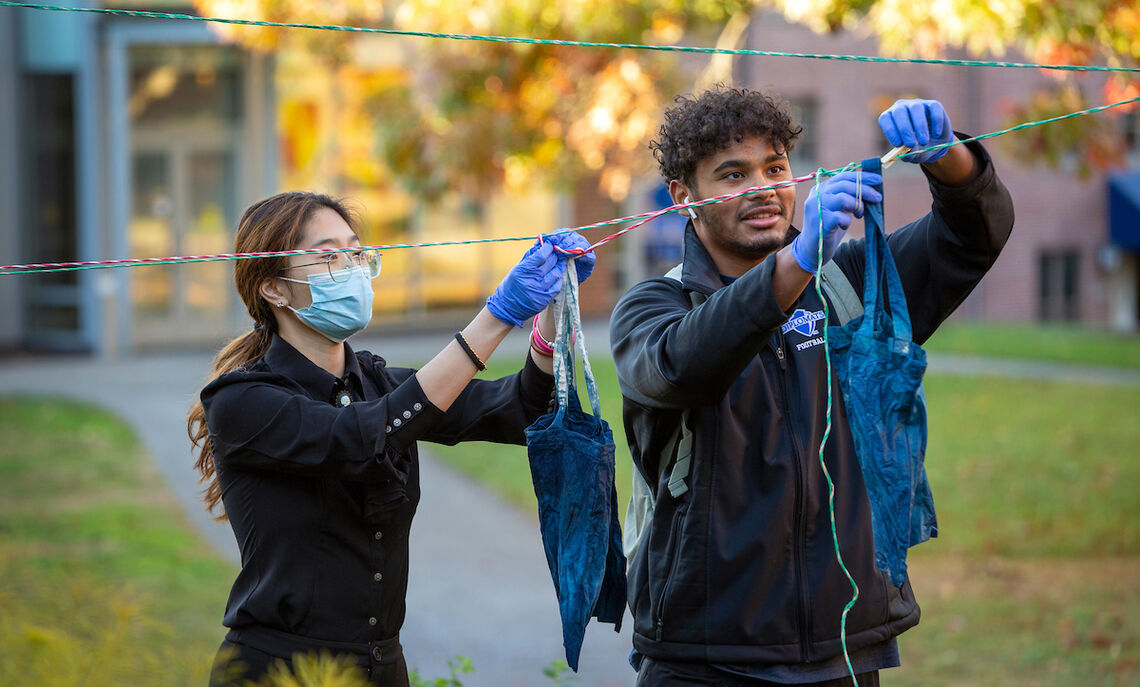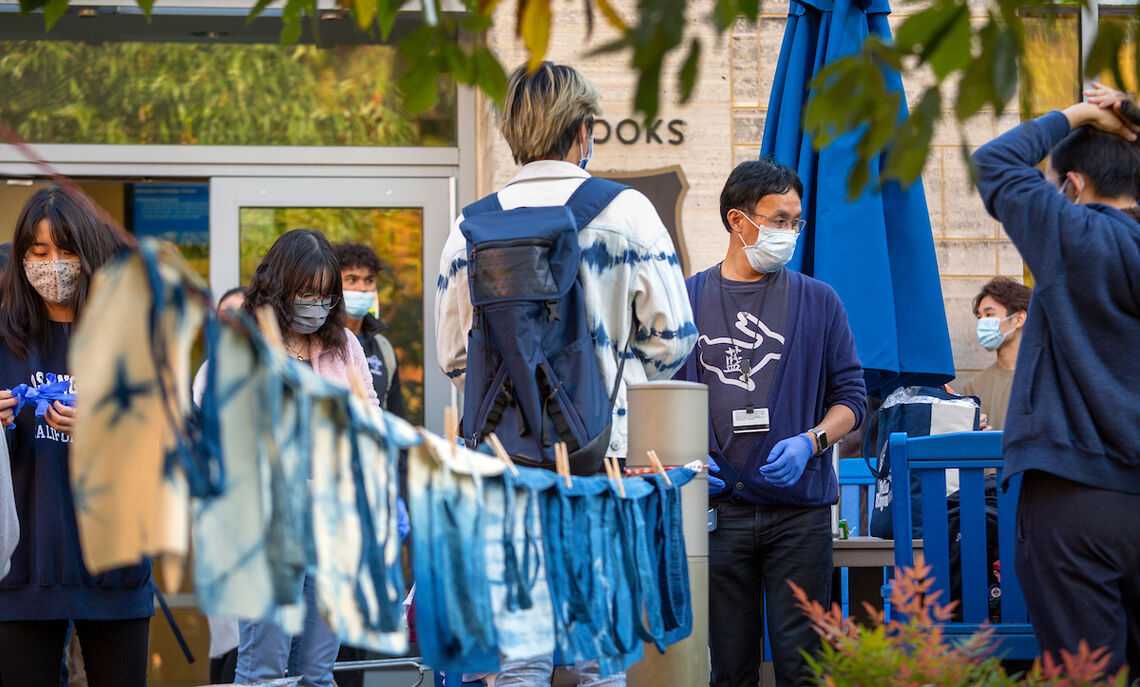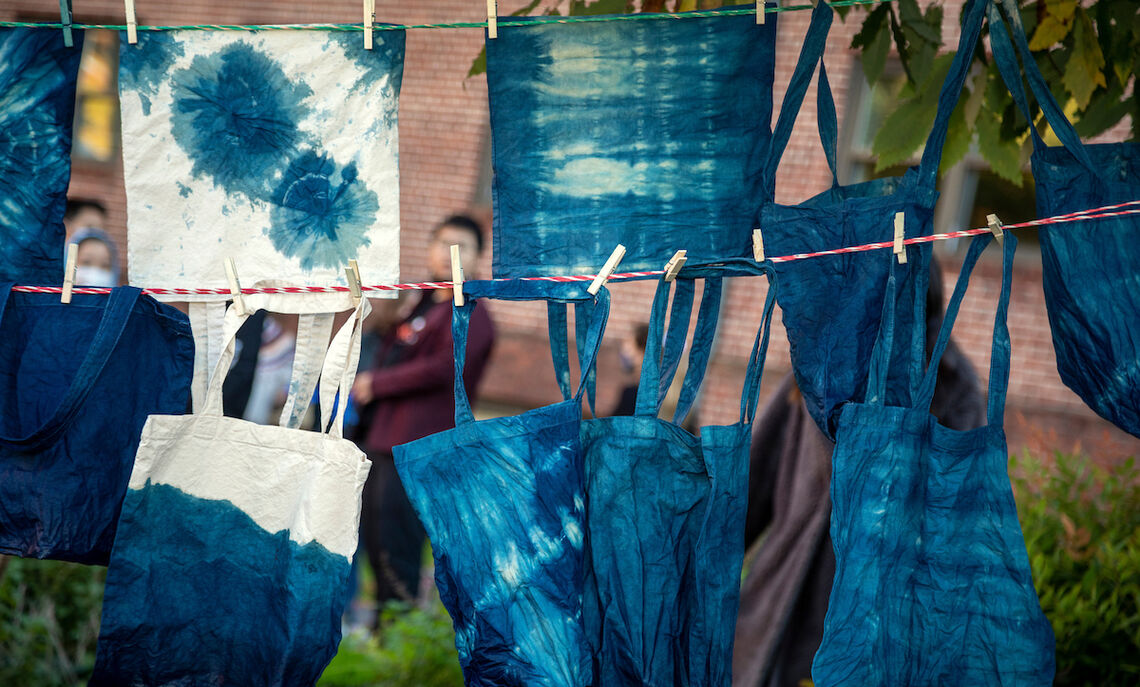 Japan Blue is derived from fermented natural indigo plants, the leaves of which are harvested from summer to mid-fall. Fabric is dipped into the yellow indigo liquid, becomes oxidized, and the color changes to blue.
Various patterns are produced by tie-dying, partial dipping, wax-drawing and other techniques, Miura said. Artists often use the first crop in the fall to create their works in Japan Blue.
Miura became interested in indigo dye two years ago and has been experimenting with various techniques. He organized the event, in collabortion with Brooks House, as part of the Japanese Program's fall celebration.
Related Articles
February 27, 2023
Alumni Spotlight: Every Stitch Tells a Story
It's not every day you wear hoops skirts, bustles and bonnets to work – let alone hand-stitch them. But for Franklin & Marshall College alum Rachel Sheffield, it's just another day on the job....F&M alum Rachel Sheffield is the lead interpreter and historic clothing coordinator at First State Heritage Park in Dover, Del.
November 21, 2022
Students Decode Zoom Gestures
A team of Franklin & Marshall College students combed through six hours of Zoom class footage to identify gestures exhibited by participating professors and students. The results were...A team of F&M students combed through hours of Zoom class footage to identify gestures exhibited by professors and students. The results were overwhelming.
November 11, 2022
F&M Compost Co-Op Diverts Costs and CO2 in Lancaster
A Franklin & Marshall College compost initiative has evolved into a co-op saving the City of Lancaster $5,215 per year — all while diverting 16,638 pounds of food waste from the solid-waste...The Lancaster Composting Co-Ops (LCC) has grown to 250 households. Households drop off 199,656 pounds of food waste to compost yearly.