How Can Activists Be Architects of a Better Society?
What does it look like to be the architect of a better society?
Eboo Patel, author, educator and interfaith leader, posed this question to the Franklin & Marshall community during Thursday's virtual Common Hour exploring interfaith engagement, racial equity and the American promise.
"What does it mean to be the kind of person who, over the course of time, has the vision, knowledge and skills to build something better?" Patel asked.
The solution, he said, takes place over decades, not hours.
Patel cited the many long-term builders of a better society, starting with the unconventional path of civil rights activist Bob Moses from tackling Jim Crow laws to teaching mathematics in inner-city Boston.
"It is easier to make a group of people angry at an injustice," Patel said. "It is easier to tell a school that it is racist than to build a model of education in which people of a variety of races achieve somewhat equally. It is easier to say that those people are doing it wrong than to create a model of doing it right."
Patel cited the work of many other "great disruptors" including Michelle Alexander, author of "The New Jim Crow"; Deepa Iyer, racial justice activist; Jane Addams, women's suffrage leader; James Baldwin, novelist; Howard Thurman, philosopher; and Brian Stevenson, founder of the Equal Justice Initiative.
Personally, Patel cites religion as a guidepost for his activism.
"You articulate a cosmic vision, you articulate a set of ideals, and then you build a set of institutions that substantiate those ideals," he said.
America's melting pot of religious communities serves as an optimistic example of coexisting ideals.
"We are no longer a Judio-Christian country; we are interfaith America," Patel said.
To conclude, Patel advised activists to reconsider rage and instead think long term.
"I have found that it is almost always the case that rage almost always burns down more than its intended target," he said, citing Thurman's philosophy.
"The goal is never a more ferocious revolution," Patel said. "The goal is a more beautiful social order, and you at Franklin and Marshall College have an opportunity to learn how to be the architect of it. It's a powerful time for you."
"The goal is never a more ferocious revolution. The goal is a more beautiful social order."
—Eboo Patel, founder of Interfaith Youth Core

Interfaith Engagement, Racial Equity and The American Promise
Eboo Patel's timely talk occurred just one hour before a campus rally on Hartman Green to address the resurgence of Yik Yak, a social media platform that allows users to post anonymous messages to local boards that other users within a five-mile radius can comment and vote on. The College continues to monitor the platform.
"What I wanted to do was to use this time to perhaps offer a broader frame on moments of pain, which can also be moments of change," Patel said.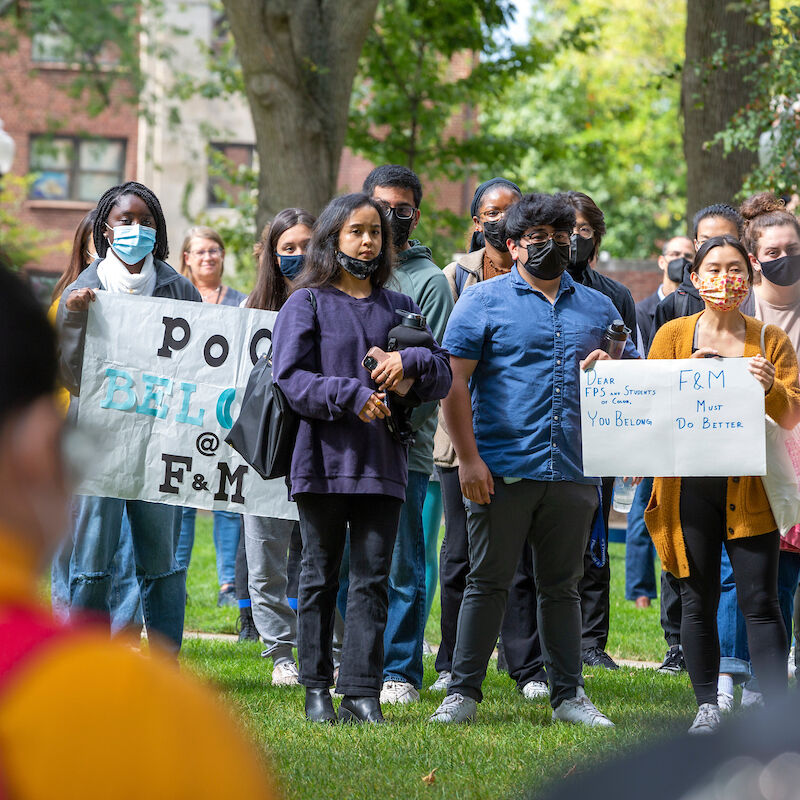 Related Articles
October 19, 2023
F&M Receives Higher Education Excellence in Diversity Award
For the second year in a row, Franklin & Marshall College has received the Higher Education Excellence in Diversity (HEED) Award from Insight Into Diversity Magazine.
April 12, 2023
Mindful Moments: Faith & Meaning
Sometimes, it's the quiet and contemplative moments in between class and co-curriculars where the most personal growth occurs. In this mindfulness miniseries, we explore moments of calm and...F&M is a welcome space for all faith and religious affiliations. An ongoing, student-led group discussion dives into the philosophical side of faith.
March 27, 2023
Memorial Celebration: Bill Hutson's Life and Art
The Franklin & Marshall College community will celebrate the life and art of the late Bill Hutson at a memorial event to be held April 1 at 1 p.m. at the Winter Arts Visual Center. An...Bill Hutson was a professor of painting at F&M for over 20 years. His exhibition