F&M Joins 14 Institutions in Unique Science and Math Collaborative
Over the next six years, students taking introductory mathematics or science should expect more inclusive, dynamic experiences at Franklin & Marshall College, which is engaged in a new approach to collaborative learning.
Developed under Howard Hughes Medical Institute's Inclusive Excellence 3 grant, colleges and universities have an opportunity to foster institutional change that creates a more inclusive and successful introductory experience in these fields of study.
Taking an unusual approach, HHMI organized schools into Learning Community Clusters (LCCs) to develop synergies between them. As a member of LCC1, F&M's faculty work in partnership with colleagues from 14 other colleges and universities.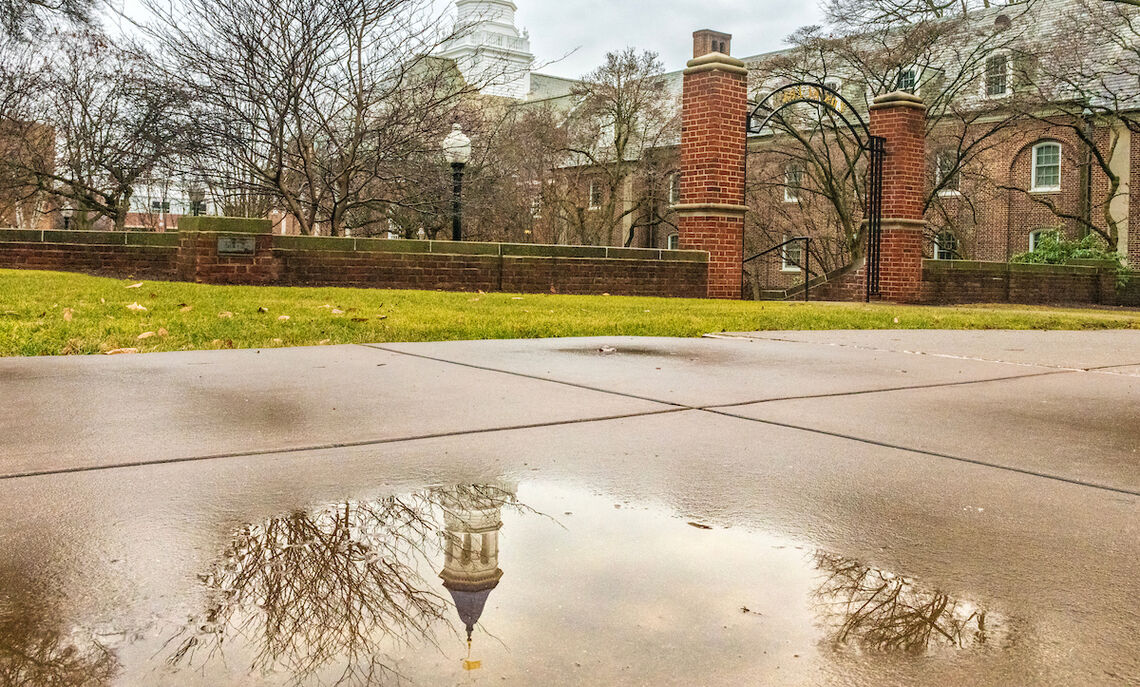 Following two years of research and collaboration, LCC1 colleagues prepared a multifaceted approach to increasing inclusivity in the introductory science and math experience. They mapped out three pathways: faculty development, student engagement and agency, and curricular change.
According to HHMI, diversity in types of institutions — public and private, research universities and liberal arts colleges -- has already produced distinctive and unique ideas and will generate opportunities for immediate field testing of approaches among institutions.
HHMI's six-year grant of $8.625 million to LCC1, $531,600 of which goes to F&M, allows faculty to develop methods and mindsets to promote teacher engagement through workshops and learning communities.
"Students engage as peer tutors and will form student-faculty partnerships to make curricular changes that will amplify student ownership, agency and voice," said Professor of Chemistry Jennifer Morford, one of F&M's faculty team leaders. "The work arising from the grant will bring more curricular change as F&M explores and implements high-impact, equity-minded practices."
The faculty team will facilitate an interdepartmental collaborative effort to coordinate curricular evaluation, design, modification and integration that balances topic coverage with understanding, application and skill development.
"These efforts are in direct alignment with our strategic plan's core themes of diversity, equity, inclusion and academic excellence," said F&M President Barbara Altmann. "Curriculum redesign, a chance for faculty to explore new pedagogies, and increased agency for the students all combine to create better, quicker engagement, and better outcomes as a result."
Leading the initiative with Morford are Jorge Mena-Ali, director of faculty diversity initiatives and don of Roschel College House; Ellie Rice, director of the Quantitative and Science Center and senior teaching professor of biology; and Berwood Yost, director of F&M's Center for Opinion Research.
Also supporting the effort are Professor of Physics Amy Lytle and Dan Ardia, associate dean of the faculty and professor of biology.
"HHMI's support will be critical to help us lower barriers for our faculty and our students and to transform interdepartmental efforts for all our students," Ardia said. "Our faculty have already made significant strides in understanding the factors affecting the impact on student achievement and retention in the sciences."
"HHMI funding will allow us to make transformative changes to advance this effort and intersect with the new Strategic Plan," he said.
Mary Osirim, F&M interim provost and dean of the faculty, said the partnership with "a broad range of institutions across the higher education landscape" for more inclusive introductory-level STEM courses will advance student performance.
"This grant provides pathways for enhanced student success and faculty development that will have ripple effects across our curriculum," Osirim said.
Learning Community Cluster 1
California State University-Stanislaus
Dalton State College
Fordham University
Franklin & Marshall College
Furman University
Gannon University
Haverford College
Illinois State University
Middlebury College
Southern Illinois University Edwardsville
SUNY Empire State College
Trinity University
Universidad Ana G. Mendez-Cupey Campus
University of California-Riverside
University of California-Santa Cruz
Related Articles
October 20, 2023
Wrestler Pins Post-Grad Career Thanks to F&M Mentor
Wrestling captain Noah Fox excels on and off the mat, thanks in part to guidance from his True Blue mentor. "This program has helped me jump-start my career and secure my dream job as a software engineer," Fox said.
October 20, 2023
Google Software Engineer Shares True Blue Wisdom
Class of 2019 grad Horace Facey's path led him from Jamaica, to F&M, to Google. See how he helps other STEM students succeed. "Mentoring has been an excellent way for me to give back," Facey says.
October 19, 2023
F&M Receives Higher Education Excellence in Diversity Award
For the second year in a row, Franklin & Marshall College has received the Higher Education Excellence in Diversity (HEED) Award from Insight Into Diversity Magazine.