Filmmaker Documents Artists With Disability
In his campus office, documentary filmmaker James Hollenbaugh, last fall's artist-in-residence at Franklin & Marshall College, discusses his artists with disability project that exhibits in March.
"They're all untrained artists; we call them 'outsider artists,'" he said. "They're doing some incredible work and have great stories—about overcoming a lot of disabilities through creating art. It's an inspiring story, but also showcases their work."
Hollenbaugh, a filmmaker based in south central Pennsylvania, the region where he grew up, produced "A Life Like This." The film features four people from the Lancaster area, three who have mental disabilities and one who has a physical disability.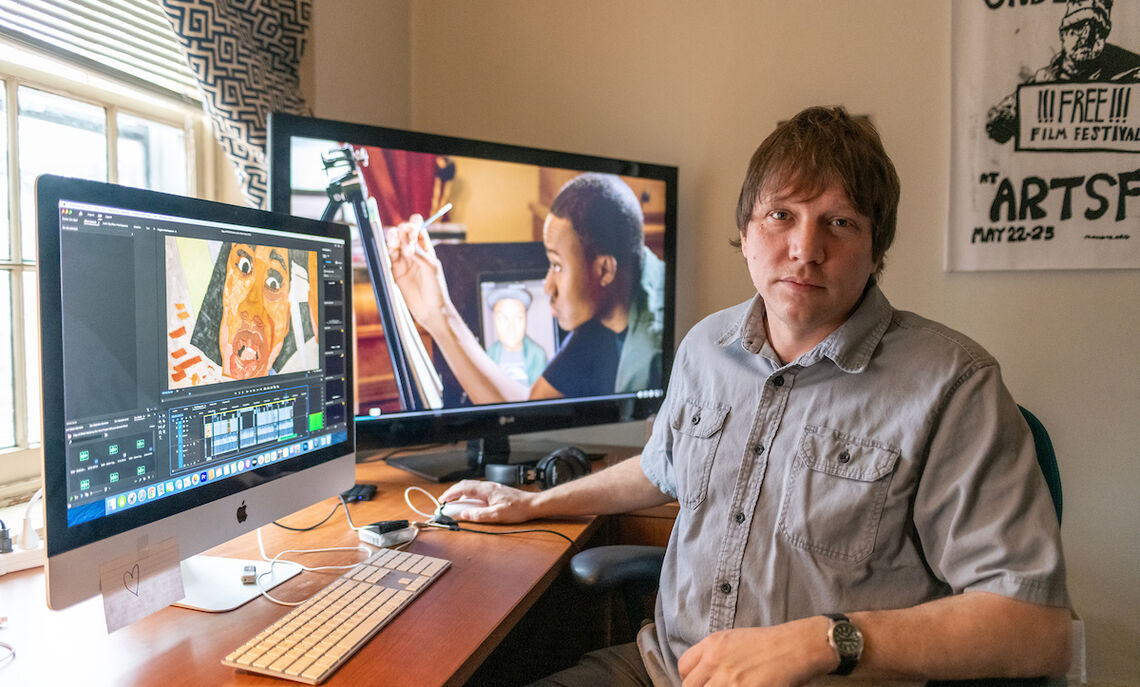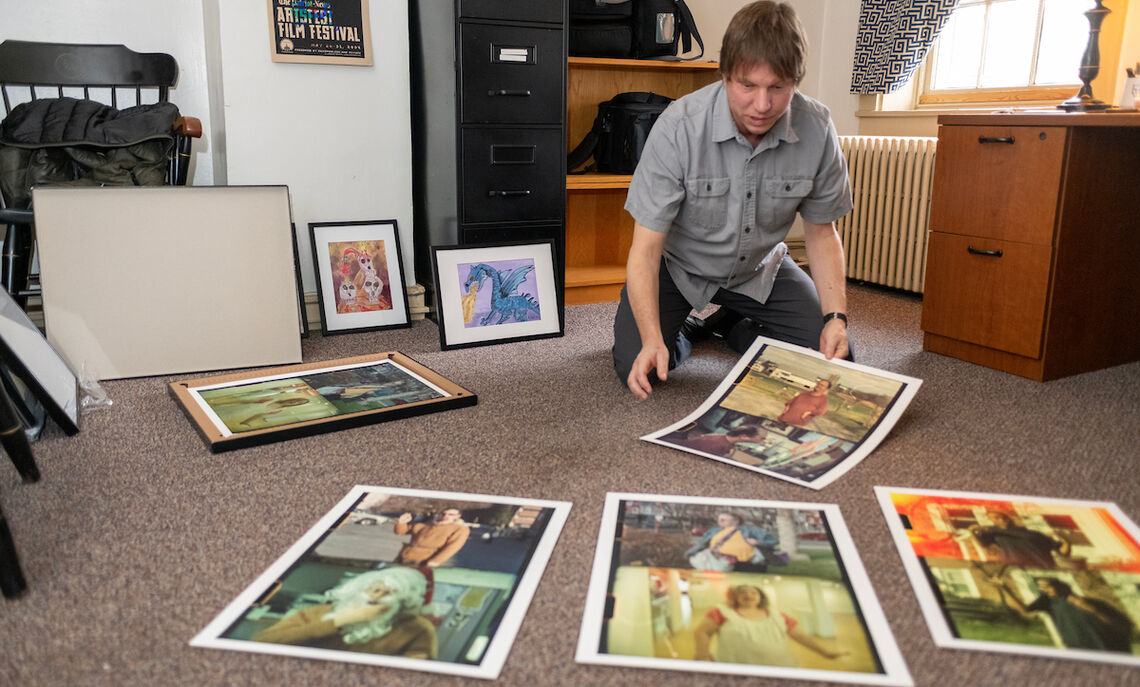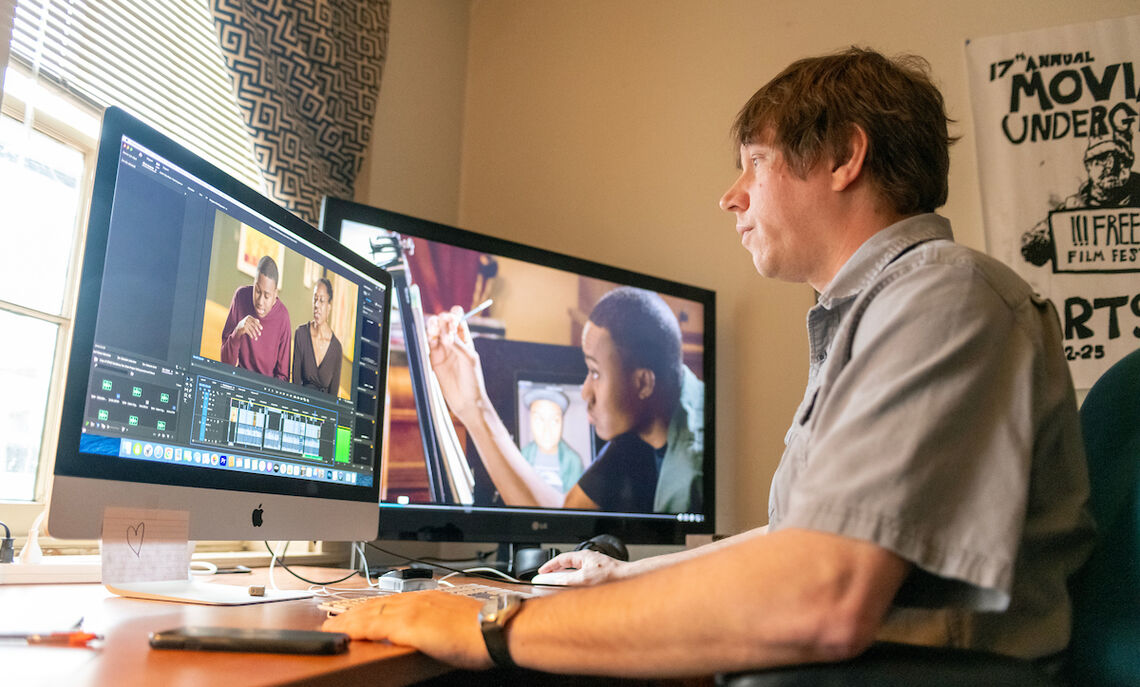 The artist-in-residence program, designed to connect the College with the local community, is funded through F&M's Center for the Sustained Engagement with Lancaster, which itself is supported by a grant from the Endeavor Foundation.
The Center's three areas of focus are poverty and social inequality, environmental sustainability, and social practice and community-based art.
Hollenbaugh wrote in his application to the program, "Artists with disability, both mentally and physically, have been discriminated against and overlooked since the beginning of time. There is a great amount of social inequality among artists with those artists, especially when it comes to limited opportunities in exhibiting their art both locally and on a national level."
Hollenbaugh worked with Associate Professor of Film Jeremy Moss and Marco Di Giulio, associate professor of Hebrew languages and literature, whose research includes people with disability. "A Life Like This" focuses on four individuals: Malcolm Corley, Adam Musser, Sybil Roe Thompson, and David Nolt, who paints with a brush between his teeth.
"It's pretty incredible," the filmmaker said. "He's never had the use of his hands."
At his editing desk, Hollenbaugh shows a segment of Malcolm singing with piano accompaniment in the chapel in Old Main.
"He's very nonverbal, but the second this music came on, it was like a switch flipped," Hollenbaugh said. "I thought, 'This is going to take forever to get him to do this.' In 20 minutes, they did four takes perfectly and they were out of there."
Also a painter, Malcolm recently showed in Art of the State in Harrisburg.
"He's incredible," Hollenbaugh said. "He does these self-portraits."
A Lancaster-based filmmaker since the late 1990s, Hollenbaugh works in small-gauge film formats, focusing mostly in documentary and experimental genres. Exhibited domestically and internationally, he's had screenings at the National Gallery of Art, Slamdance Film Festival and the American Documentary and Animation Film Festival in Palm Springs.
Hollenbaugh's day job, as he says, is working in the lighting and camera departments on commercials for television and videos for corporations while he pursues his films. The F&M residency provides many benefits to artists.
"The residency was great," he said. "I had access to all the video equipment and the support of F&M's film program and faculty."
And it allowed him to explore a subject that captivates him.
"I guess I've done five other short films previous to this about 'outsider artists,'" he said. "I'm not talented in painting or anything else. I think that's why I'm drawn to a lot of these artists because I'm just blown away by what they can do."
Related Articles
November 21, 2023
60 Years After JFK's Death, Alumni Author Finds Missing Link
Was the star of NASA's first female astronaut program linked to the assassination of JFK? "A Woman I Know," by filmmaker turned author Mary Haverstick '82, searches for the truth.
September 7, 2023
Microgrants Fund Student Passion Projects
Writers House microgrants enabled six F&M students to explore passion projects aligned with their fields of study this summer.
June 21, 2023
Building Bridges With the City of Lancaster
Through Franklin & Marshall College's Center for Sustained Engagement with Lancaster (CSEwL), faculty and city administrators have explored and developed bridges for the shared community's...F&M and Lancaster recently celebrated several years of community projects through the Center for Sustained Engagement with Lancaster