F&M Senior Dreams of Opening Nonprofit to Support Families Like Her Own
First-generation student Hannah Breedlove shares how financial aid and local nonprofits have impacted her dreams to open her own nonprofit focused on helping mothers pursue education to combat generational poverty.
First-generation student Hannah Breedlove is on a mission to combat generational poverty.
As the oldest daughter of a single mother, the Franklin & Marshall College senior is familiar with what it takes to make ends meet. Breedlove described her mother as being transparent and honest about their family's use of government assistance programs and local nonprofits that offer free family resources.
"Without those organizations, I don't think we would've gotten to where we are today," she said. "Knowing how supported we were, I would love to reflect that back now that I'm in a better position."
Breedlove's first venture into paying it forward began this past summer at Milagro House, a residential, education-focused nonprofit organization in Lancaster, Pa., supporting local women and their children facing homelessness. After discovering Milagro House through a mentor she met through F&M's True Blue Network, she turned to the Office of Student and Post-Graduate Development (OSPGD) to find funding for the unpaid summer internship.
Breedlove also received the Lee Drukenbrod/Park City Scholarship, which provides scholarship assistance for students whose residence was Lancaster County, Pa., when they entered Franklin & Marshall. The fund was established in 1989 in memory of Lee Drukenbrod, chairman of the board of Dusco Property Management, Inc., managers of the Park City Center in Lancaster.
At Milagro House, Breedlove enjoyed a balance of administrative duties and what she called "direct impact" responsibilities. She cleaned up more than 2,700 records of donors and created a data entry how-to guide, managed and supervised community volunteers and more. She also engaged with families, providing childcare for mothers when needed, proctoring GED exams, and working in Milagro House's community garden, where women and children helped to plant, water and harvest beds of fruits, vegetables, flowers and herbs for communal use.
"That was my favorite part," Breedlove said of the community garden project. "It's important to me to know the families you serve."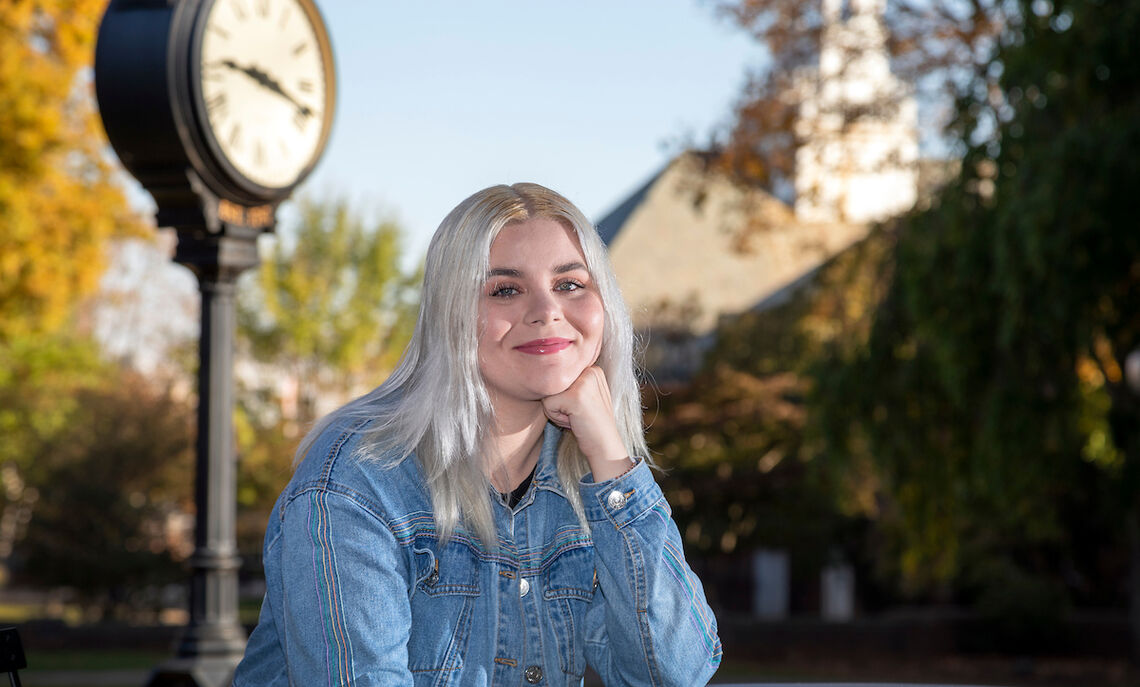 Breedlove was grateful for the insight she received at Milagro House, since she hopes to one day open her own nonprofit. Her goal is to help mothers pursue education to combat generational poverty.
"It does take actual intentional intervention, otherwise generational poverty does continue; it is a cycle," she said. "I think that education is one of the greatest tools we have to be able to break that cycle. It really does open doors for people who might not have been able to conceive what was possible before because of a lack of access and a lack of privilege."
As a first-generation student, Breedlove knows firsthand how important education is to generational success. Though college sometimes felt unreachable when she was younger, there was no doubt in Breedlove's mind that she would do whatever she could to attend college.
"It wasn't a question of if I'd go to college, it was where," she said.
Now a senior who will graduate in May with a degree in history, Breedlove is grateful to F&M not only for the generous financial aid package she received, but also for the irreplaceable experiences she's had as head housing adviser for Brooks College House, the support she's found in OSPGD and the Student Wellness Center, and the funding she received from the Lee Drukenbrod/Park City Scholarship.
"My summer internship at Milagro House would not have been possible without the generous funding I was able to receive as an F&M student," she said. "I look forward to increasing my capacity to break the cycle of poverty as I finish out my time at F&M."
Related Articles
November 30, 2023
F&M Honors Alumni, Volunteers for Philanthropy, Service and Professional Accomplishment
More than one dozen F&M alumni were recently celebrated for the countless contributions they have made to the College and to their careers and industries.
November 2, 2023
Career Boot Camp Helps Future Grads Find Footing
Meet two seniors preparing for life after college. Within six months after graduation, 95% of F&M's 2022 graduates were either employed or continuing their education.
October 31, 2023
True Blue Weekend Marks Milestones
An estimated 2,100 students, parents and alumni filled Franklin & Marshall's campus Oct. 27-29 for True Blue Weekend. The annual Homecoming and Family Weekend offered something for members of every generation.