Campus Musical Brings the Big Stage Outside
This story is part of our #FandMArts series documenting how the campus community continues to bring the arts to life in a virtual setting.
It was only fitting that Franklin & Marshall College's Go-Go themed musical commenced with "We Got The Beat."
The cast of "Head Over Heels" certainly didn't miss one, despite a pandemic-disrupted rehearsal process.
Student performers successfully delivered the first outdoor performance ever staged at the Winter Visual Arts Center over True Blue Weekend. The musical comedy featured songs by 1980s new wave quintet, The Go-Go's, and a plot inspired by Sir Philip Sydney's 16th-century prose romance, "The Countess of Pembroke's Arcadia."
Characters clad in sequins and clever masks delivered a Renaissance and glam rock mashup to a crowd of physically distanced onlookers on the lawn near the North Museum.
"I think our outdoor space has freed us from perfectionism. The challenges were inevitable and many, and so it became easier to accept limitations as creative opportunities, and to practice the freedom of creative risk-taking," said Rachel Anderson-Rabern, associate professor of theatre.
Remote ensemble members participated through a large digital display. Cast and crew used the space strategically, from dramatic lighting and banners along the art center's walkway to a playful act along the perimeter of the reflection pool (complete with beach balls and inflatable swans).
"We tried to find as many ways as we could to build the demands of our current moment into the world of the show, which became a matter of acknowledging the absurdity of having our actors 6 feet apart from one another while also highlighting their skill in being able to connect to each other across that distance," said Johanna Bear '21, who participated remotely as dramaturg.
The musical's lively final act moved many audience members to rise from their seats and dance.
Below, enjoy a slideshow of the event and a chat with the cast and crew.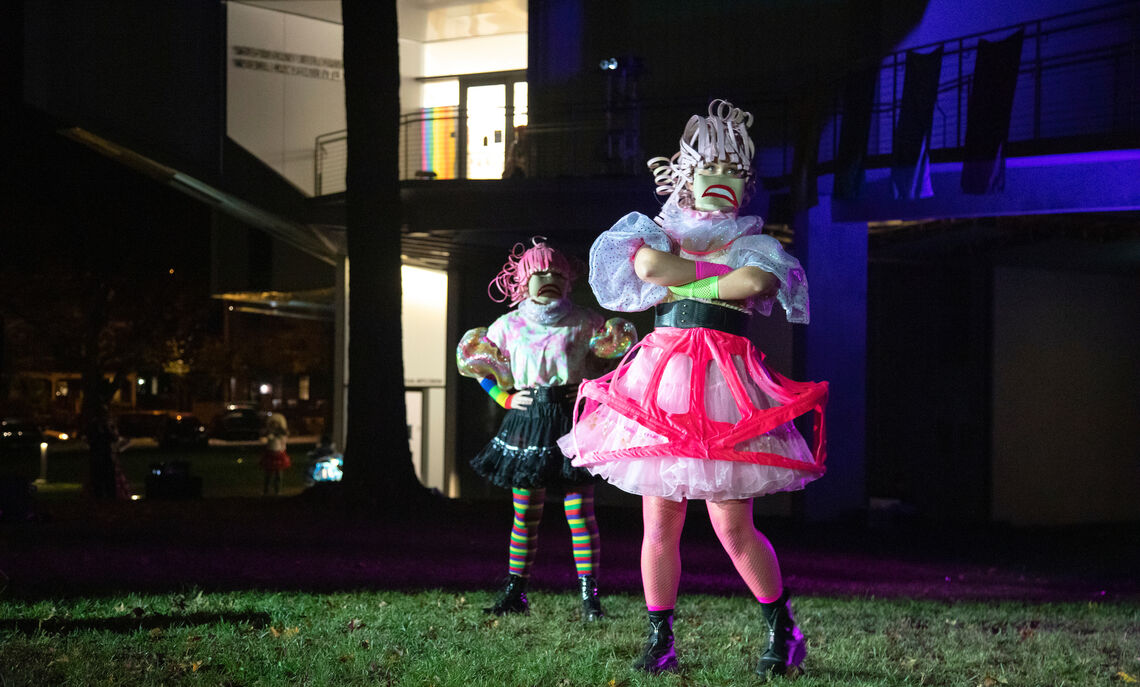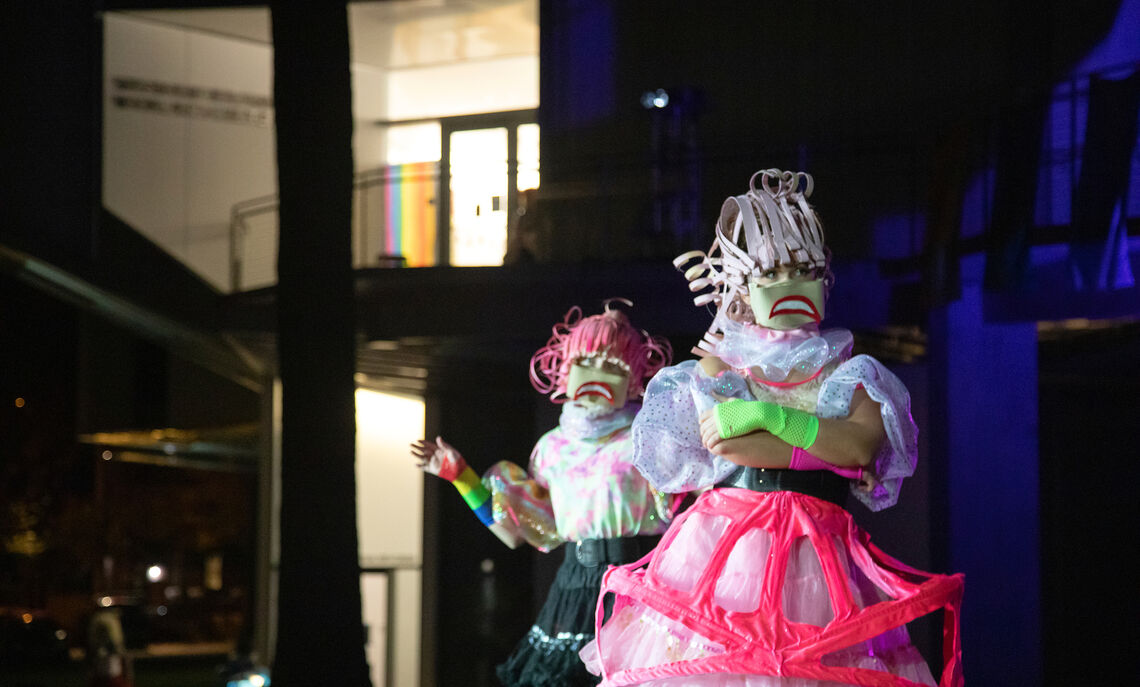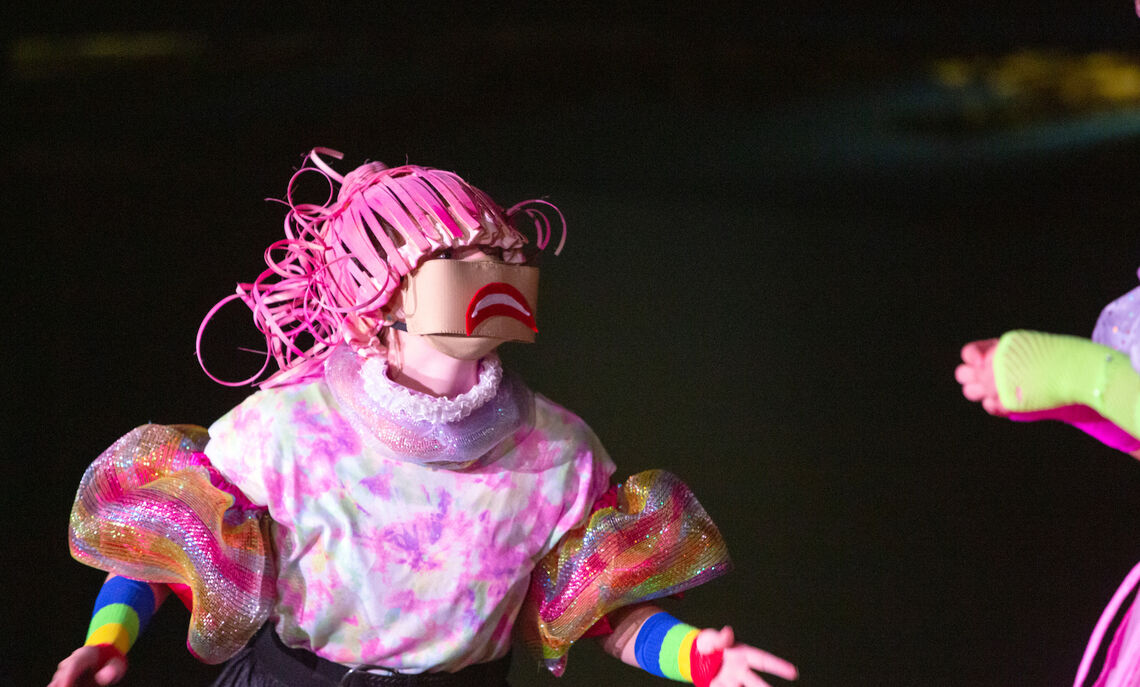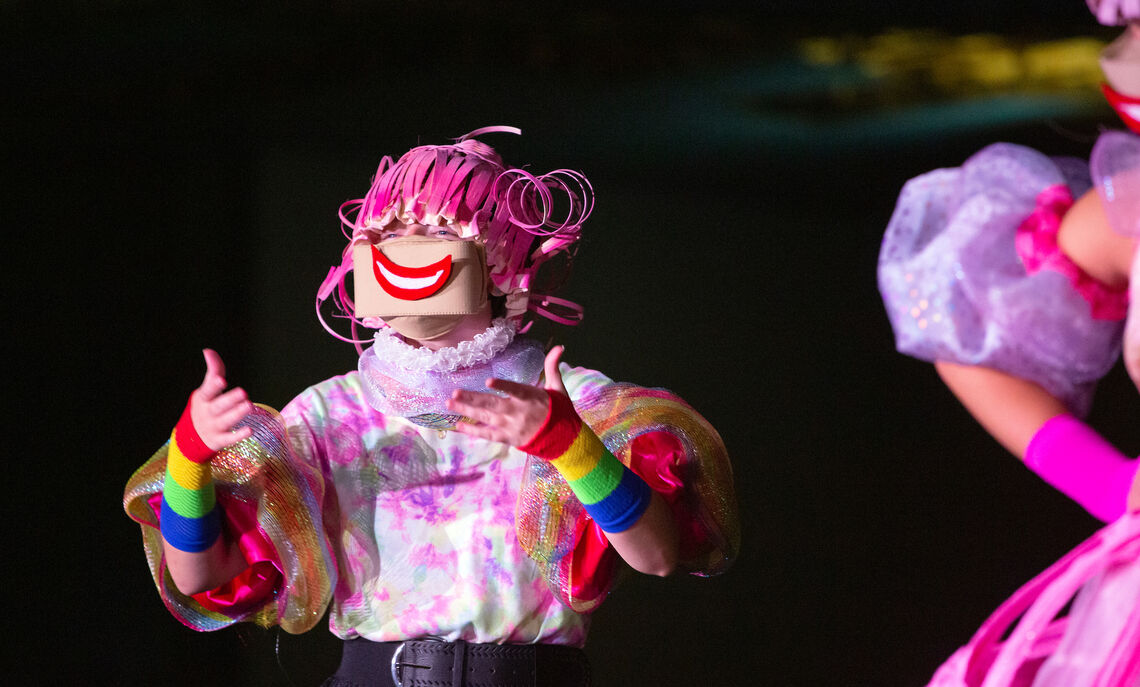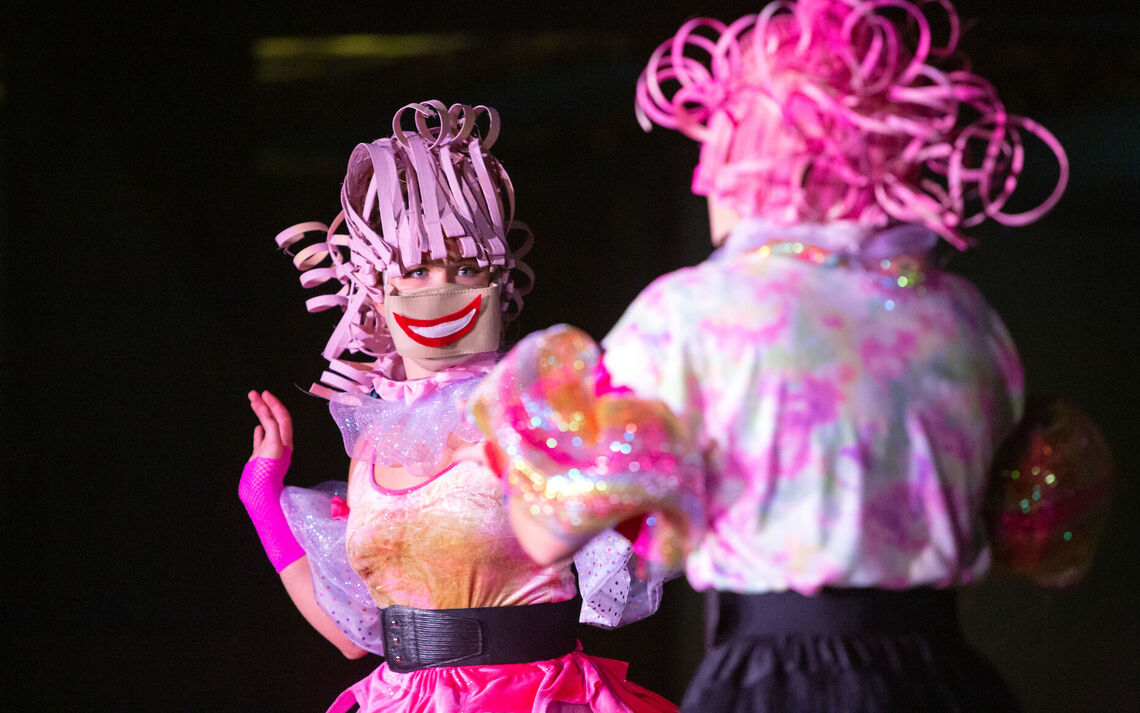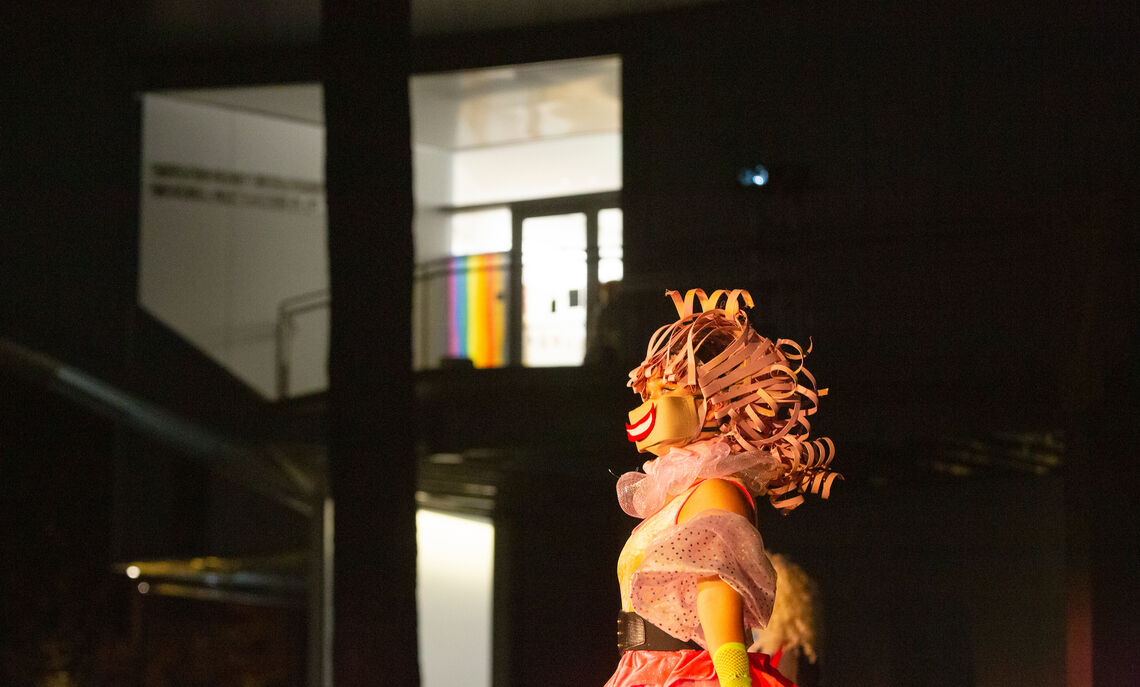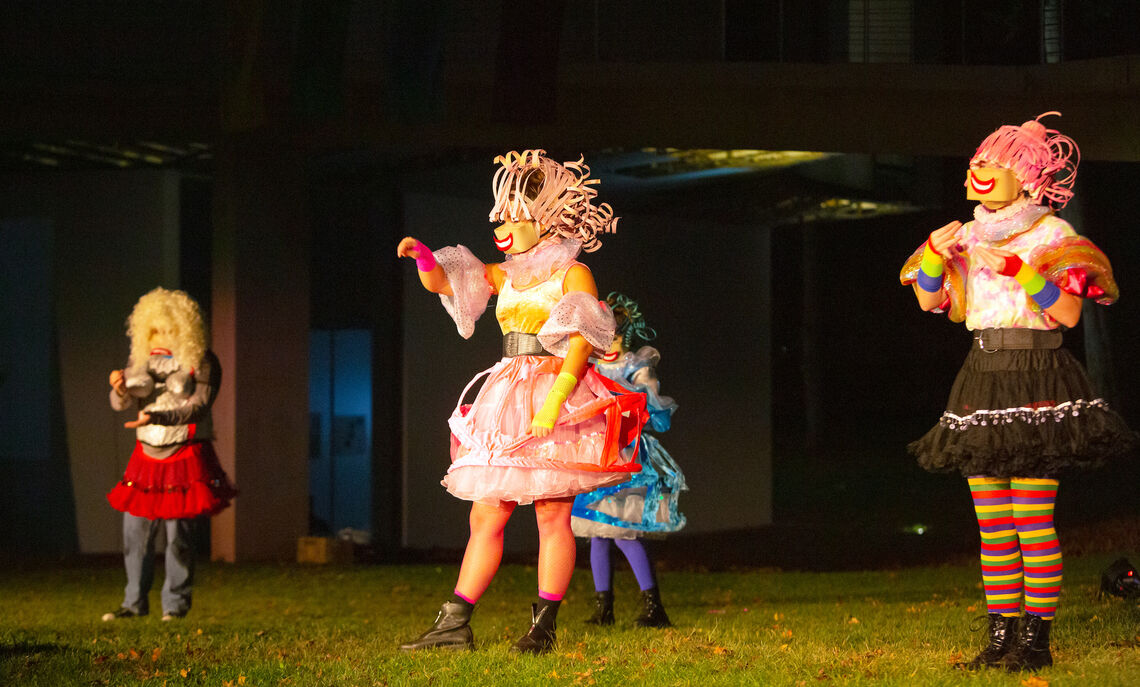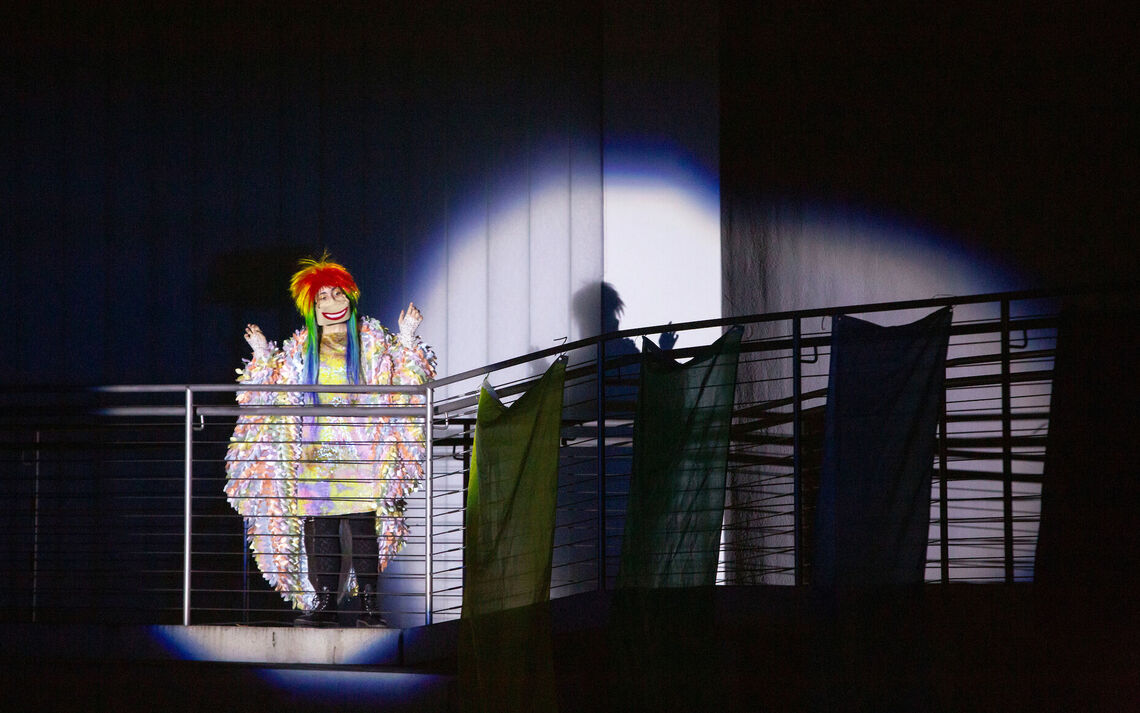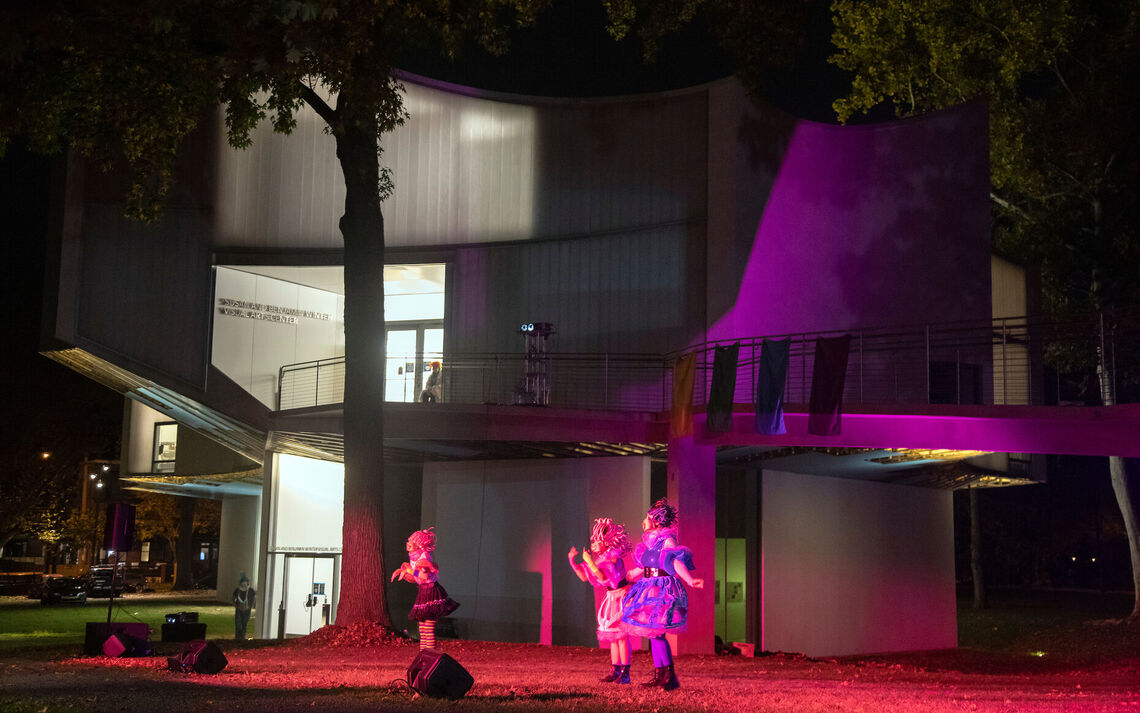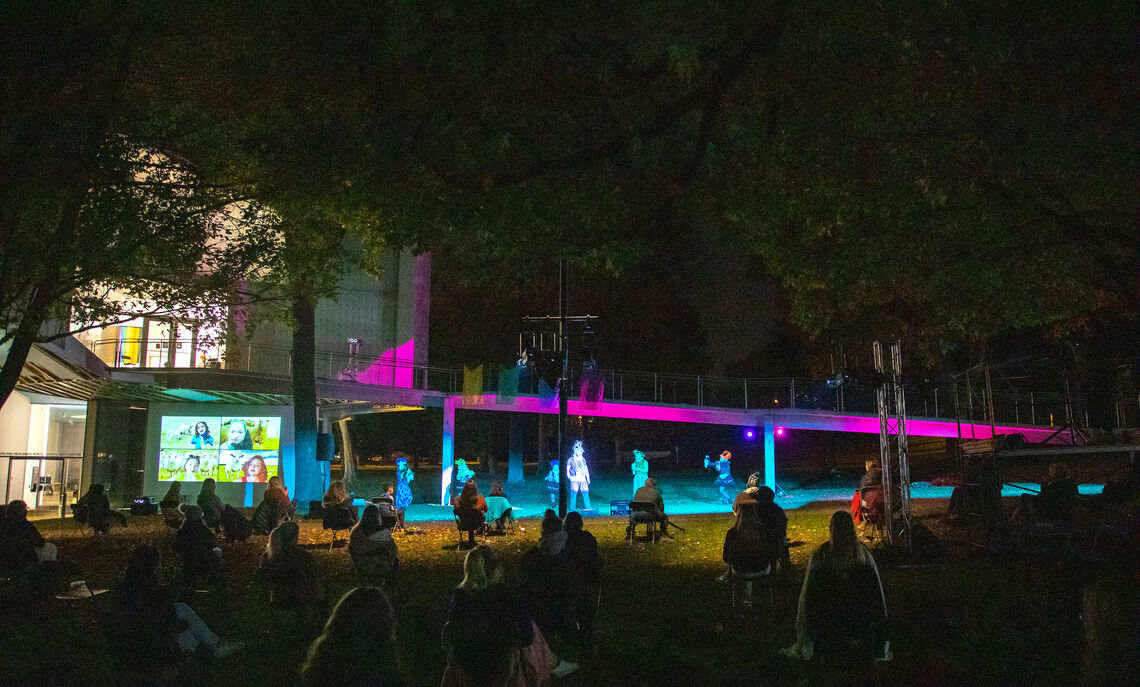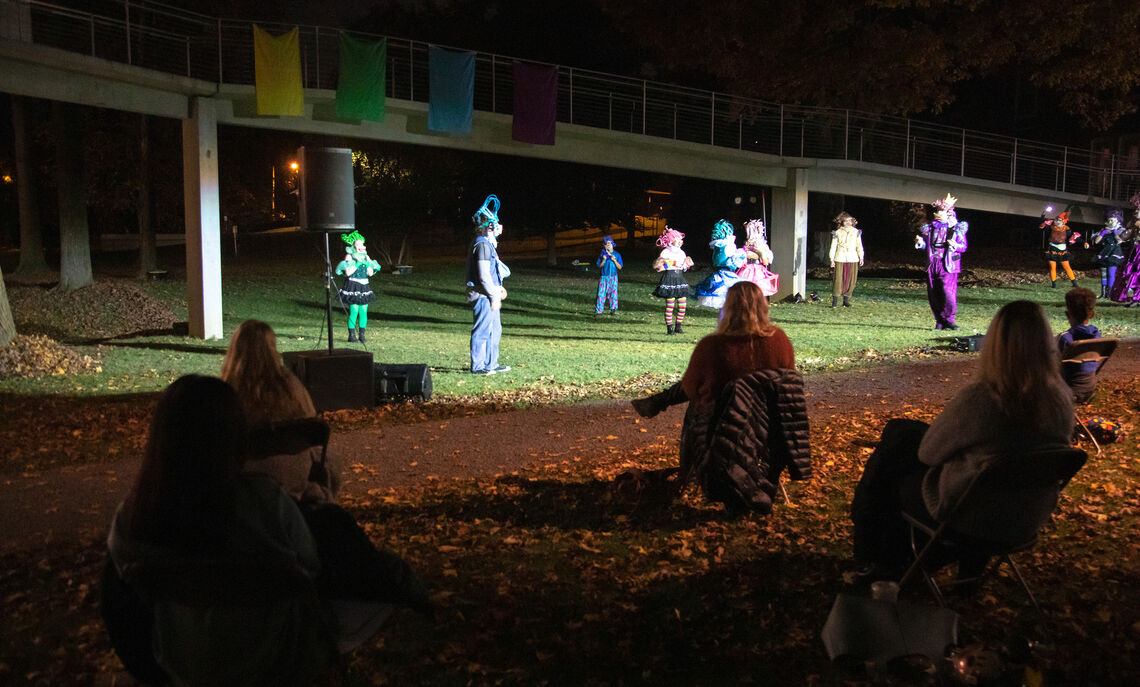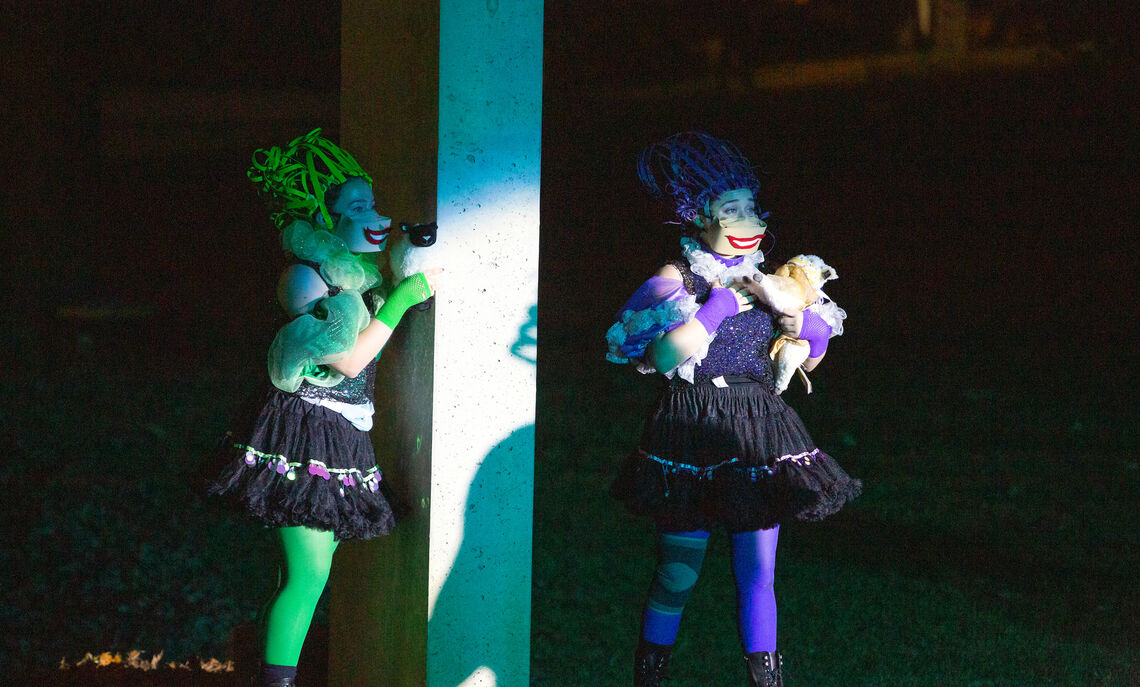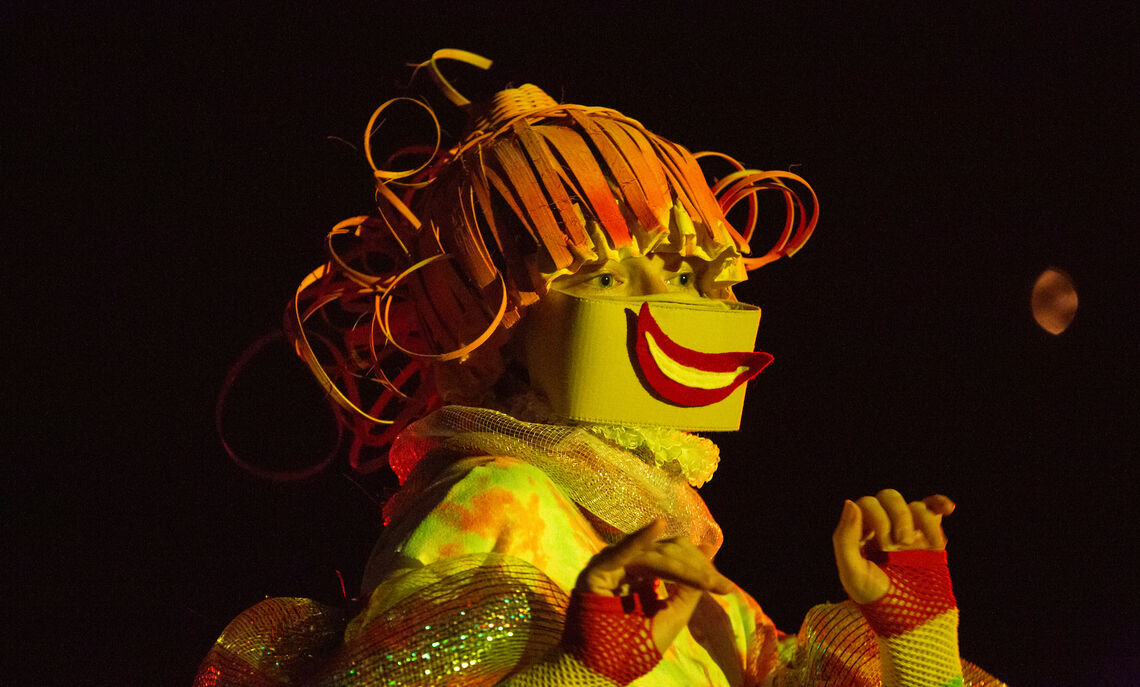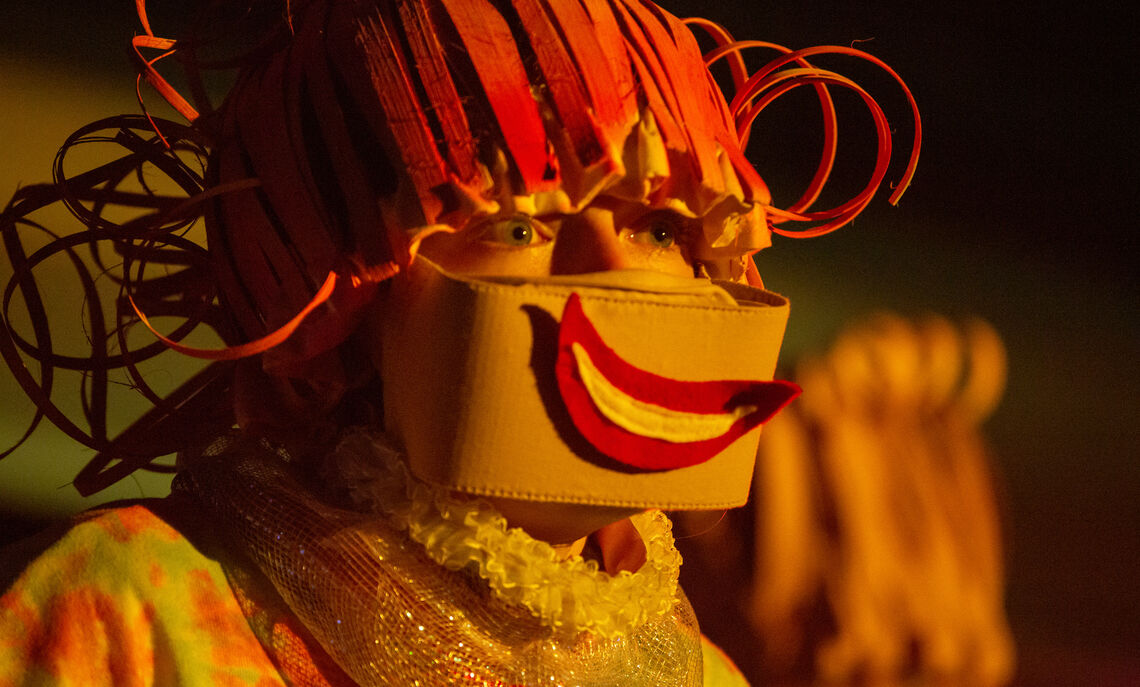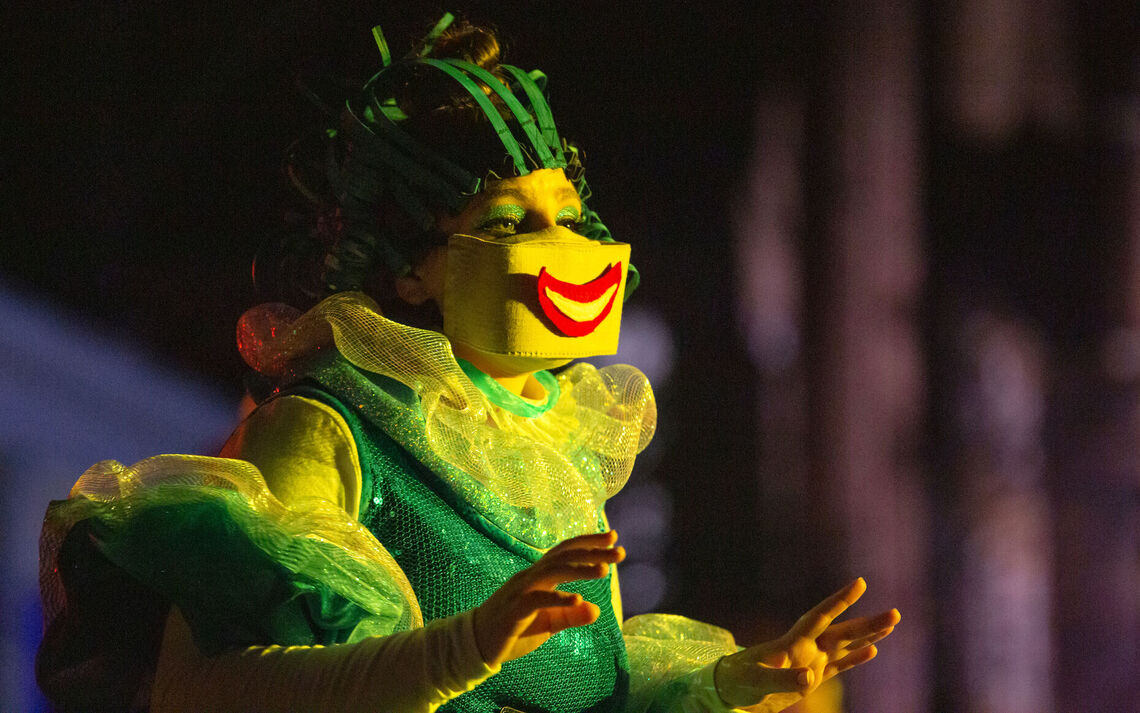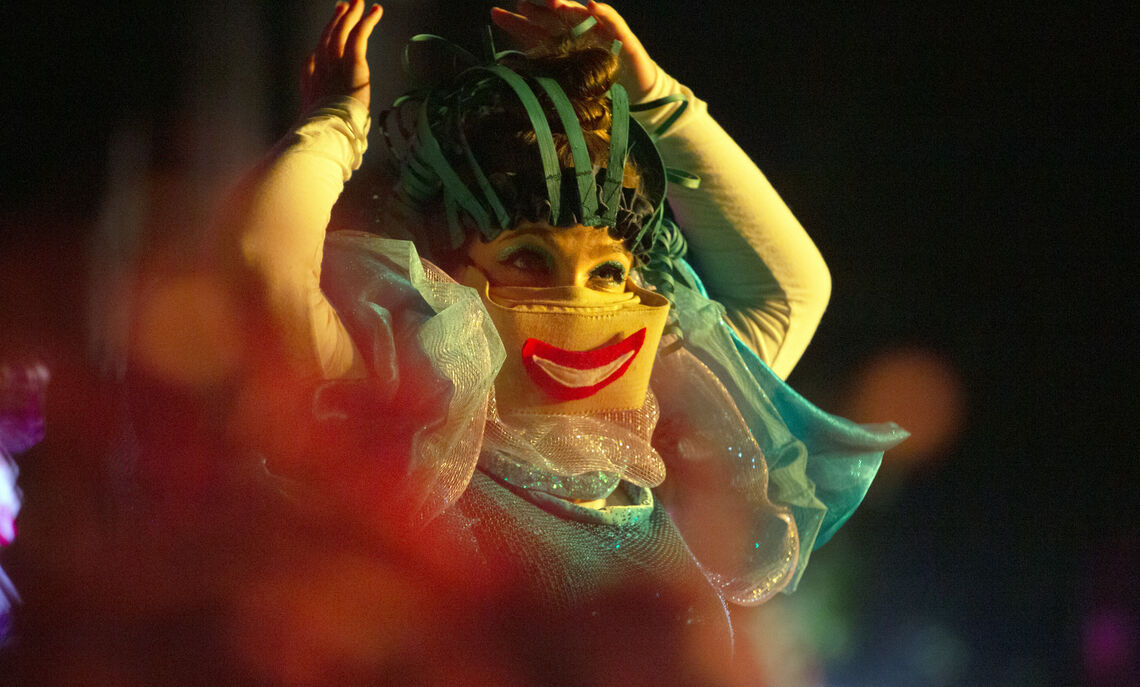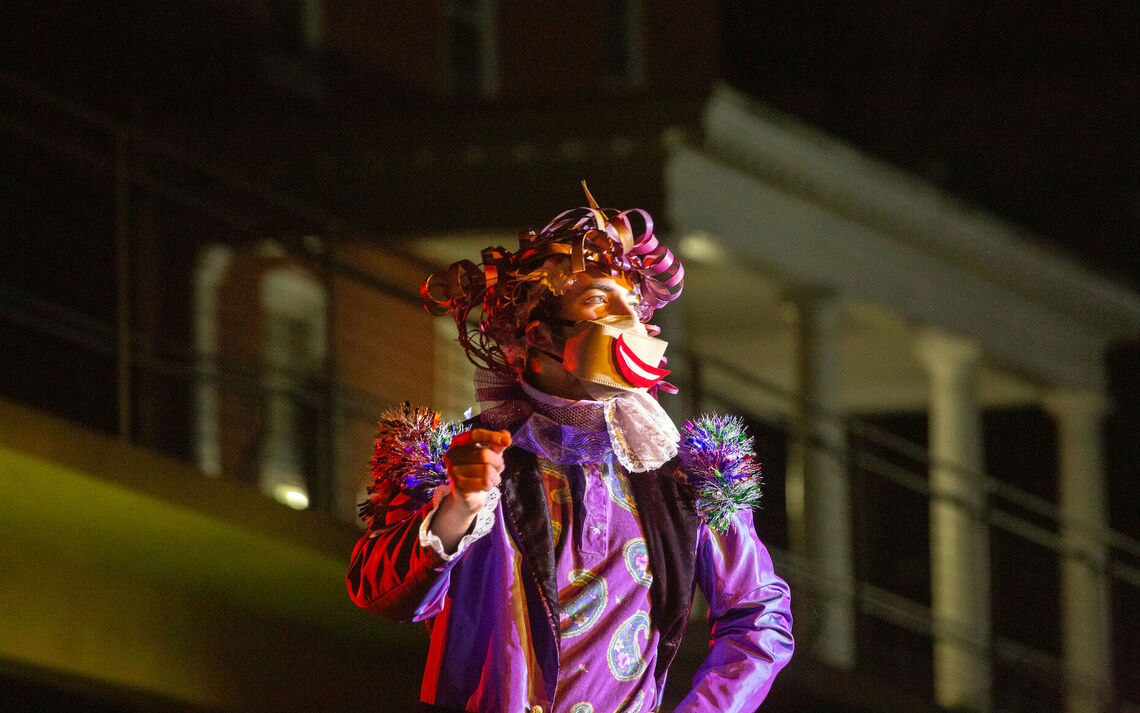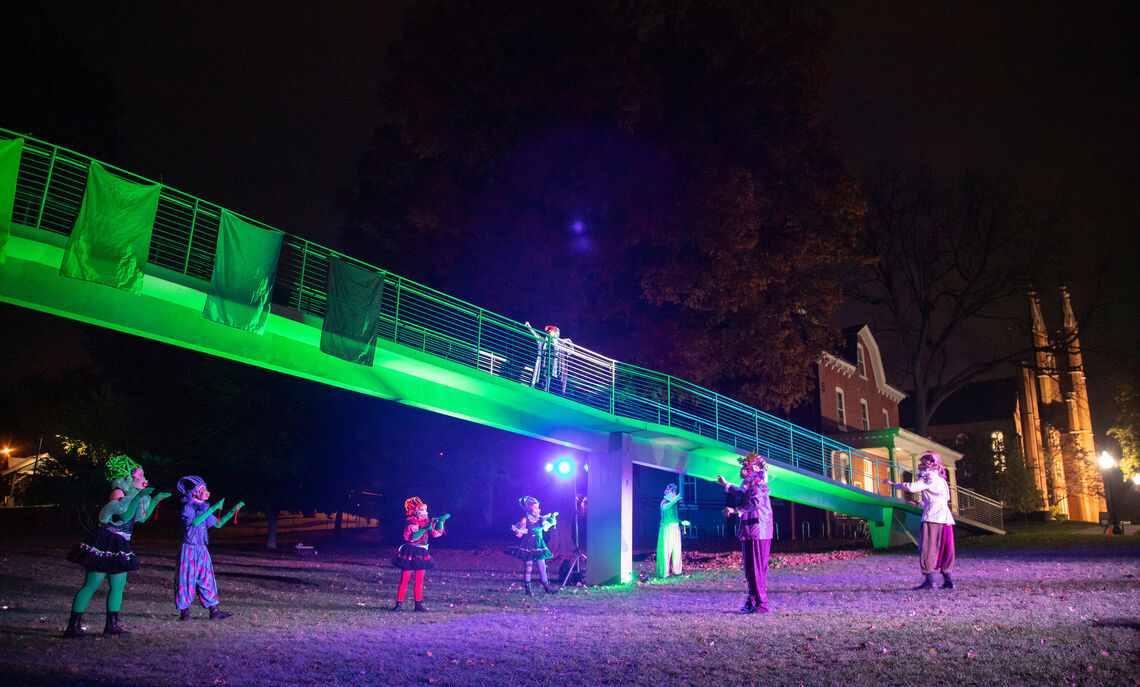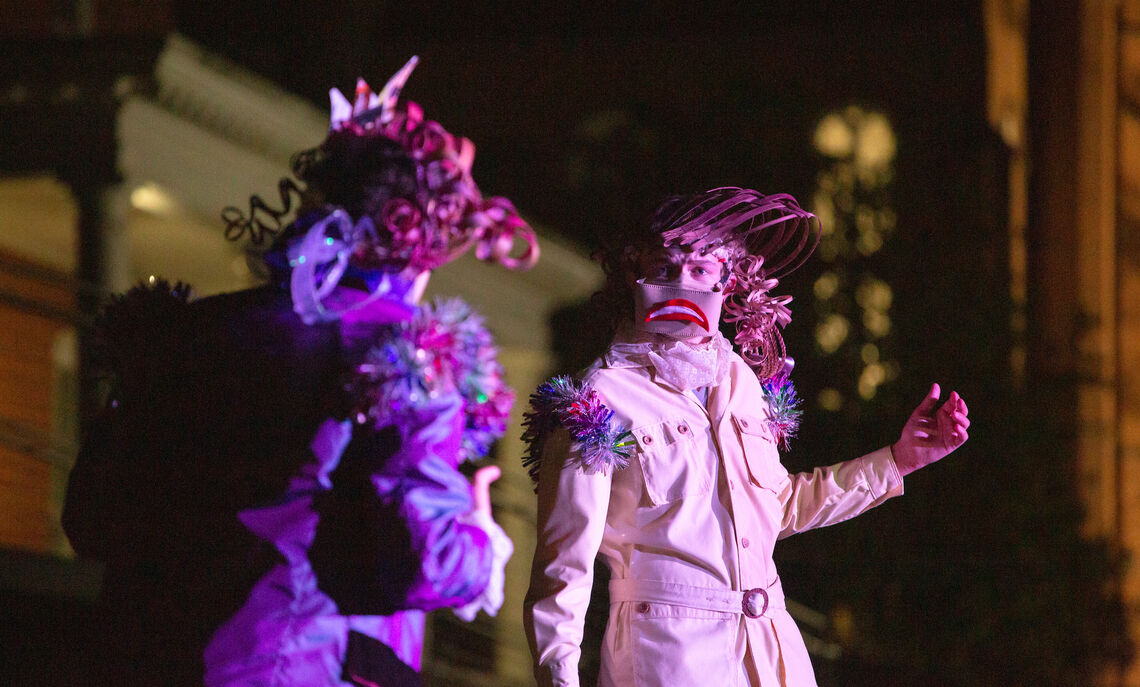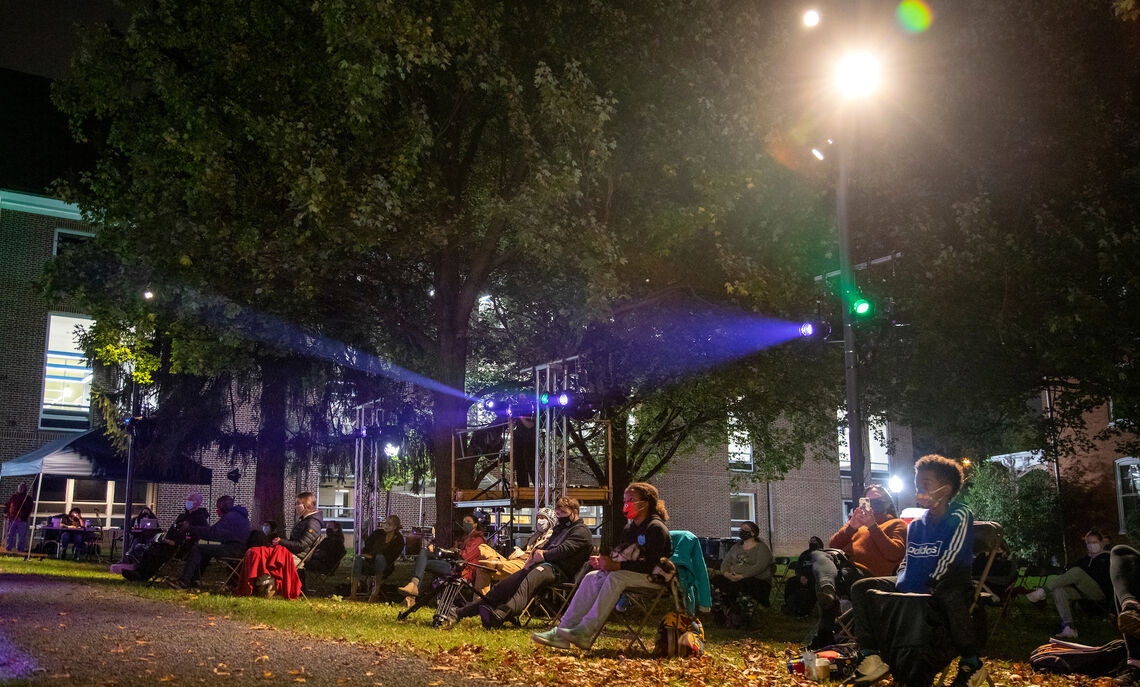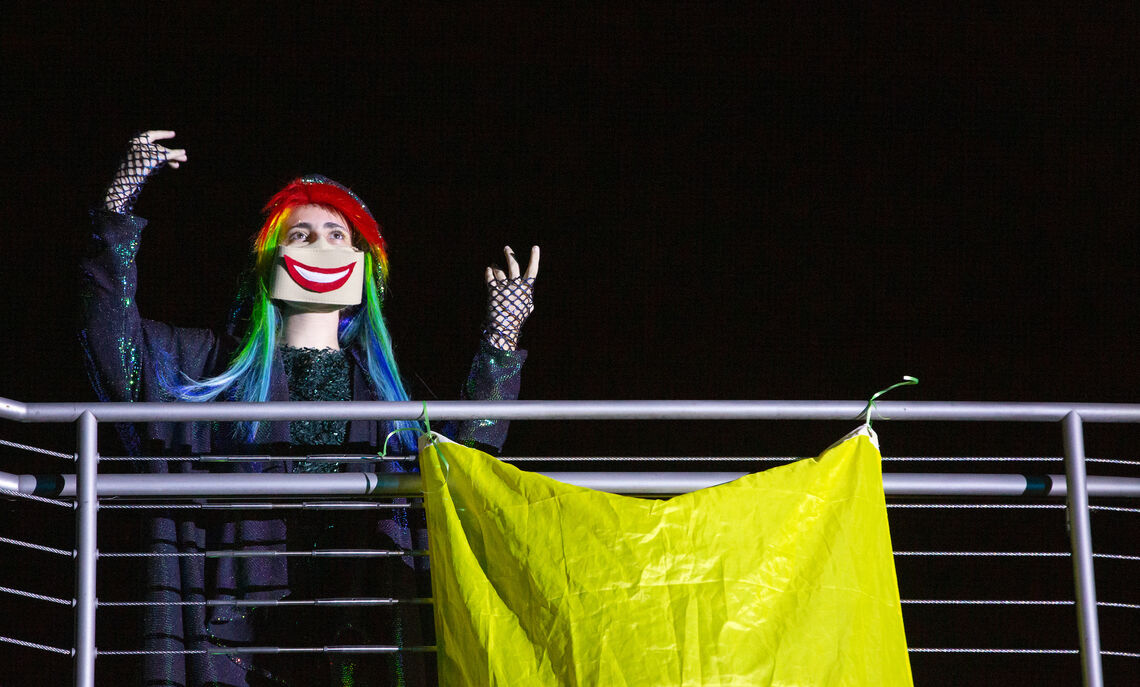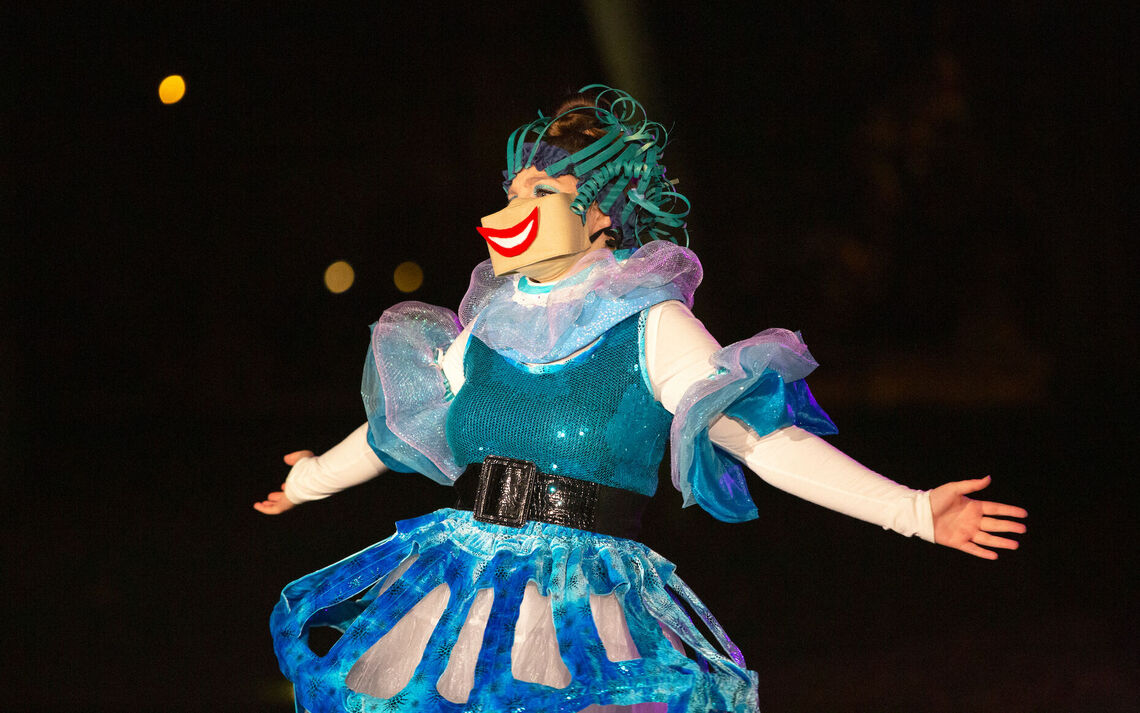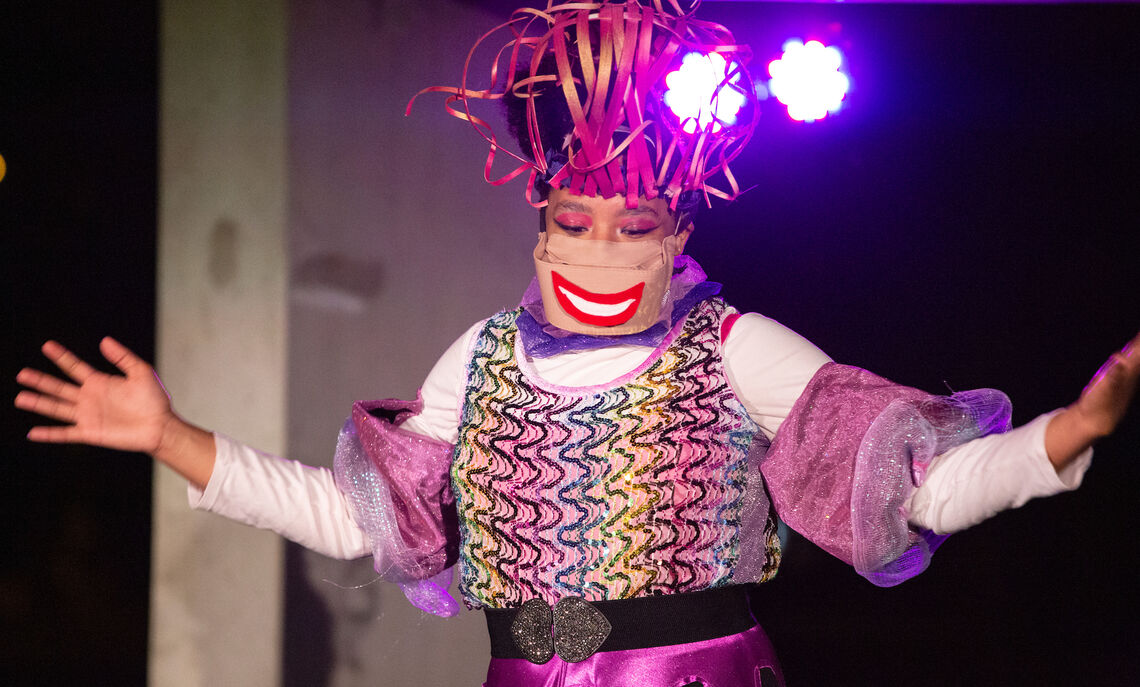 AF&M: Did you participate remotely or on-campus? What was it like to rehearse with pandemic precautions?
Johanna Bear '21 (dramaturg): My involvement in the show occurred entirely in a remote capacity. I would occasionally join rehearsals through Zoom to discuss the text and the show's historical lineage with the cast early on, but much of my contribution took place through conversations with our director surrounding how we wanted to shape the show and what decisions would best support that collective creative vision. I also contributed to the virtual program to craft an archive that documented our rehearsal process and contextualized the show for our audience.
Lauryn Harper '22 (Gynecia): I was one of the in-person performers. The rehearsal process was definitely interesting to say the least. Most of our earlier rehearsals were on Zoom, which was a little hard when Rachel, our director, was trying to block a scene using only a picture of the outside of the Winter building. Once we did move inside… the rehearsal times felt more personalized working with just my duet partner Charles Romano (Basilius).
Shelby Kaplan '21 (Philoclea): Rehearsing amidst a pandemic was odd to say the least. We had to find ways around stage directions that were not COVID-friendly. It required a lot of creativity and it was quite fun throwing out random ideas to use as alternatives. It was challenging to find ways to connect with scene partners when we are unable to touch or get close to them. We also had to find ways to show our emotions with our whole bodies since our faces could not be seen.
Shoshana Frank '24 (live ensemble): I rehearsed and performed in person. Rehearsal, and really the whole process, was unlike anything we'd ever done before. It was really challenging to learn how to sing and dance with a mask on. When singing, the masks and extra distance between us made it harder to sing together and hear one another. Additionally, a lot of the scenes called for some level of physical intimacy that we had to find creative ways to depict in a socially distanced way. The mask and physical distancing definitely made it harder for the cast to form relationships with one another in the way that most theater productions bond, but I think that we overcame that barrier. Overall, while this was far from your standard rehearsal process, it was so much fun and was 100 percent worth it.
F&M: Have there been any surprising perks to remote rehearsals or outdoor performances as opposed to traditional indoor stages?
Bear: Rehearsing with pandemic precautions required all of us to rethink our relationship to liveness, to performance spaces, to connection, and to our individual roles in making a production happen. Every decision that was made had to be explored from every possible angle to ensure that it was following appropriate safety guidelines while also operating in the best interest of the story we were trying to tell, which is how we ended up with wild and wonderful ideas like having one of our ensemble members spraying Lysol on a prop before it was handed from one actor to another.
Harper: I would say that a perk of getting to perform outdoors is really the amount of space we have to play is so much bigger. It is really important that we tell the story in not just our words, but in our bodies and most of the time in theatre, that comes from facial expressions. Being masked up, we had to move that storytelling to other parts of our bodies and if we were inside, we wouldn't have the space to do that. Being outdoors gave us the freedom to make our movements and gestures as big as we liked.
Kaplan: I think one perk of the outdoor performances is that we were able to see all of the scenes that we were not in. Typically, you are backstage during the scenes you are not in so you never truly get to see them. Since there was no real backstage here, we were able to see everything!
Frank: Outdoor performance... made it really hard because of sound, weather, cold, and lighting. However, one plus that stands out to me was that it forced us to be super creative. We needed to figure out how to do more with less and be super flexible. While it was less than optimal and definitely came with challenges, it did give us the opportunity to be creative.
A video recording of F&M's "Head Over Heels" is available to view on Broadway On Demand.
Live ensemble: Helen Buscher, Olivia DePasquale, Shoshana Frank, Jake Miller, Johnathan Screen
Mopsa: Haley McAllister
Gynecia: Lauryn Harper
Pamela: Emily Driscoll
Musidorus: Steven Kopits
Dametas: Luke Solacoff
Basilius: Charles Romano
Philoclea: Shelby Kaplan
Pythio: Skylar Rella
Oracle: Ryan Squires
Recorded ensemble: Elise Baer, Ellie Borghi, Aviva Katz, Annie Wu
Understudy for Musidorus: Liam Roper
Understudy for Gynecia, Mopsa, Pamela, Philoclea: Holly Andrew
Musicians
Band Director / Accompanist: Doug Beach
Bass: Mike Vitale
Guitar 1: Darin Xie
Guitar 2: Rusty Banks
Drums: Josephine Cleverton
Audio/Video
Audio Engineer for Prerecorded Music: Travis Berkoski
Student Videographer: Ethan Beller
Student Videographer: Christopher Rosica
Related Articles
September 21, 2023
Exploring Theater as a Tool for Social Change, Education, and Awareness
Aviva Katz '24, a government and theatre joint major, discusses how F&M's Diversity and Equality in Education Certificate is helping her along her path toward a career in educational theater.
March 29, 2023
Bank Prize Winner Ponders Love and Language
Inspiration is a great place to begin writing a story – but not enough to sustain it. Writer Camille Acker delivered insightful advice at a March 23 craft talk and selected Franklin & Marshall...Author Camille Acker selected F&M junior Grace Celi as the winner of this year's Jerome Irving Bank Memorial Short Story Prize.
January 11, 2023
'Dance Brought Me to Life': Meet Kendall Lipham '23
As winter break comes to a close, a group of thespians is hard at work rehearsing the first Franklin & Marshall production of Meet sen Kendall Lipham, director of the latest F&M Players musical theater production