'Here We Live, Here We Grow'
Performances by sophomore cellist Elizabeth Chapman and junior vocalist Eva Hirsch accented a magnificent spring day April 23 as Franklin & Marshall College celebrated the dedication of the fifth and newest College House, as well as the philanthropy of Robert '54 and Anna Roschel.
The Roschels have long been generous supporters of the College, having provided the gift for the Roschel Performing Arts Center, and today a $6.5 million gift to rename New College House as part of the $200 million Now to Next Campaign.
After the Roschels pulled the cord, which dropped the drape to unveil their name on the building, sophomore Sameeha Hossain, a member of the House's Senate, explained to the couple the life, culture and governance of Roschel College House over a student's academic career.
"As a growing family, we seek to encourage the social and the cultural development within the House," Hossain said. "We also sponsor academic events such as campus-wide town halls to facilitate dialogue between students, faculty and administration."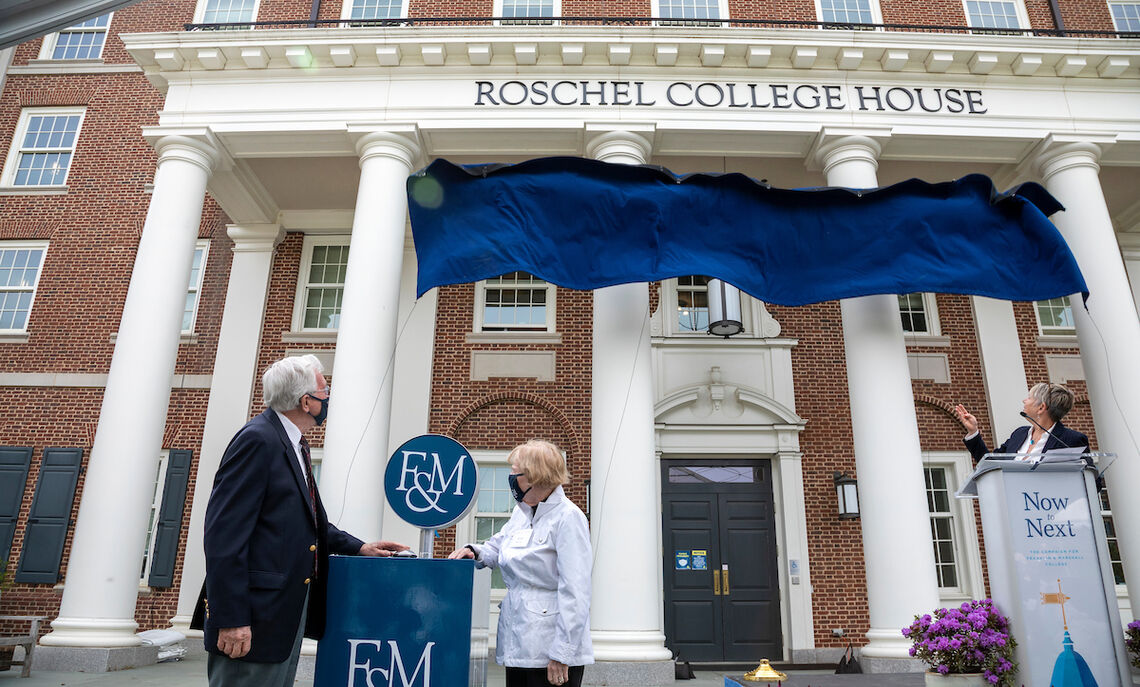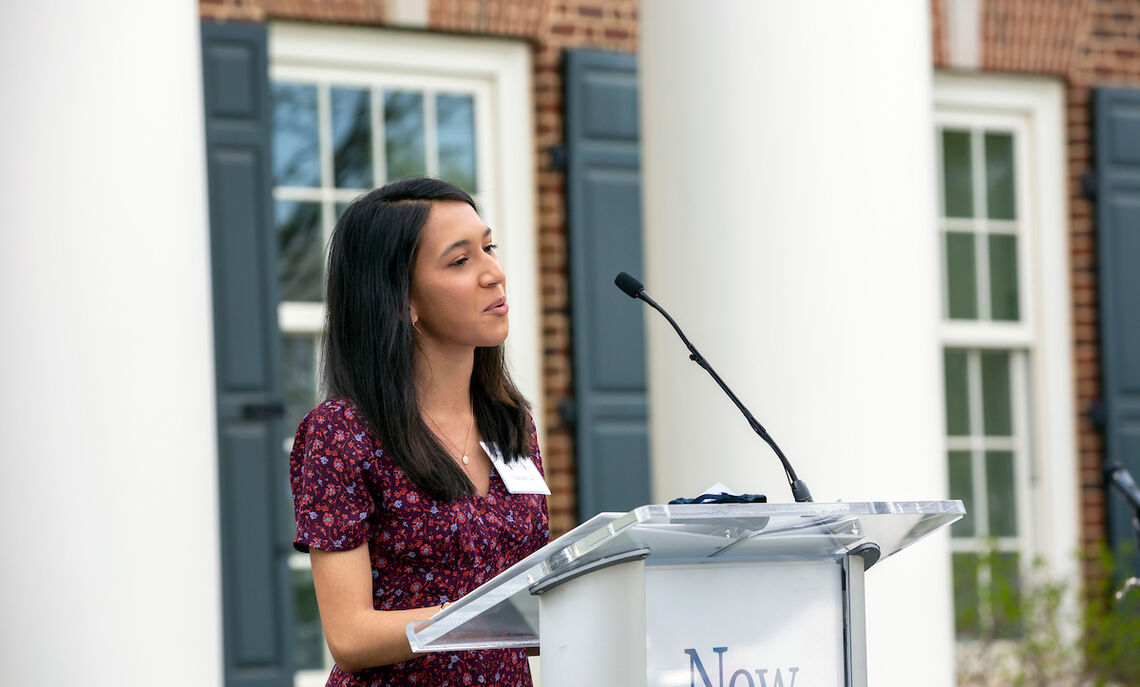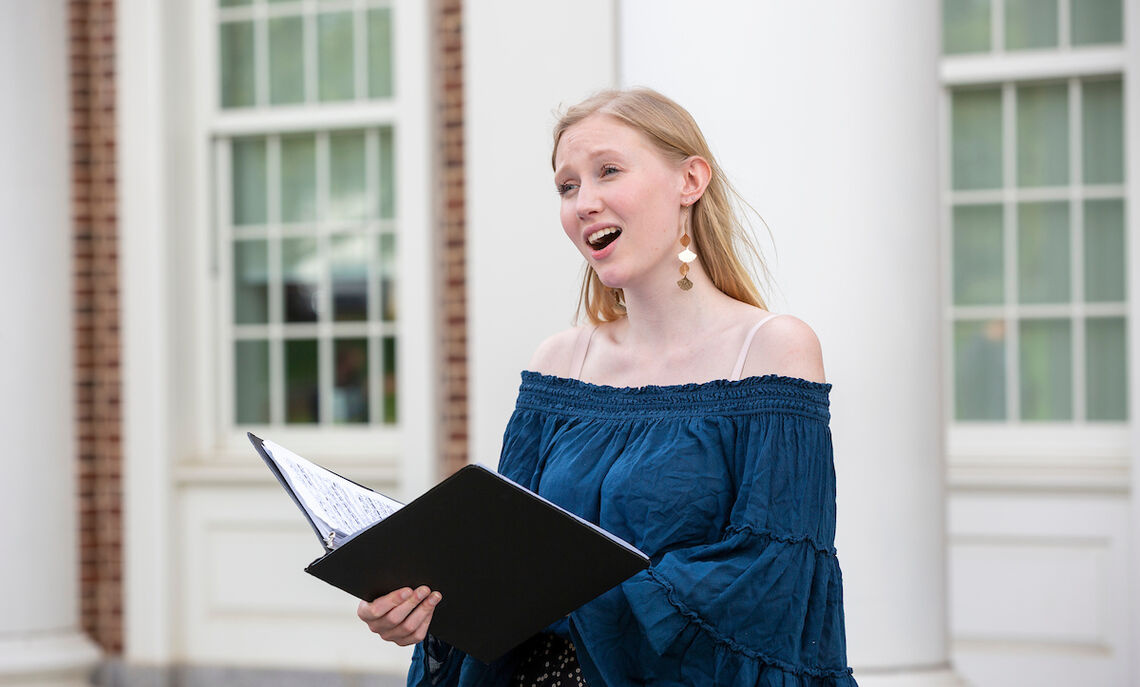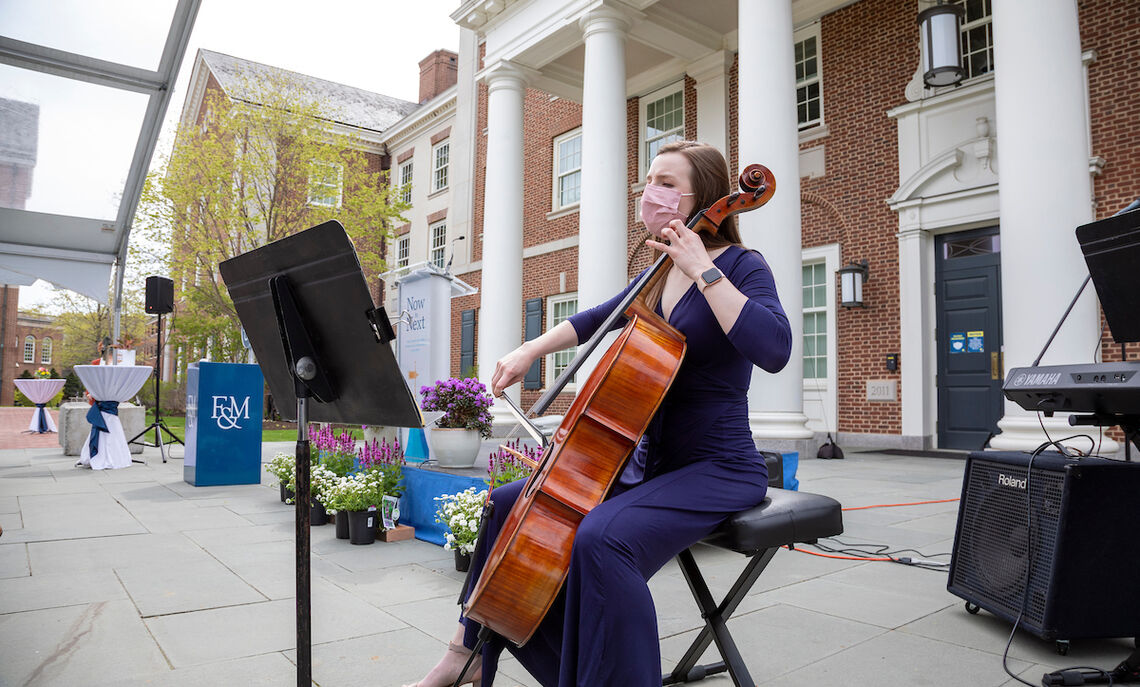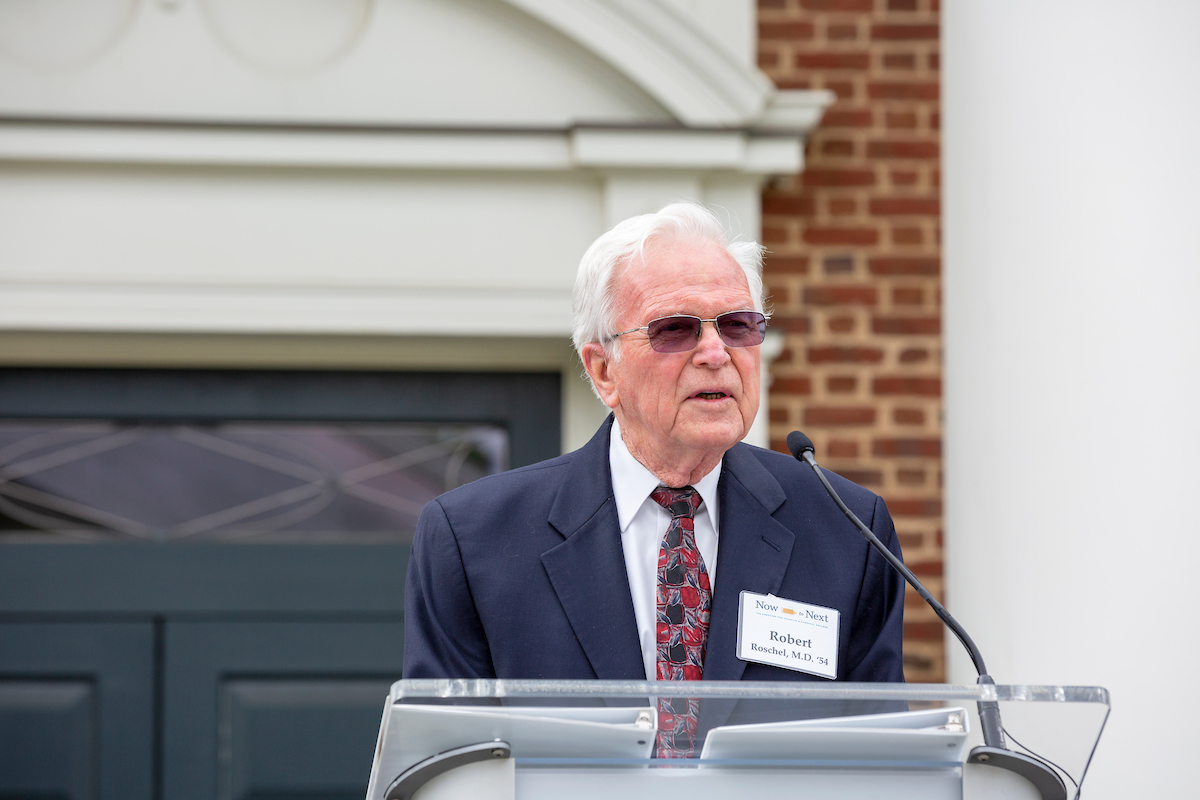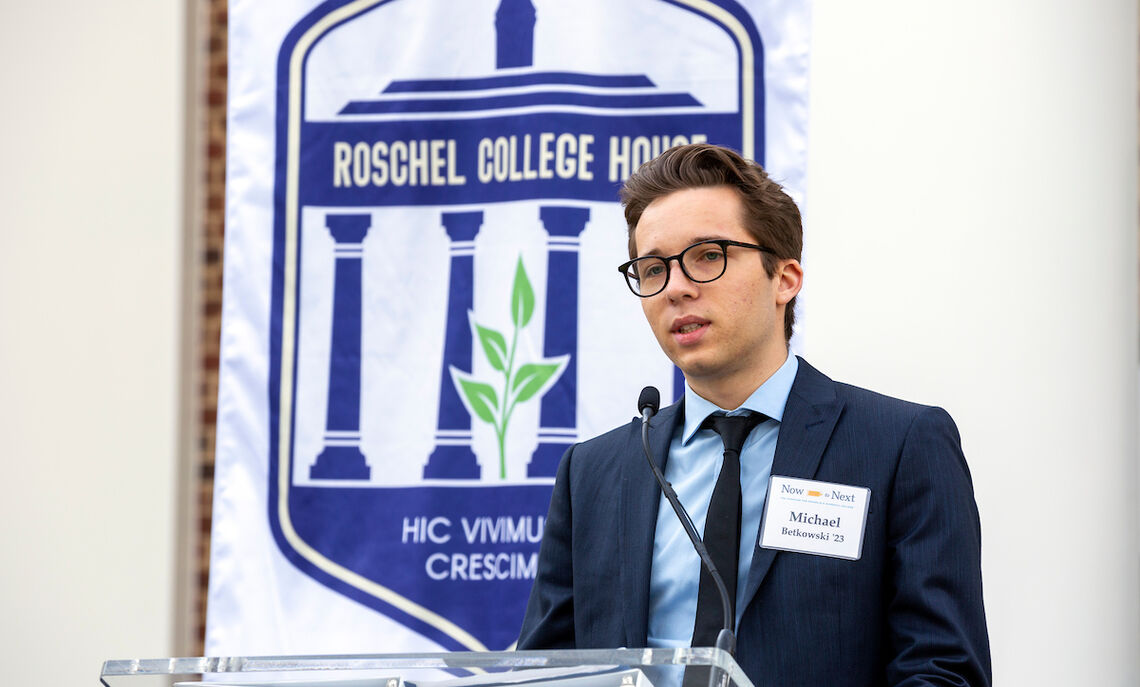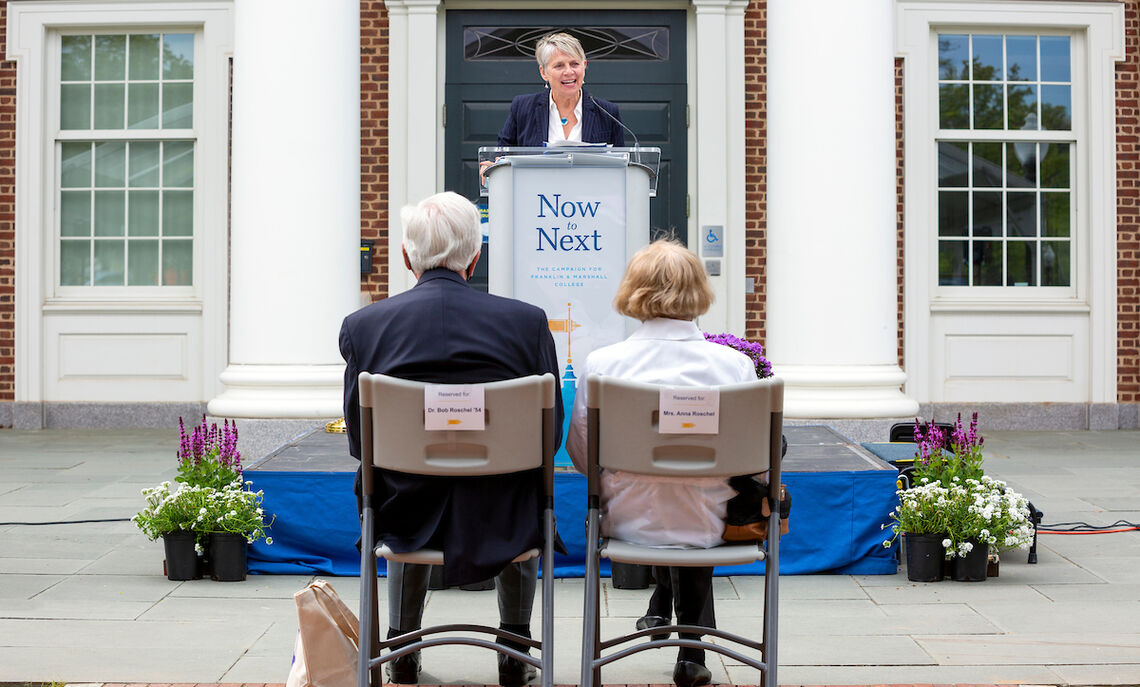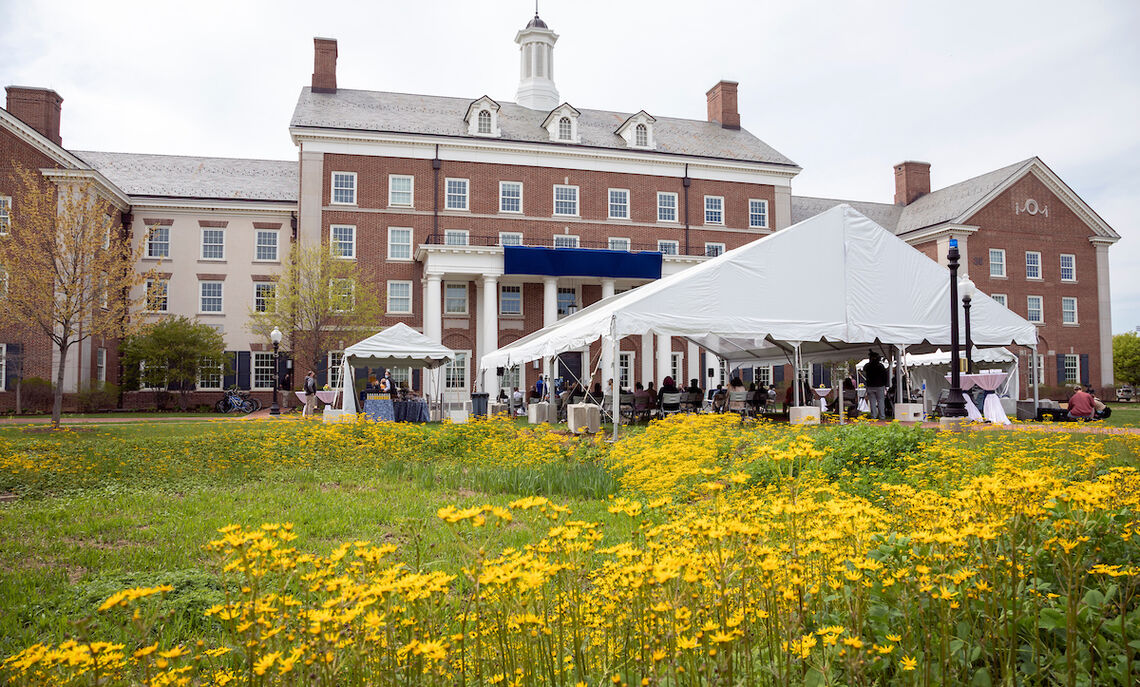 Looking forward, Hossain said, "As members of the Senate, we not only learn and grow ourselves, but have the honor of representing every family member and helping them along their journey. Four years later, when our time at Roschel has come to an end, we will have grown as a family, creating a blossoming garden."
Before she unveiled the College House's new crest, Hossain turned to the couple and said, "To Dr. and Mrs. Roschel, we are beyond grateful for your generosity. On behalf of the students at Roschel College House, it is once again my honor and privilege to welcome you to our family."
Robert Roschel shared his experience attending the College in the last century and recalled that when he attended only one residence existed, Hartman Hall, long since demolished. He spoke of his "love affair with Franklin & Marshall College," and expressed his gratitude for an education that paved his way to become a physician.
House Adviser and sophomore Michael Betkowski opened his remarks with the House's Latin motto, which is part of the crest, and said, "Literally, 'here we live and here we grow' … nothing could be truer." He said Roschel "provides a home, a mode of support, a family throughout our four years."
Betkowski spoke about the plant a first-year student receives upon arriving and said, "The symbolism of a plant stands in affirmation that Roschel College House caters to every student's needs. That is, as the plant grows through its time at Roschel, so does its owner."
In her remarks, F&M President Barbara Altmann said that since the opening of the College Houses in the early 2000s, "The five houses have truly embodied the core principles of the liberal arts tradition and the residential model of education."
"Four years later, when our time at Roschel has come to an end, we will have grown as a family, creating a blossoming garden."
— Sophomore Sameeha Hossain

Related Articles
November 21, 2022
Students Decode Zoom Gestures
A team of Franklin & Marshall College students combed through six hours of Zoom class footage to identify gestures exhibited by participating professors and students. The results were...A team of F&M students combed through hours of Zoom class footage to identify gestures exhibited by professors and students. The results were overwhelming.
October 18, 2022
Making Connections: Talking Death, Horror and Dark Tourism with Professor of Marketing Jeffrey Podoshen
A distinctive feature of the first-year academic experience at Franklin & Marshall College are the discussion-based seminar courses called Connections. Students are assigned to these 16-peer...Franklin & Marshall College offers students a hands-on education that emphasizes close relationships with faculty. Students flourish in a supportive community that treats them as an individual, and their successes continue long after F&M. The College is a national leader in launching students and alumni to opportunities where they make a difference in the community and the world.
October 5, 2022
Sneak Peek: Fall at the College Houses
Some describe it as Hogwarts. Many describe it as home. Established in 2005, the College House system shapes the intellectual, social and physical landscape of the Franklin & Marshall campus....Inspired by Oxford and Cambridge universities (and popularized by the "Harry Potter" series), F&M's College Houses have onsite faculty members as advisers, residence halls, and large, open common areas that serve as "third spaces" where faculty and students meet for organized events and informal discussions.