F&M Professor Reflects on Pandemic's Personal Cost
In three years, the pandemic has left a wake of loss felt far beyond the campus borders of Franklin & Marshall College.
Alumni Professor of Creative Writing and Belles Lettres Nicholas Montemarano has transformed this grief into art.
The resulting work, "If There Are Any Heavens: A Memoir," is a poetic elegy highlighting the personal costs of the COVID-19 pandemic.
Written in short stanzas, Montemarano's memoir captures some 600 miles on the road to Indiana and 10 days spent in a hotel room near the hospital where his mother succumbed to COVID pneumonia.
"When you write poetry, a line break is kind of like a breath or a pause. It just made sense with COVID and how it affects the lungs and the breathing. It just all felt organic," he said.
Montemarano is the author of three novels and a short story collection. His stories have appeared in Esquire, Zoetrope, Tin House, and The Southern Review, among other publications. His writing has been awarded a Pushcart Prize and a National Endowment for the Arts fellowship.
Below, learn more about Montemarano's path to F&M and read a moving excerpt from "If There Are Any Heavens."
The Campus community is invited to celebrate Montemarano's book release on Sept. 29 at the Philadelphia Alumni Writers House with a 4:30 p.m. craft talk and 7:30 p.m. reading, Q&A and book signing.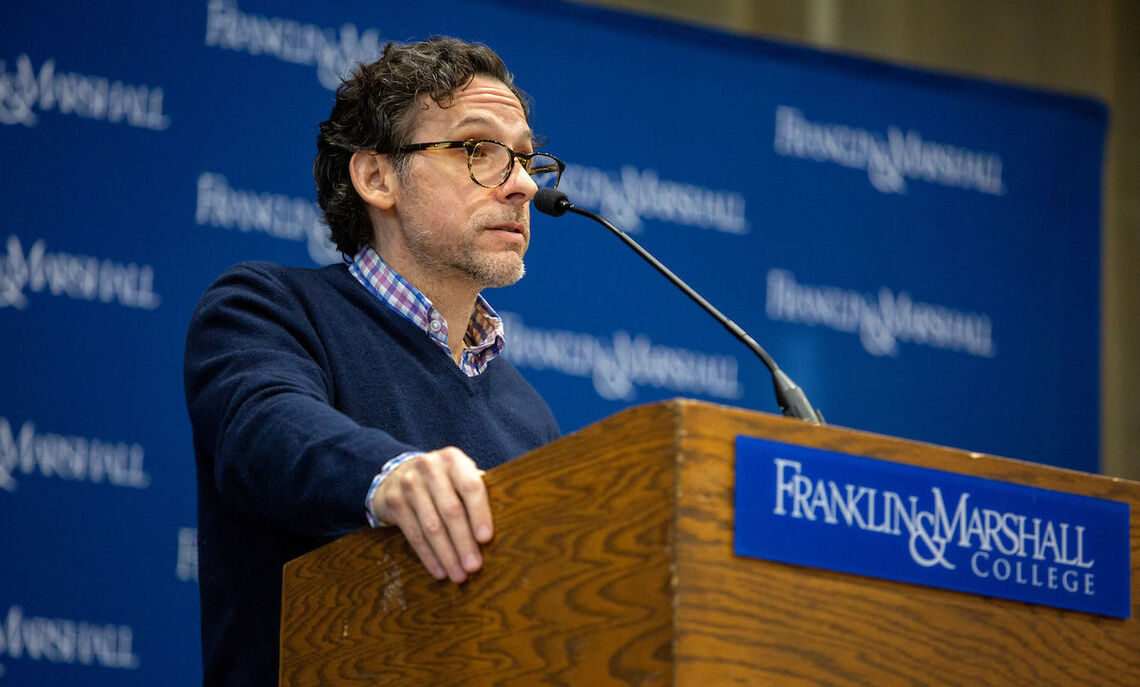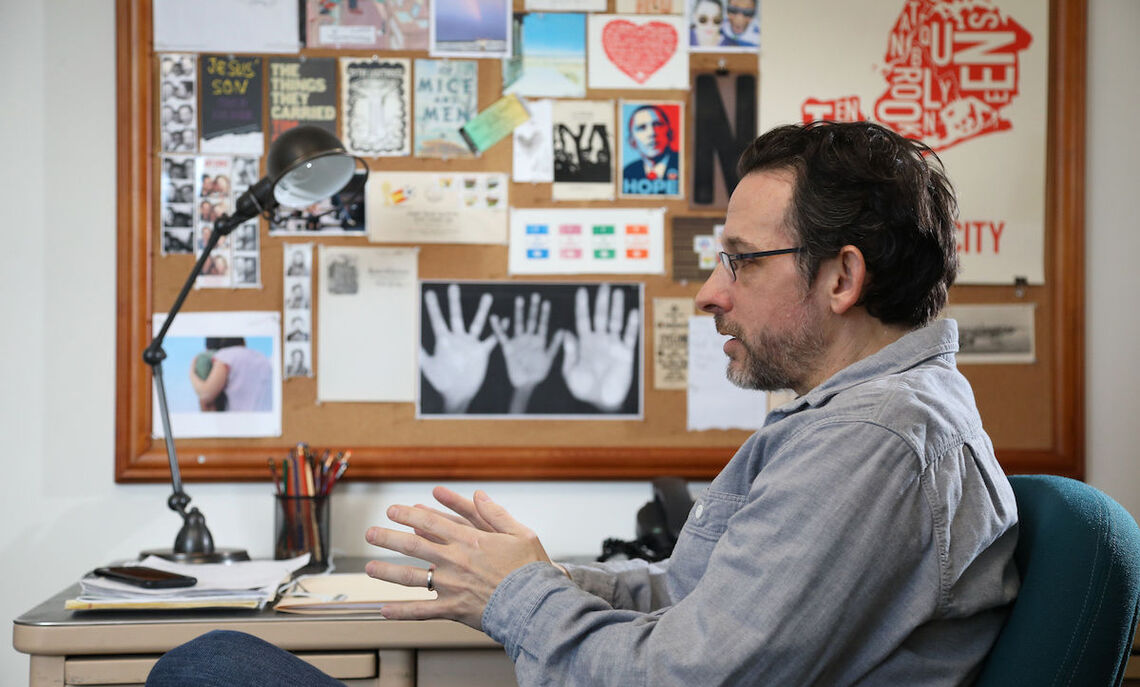 F&M: Part memoir, part poem, "If There Are Any Heavens" resists traditional categorization. Can you talk about the format and your creative process?
Montemarano: I wrote it right away after my mother died. When I'm writing about something – no matter if it's fiction or nonfiction — it is unusual to write about something so quickly after it happened. Even as a teacher, I'll often give advice: 'Give it some space.'
Two days after my mother's funeral, I just started writing. I needed to. I just had to put it down because I think part of me just didn't believe it had happened. There was something so surreal about losing her in that way.
As soon as I started writing it, there was no question — I was not going to write about this in fiction, even though I've spent most of my career writing fiction. Fiction has served me really well for years to explore stuff in my life. It's always a mixture of autobiography and invention. It's been a good genre for me, but in this case it was automatically going to be a memoir. I just couldn't imagine fictionalizing this, to be honest.
F&M: Have you always wanted to be a writer?
Montemarano: For me, it came later. I was a really good math student and mathematics was where I was headed. When I went to college, I was planning on majoring in engineering. My first year of college I took a writing class and really enjoyed it. My professor said to me, "You know, you're very good at this. Have you ever considered English as a major?" Something just clicked for me where I thought, "Oh, I could write something and another person could be moved by it?" That was a game-changer for me. That was it. I became an English major.
F&M: Wow, what an academic pivot. Do you encounter F&M students who have had a similar experience?
Montemarano: When I teach "Introduction to Creative Writing," there are students there who are undeclared. Honestly, if they really like the class and they're not wedded to something else, they do often come to my office to talk about the creative writing major.
When I think back on my childhood, with hindsight, I do see things that speak to the fact that I was kind of into storytelling but didn't know it, you know? But on the surface, nobody ever would have predicted that I was going to be a writer.
F&M: "If There Are Any Heavens" is a beautiful tribute to your mother. Did she support your decision to pursue a writing career?
Montemarano: My mother was a huge supporter of me as a writer. When I got my first story accepted for publication, she happened to be with me when I opened the letter. I always had this great memory of my first acceptance and my mother just being so excited with me for that.
That being said, as my mother, her main concern was, 'What are you going to do for a living?' So while she was proud of me when I published books, her greatest excitement and greatest pride was when I got this job at F&M — she cried.
I'm a first-generation college student; my parents didn't go to college. This was a huge deal for my mother because I was now a professor.
F&M: Could you share an excerpt from "If There Are Any Heavens?"
End of life
my sister told me I had to say
those three words
I'm here for an end-of-life visit with my mother
I said to the woman who greeted me
inside the hospital
I had sat in the parking garage
for ten minutes
taking deep breaths
and crying
and trying not to cry
before putting on my mask
and walking to the entrance
knowing I had to say
end of life
"I just started writing. I needed to. I just had to put it down because I think part of me just didn't believe it had happened."
– Nicholas Montemarano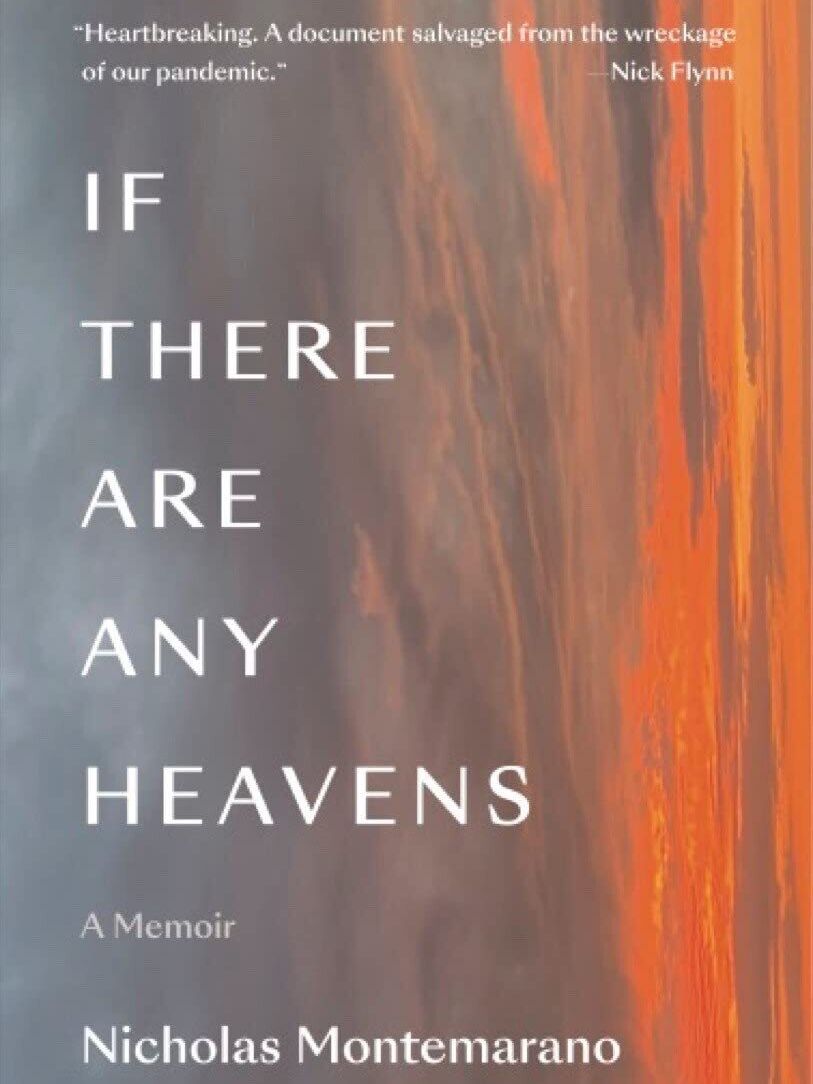 Related Articles
November 16, 2023
Young Alum Shines Light on LGTBQ Global Rights
Erin Hallenbeck's Franklin & Marshall degree has taken her as far as the U.K. and the Netherlands. But today, the 2017 grad is making a global impact right from campus.
October 2, 2023
"Professional Daydreaming" with Poet Gabrielle Calvocoressi
Read a Q&A with Gabrielle Calvocoressi, this year's Hausman lecturer. The poet will deliver an Oct. 3 public reading and Oct. 4 master class at F&M, both open to the public.
September 7, 2023
Microgrants Fund Student Passion Projects
Writers House microgrants enabled six F&M students to explore passion projects aligned with their fields of study this summer.