Instructional Technologists Earn Special Kneedler Award
Teb Locke and Kelly Miller have always tried to introduce the latest academic technology to the Franklin & Marshall community. They have held events, visited classrooms and worked individually with students and professors—all with the goal of preparing the College for the future of teaching and research.
But in March 2020, that future arrived more quickly than anyone could imagine.
"All of a sudden, we were putting out forest fires," remembers Locke, director of instructional and emerging technologies. "The pandemic forced us to move courses online, and it had to happen fast."
In a matter of weeks, as the College shifted to remote learning for the remainder of the spring 2020 semester, Locke and Miller spearheaded a reinvention of academic life at F&M. They did so on the fly, with the help of colleagues across campus and a broad range of technologies. Their work during those tense days and beyond has earned them the College's Richard Kneedler Distinguished Service Award for Service During the COVID-19 Pandemic. It is a special version of the Kneedler Award, which is presented to a member or members of the professional staff in recognition of outstanding contributions and commitment to the mission of the College.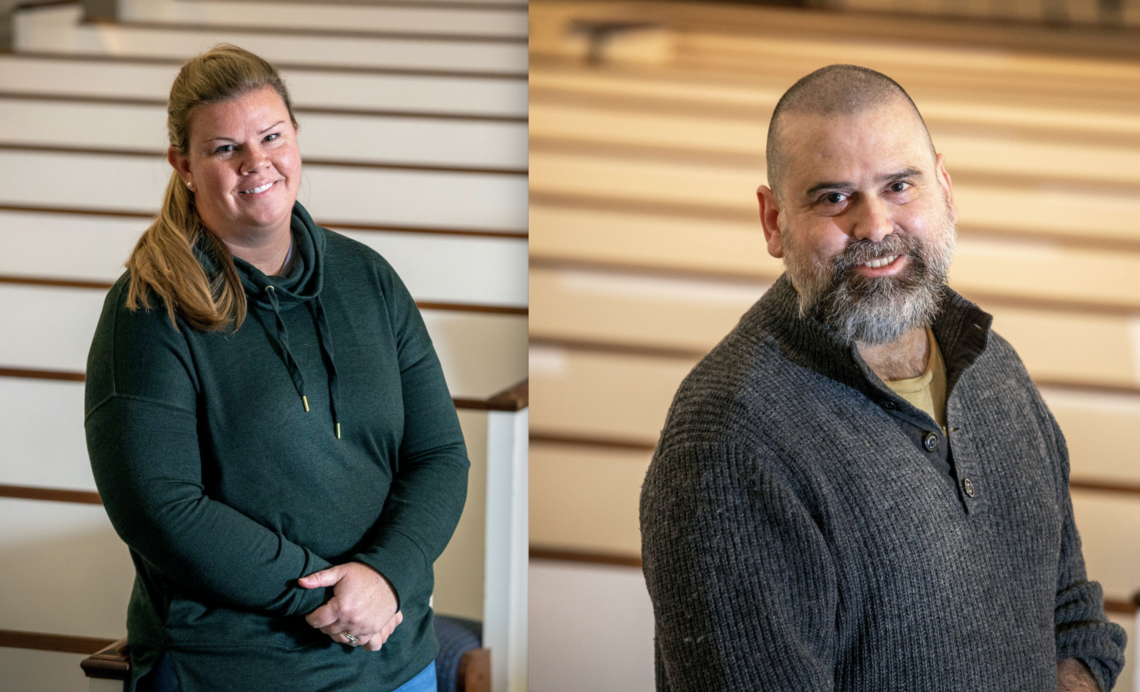 "It's great to be recognized with this award, but I'm so insanely proud of our faculty and colleagues across campus," says Miller, who joined F&M in 2018 as an instructional technologist. "The skills they learned would have taken most people many years to learn on a normal schedule of training."
Locke agrees, pointing out that "I'm grateful for all of our colleagues. It takes a team to get through something like this."
During the frenetic days of mid-March 2020, Locke and Miller met to discuss a plan of attack for moving the entire F&M curriculum online. They developed a "Top 10 list" of things for faculty to think about during the pandemic — everything from internet availability in different areas of the world to differences in time zones.
Locke set up tutorials for learning how to use Zoom and other remote tools, and helped colleagues prepare their classrooms for hybrid instruction. His years of research into virtual learning enabled him to identify effective strategies and tools that would help faculty and students continue to progress through their syllabi from a distance.
"Faculty in every discipline have challenges that are unique," Locke says. "During the pandemic, the stakes were higher. So much was new, and people were exhausted. But we have lasting benefits—everybody has upped their game with virtual learning. We're in a better place. Faculty can now use those tools."
Miller was still relatively new to F&M when COVID-19 began. She was a K-12 teacher for 10 years in North Carolina before moving to Lancaster in 2018 with her husband to be closer to family. She says her strength has always been teaching people how to use technology—so she began designing a summer "technology bootcamp" for faculty soon after joining the College.
"We had 12 people the first summer," Miller says. "The plan was to do it every other year. Then COVID hit and rapidly forced everyone to learn these new skills... In summer 2020, we had 200 faculty. One day, I held office hours and 12 of them showed up just to talk! It was amazing."
With Locke and Miller at the center of a rapidly evolving learning environment, the College is realizing its mission in ways its founders could never have dreamed. And they embrace the unpredictability of it all.
"We get to use really interesting tools to solve problems," Locke says. "I enjoy complicated puzzles and unique challenges. That's what keeps life interesting."
Honoring F&M's Custodial Staff
---
Many members of the faculty and professional staff nominated the entirety of F&M's custodial staff for the Kneedler Award for exemplary service during the pandemic. President Barbara K. Altmann has enthusiastically recognized all members of the custodial staff for the incredible work they have done over the last 21 months to keep us safe.
Related Articles
December 1, 2023
Faculty Awarded $1 Million in Recent Grants
As F&M students turn the final pages of the fall semester, it's important to also celebrate members of the faculty and professional staff who help create an enriching academic environment.
November 7, 2023
Post-Soviet Memories Shaped Professor's Path
F&M Professor of Economics Yeva Nersisyan was just a child in Armenia when the Soviet Union collapsed, but the following turmoil shaped her life's work. She'll discuss Modern Money Theory at a Nov. 9 Common Hour lecture.
November 2, 2023
Career Boot Camp Helps Future Grads Find Footing
Meet two seniors preparing for life after college. Within six months after graduation, 95% of F&M's 2022 graduates were either employed or continuing their education.