Italian Hip Hop Artist Visits F&M for Classes and Concert
Amir Issaa is an Italian writer, educator, and hip hop artist. The son of an Italian mother and an Egyptian father, he was initially launched as an "immigrant rapper." Though this definition does not correspond to his identity as an Italian citizen of mixed descent, the label opened for him the opportunity to engage with important political and social issues such as economic inequality, immigration, integration, diversity, and citizenship. With his music he has made waves both in Italy and abroad, receiving international recognition especially for his contributions to the public debate about Italian citizenship law. His 2018 American tour included stops at Temple University, F&M, Dickinson, Gettysburg, and Bucknell, where he performed and presented his work to students of Italian language and culture, eager to know more about contemporary Italian culture and society.
At F&M he met with students who read his autobiography, Vivo per questo (I Live for This) as part of their Italian literature courses, and worked on his songs in their classes. In Vivo per questo, Issaa discusses his experiences growing up in a poor neighborhood at the margin of a European metropolis such as Rome. His father spent most of Issaa's youth in prison, on charges of drug trafficking, and in the book he details his difficulties as a teenager who felt that he didn't belong anywhere. It was the discovery of the culture of urban "writing" and, later, hip hop music, which allowed him to explore and shape his own identity and sense of belonging.
Issaa performed eight of his songs, grounded in his life as a Roman and his civic passion for the most urgent issues in contemporary society, on Tuesday, November 6 at 7pm at the Other Room Theatre, in front of an enthusiastic public of students that joined him in singing and dancing. His songs, from "Stranger in My Own Country," to "I Am Not an Immigrant," and "My Skin," describe both his own experience as a dark-skinned Italian and the experiences of discrimination that many people, born and raised in Italy but without access to citizenship, often face. "Ius Music" intervenes directly in the debate on the need to reform citizenship legislation to allow a shift from ius sanguinis to a moderate ius soli. In "This is Rome" he sings the underbelly of the Eternal City, hidden to tourists and art lovers, but as vital to the city's identity as museums and Roman ruins.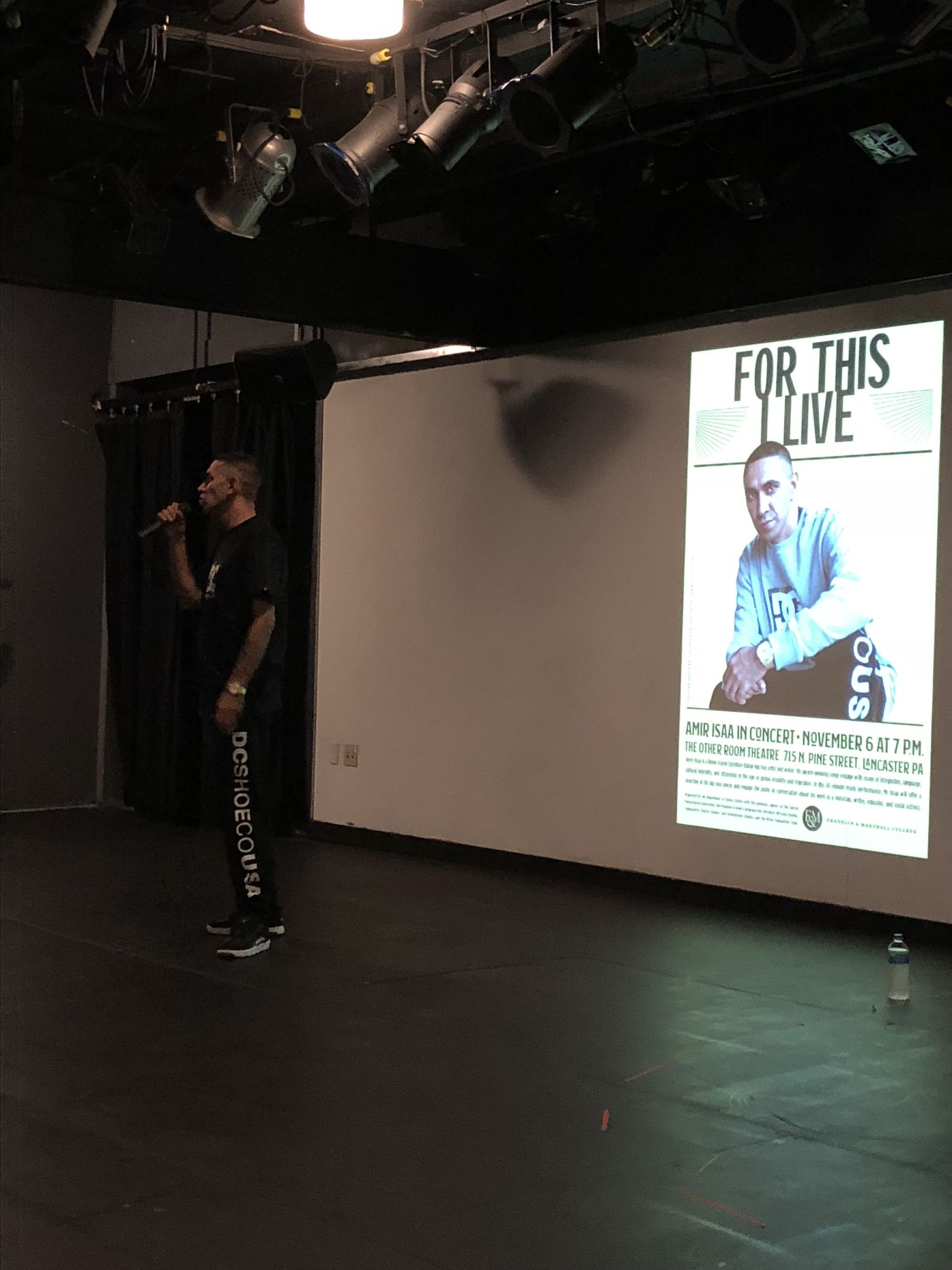 Related Articles
February 27, 2023
Alumni Spotlight: Every Stitch Tells a Story
It's not every day you wear hoops skirts, bustles and bonnets to work – let alone hand-stitch them. But for Franklin & Marshall College alum Rachel Sheffield, it's just another day on the job....F&M alum Rachel Sheffield is the lead interpreter and historic clothing coordinator at First State Heritage Park in Dover, Del.
September 20, 2021
Afghanistan to Italy: A Young Migrant's Odyssey
In Fabio Geda's internationally acclaimed 2010 novel, Franklin & Marshall College offers students a hands-on education that emphasizes close relationships with faculty. Students flourish in a supportive community that treats them as an individual, and their successes continue long after F&M. The College is a national leader in launching students and alumni to opportunities where they make a difference in the community and the world.
March 8, 2021
Students Explore the Whimsical World of Gianni Rodari
Four Franklin & Marshall students have collaborated to create a celebration of literature, theater and Italian language. Every night, traveling salesman Signor Bianchi calls his daughter from a...Franklin & Marshall students translate the whimsical