Kreisel and Faris Commit $1 Million To Establish Groundbreaking F&M Mindfulness Program
Tony Kreisel '66 graduated from Franklin & Marshall College long before the term "mindfulness" entered the popular lexicon. But he and his wife, Dr. Kimberly Faris, have since been inspired to commit $1 million to endow a new program providing F&M students with a broad range of mindfulness training and practice opportunities. For Kreisel and Faris, the opportunity to make an immediate impact on student well-being — and to do it in an innovative way — feels visionary and uplifting.
A growing body of research has illuminated the positive effects that mindfulness practices have on well-being, stress reduction, mental acuity, physical health and more. These practices take many forms, such as yoga, tai chi, and mindful observation, among others, in which the practitioner focuses on a natural object in her or his immediate environment in order to engage the mind in the present. Bringing mind and body to a reflective, even meditative state, mindfulness practices comprise an important counterweight to the stresses of a rigorous academic experience.
"I work a great deal with 18- to 26-year-olds, in school and out, and there seems to be a lack of balance in many," said Faris, a Boston-area licensed clinical psychologist. "Mindfulness is a big part of my work across all demographics, but particularly with this population. It helps provide balance and healthier coping skills."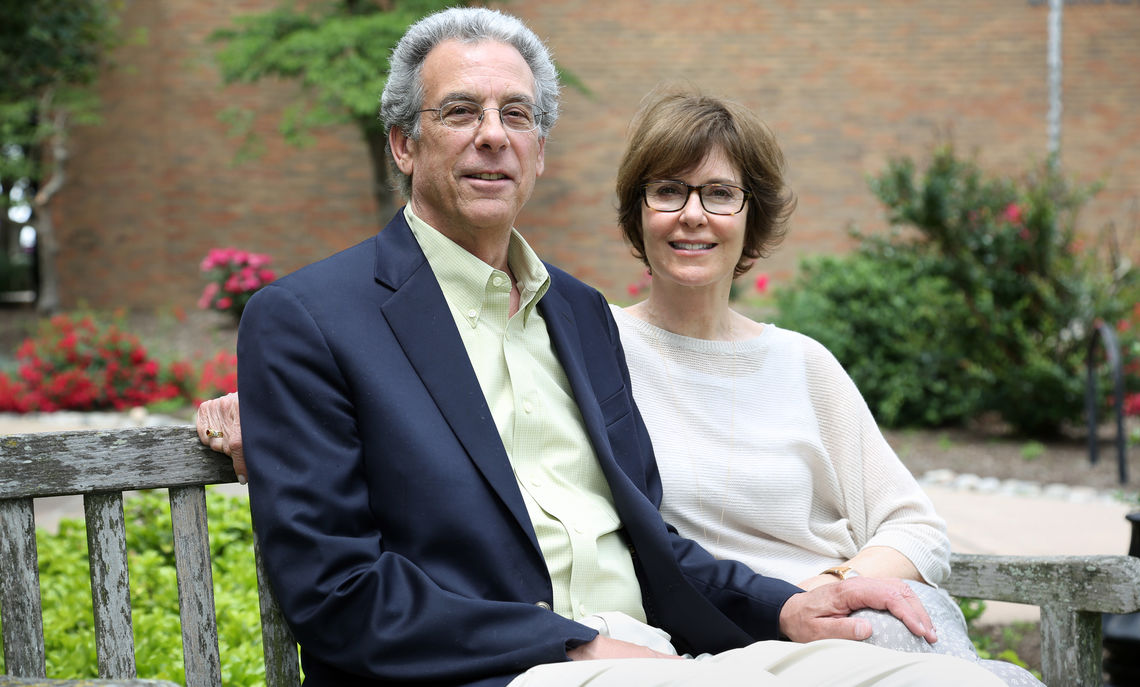 Kreisel, a trustee of the College, noted that F&M's holistic view of student development is one of its distinguishing characteristics. "Over the past several years, we've created a number of programs that help our students bring their innate abilities and tremendous achievements together in their F&M experience," he said. "This new program we're creating — the Faris-Kreisel Mindfulness Program — adds to our palette of holistic student development in a way that I find exciting. It's something our students will keep with them throughout their lives."
Kreisel also was keen to make a contribution in keeping with the College's propensity for forward thinking. "Other liberal arts colleges have recognized us as one of the nation's most innovative," he said, "and this is the perfect area in which to be quite innovative. That also excites me."
Proceeds from the Faris-Kreisel Mindfulness Program Endowed Fund will be used to provide mindfulness programming and training as part of the College's broader student health and wellness initiatives.
Dean of the College Margaret Hazlett said, "Wellness is interlinked with student development, especially for this group of college-age students. As we work with students who will be entering our communities, we want to teach them how to be proactive in self-care and thinking about lifelong skills in stress management, healthy living, perspective and reflection, and in putting those skills to use in the hectic lives we lead. The timing — along with the opening of our new Student Wellness Center — is just perfect. It's an innovative, truly integrated model of medicine — health and behavioral health combined. In the new center is a community space, where we'll be doing a lot of the mindfulness programming — yoga and meditation classes, for example."
President Daniel Porterfield emphasized the impact of the new effort and the gift that will make it possible. "Tony and Kim's great generosity places F&M in the vanguard of mindfulness initiatives in higher education," he said. "Research tells us that this is where we need to be in providing for our students' overall health and well-being, and it complements our drive to educate the whole person for a life of meaning and consequence. It also speaks well of our College — its emphasis on the whole student and its willingness to develop new resources to promote student success."
In establishing the fund, Kreisel and Faris envision regular training for F&M community members who would serve as "mindfulness ambassadors" to other individuals and groups on campus; support for an expansion of current College programs; the establishment of a lecture series, which would bring guest speakers to campus; and the ongoing development of new programming opportunities.
Faris notes that the program is "a way to integrate mindfulness into students' lives, a way to integrate it into your experience when you're sitting in a classroom or when you're walking around campus. You can be mindful when you're studying. It's a way to reduce your stress and bring your focus to exactly what you're doing — being in the moment — and that allows a heightened sense of focus and overall well-being."
For Kreisel, this gift is the latest entry on a long list of service and philanthropy to his alma mater. A trustee since 1998, his current term on the Board of Trustees began in 2014, and he recently co-chaired the Class of 1966 50th Reunion, which set records for reunion class fundraising. Kreisel also has served as a regional team leader in Massachusetts and has been instrumental in the success of the F&M Admission Network (FAN) as a member of the organization's board. After graduating from F&M with a degree in economics, he earned his MBA at Columbia University and pursued a successful career in finance, retiring in 2000 as chief investment officer, large cap value, at Putnam Investments.
Faris is a clinical psychologist with Boston Behavioral Medicine. An expert in behavioral medicine and health psychology, she combines mindfulness and meditation techniques, behavioral modification and interpersonal skills to implement a holistic approach to life. She earned her doctorate with a specialty in health psychology from the Massachusetts School of Professional Psychology (now William James College) and trained at the Cambridge Hospital, a Harvard Medical School affiliate, in Cambridge, Mass. She completed her postdoctoral work at the Two Brattle Center in Cambridge.
Members of the Founders Society and the William A. Schnader Society, Kreisel and Faris have exhibited staunch support for Franklin & Marshall College, contributing regularly and generously to the Franklin & Marshall Fund and responding to calls for a large variety of important College projects. They funded the creation of the Kreisel Lobby in the Roschel Performing Arts Center as well as the Kreisel Innovation Zone in the Patricia E. Harris Center for Business, Government & Public Policy. They also contributed to the Ann and Richard Barshinger Life Sciences and Philosophy Building and the John Fry Presidential Endowed Scholarship Fund.
Kreisel's extraordinary enthusiasm for F&M and its spirit shine brightly. "This is a college that's gone from a really good college to a great college," he said. "Alumni have been polled over the years and said over and over again, 'We wish there was more national recognition.' It's here, and it's going to grow, and we hope this gift is the kind of thing that will help with that growth."
Related Articles
November 30, 2023
F&M Honors Alumni, Volunteers for Philanthropy, Service and Professional Accomplishment
More than one dozen F&M alumni were recently celebrated for the countless contributions they have made to the College and to their careers and industries.
November 21, 2023
60 Years After JFK's Death, Alumni Author Finds Missing Link
Was the star of NASA's first female astronaut program linked to the assassination of JFK? "A Woman I Know," by filmmaker turned author Mary Haverstick '82, searches for the truth.
November 16, 2023
Young Alum Shines Light on LGTBQ Global Rights
Erin Hallenbeck's Franklin & Marshall degree has taken her as far as the U.K. and the Netherlands. But today, the 2017 grad is making a global impact right from campus.