Making Connections: Exploring the Role of Emotion in Music with Karen Leistra-Jones
A distinctive feature of the first-year academic experience at Franklin & Marshall College are the discussion-based seminar courses called Connections. Students are assigned to these 16-peer classes based on their indicated academic interests shortly after they enroll at F&M. The courses are held in the seminar rooms of their College Houses — five residential cohorts within the larger student community.
This feature spotlights some of our Connections courses and the engaging faculty who lead them. This week, we delve into Music and Emotion, taught by Associate Professor of Music Karen Leistra-Jones. Jones earned two master's degrees from Yale University and her doctorate there in 2011. She joined F&M's Music Department shortly after and is currently department chair. Her research explores the politics and aesthetics of musical performance in the latter part of the 19th century. She has published her research in the Journal of the American Musicological Society, 19th-Century Music, and Music & Letters, and has presented her work at conferences in the U.S. and internationally.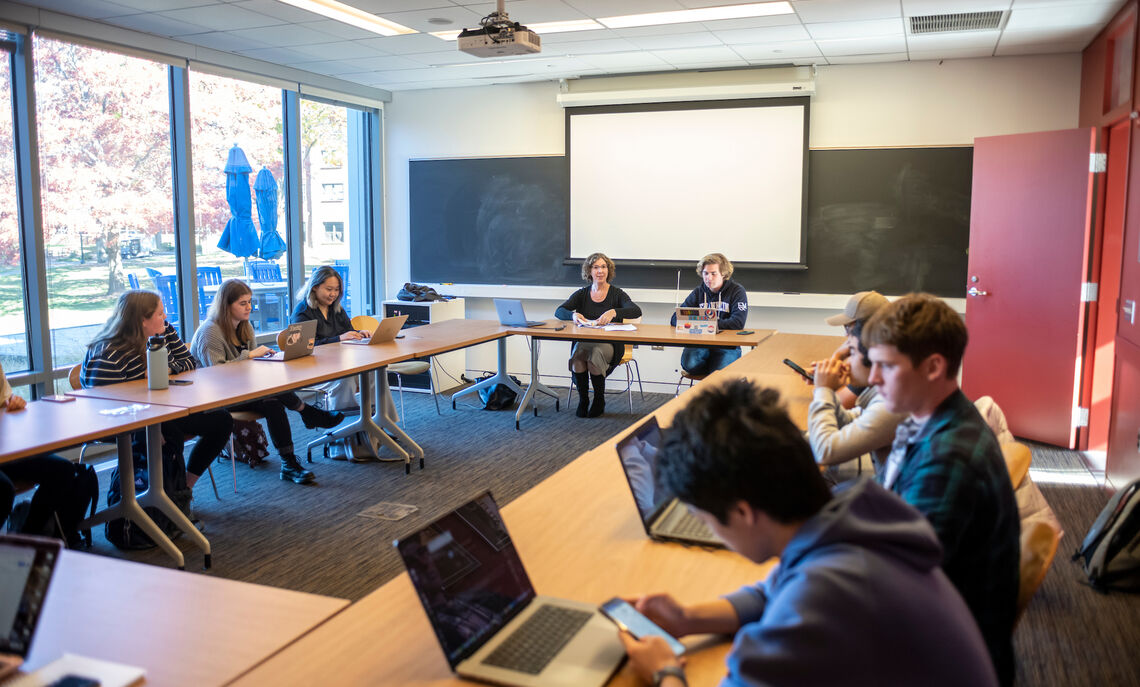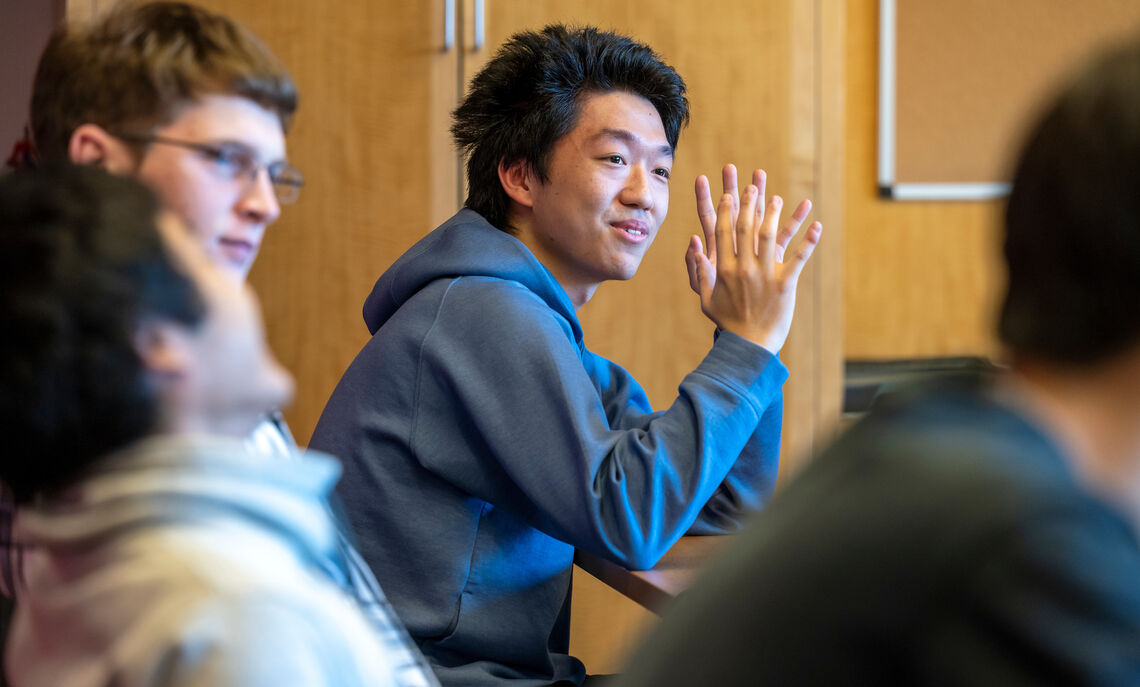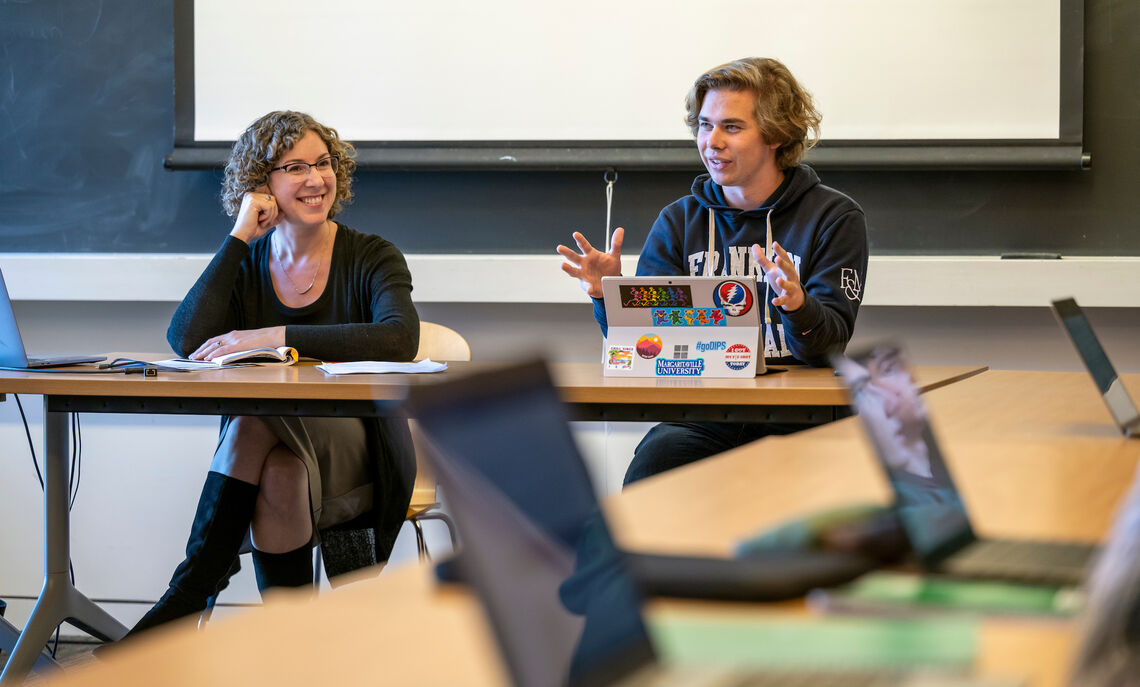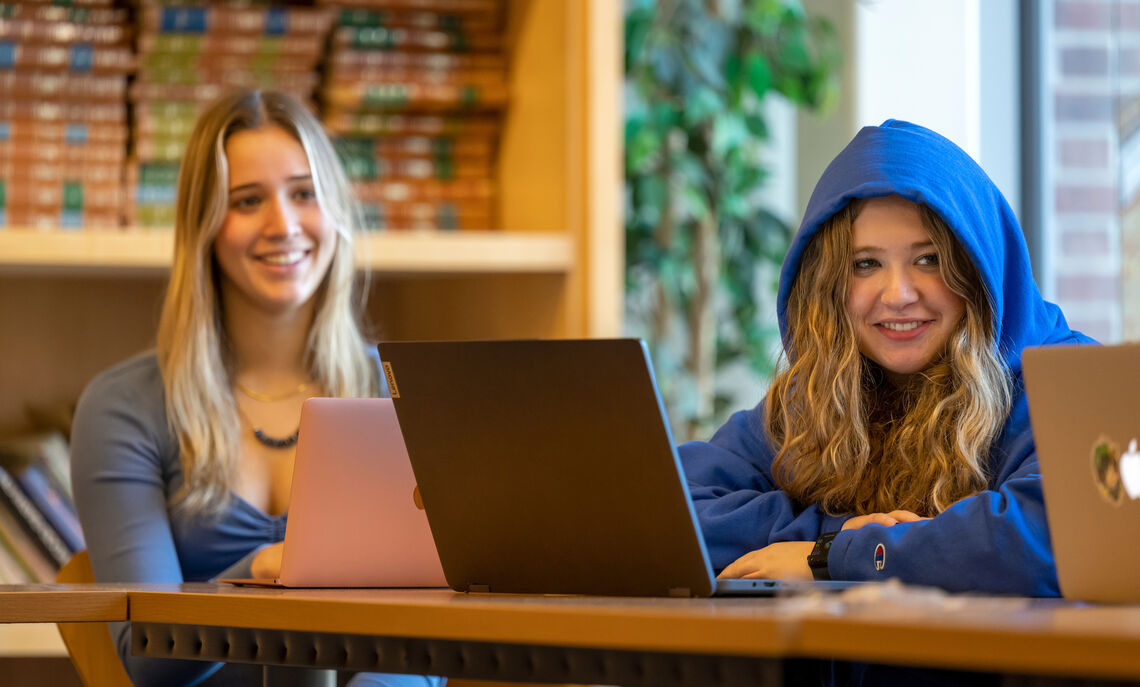 Question: What topics do you cover in your course, and does the group of students you have affect how you teach it?
Leistra-Jones: The course is structured around a single foundational question: Why does music move us? We look at examples of different types of music and discuss how they convey emotions like happiness, sadness, and anger, but we also approach the question from philosophical, psychological, and anthropological perspectives. What is happening in our brains when we experience a strong emotion in response to music? Why do emotional responses to music vary so much between people and cultures? How much does the context in which we listen to music matter? The content of the course is highly dependent on the particular group of students. I have the students make "happy," "sad," and "angry" playlists, as well as playlists of music that gives them chills — that spine-tingling feeling that many of us get when listening — and music that has produced strong emotional responses in them. We then use the music the students have submitted as the basis for our class discussions.
Question: These 16-student courses seem like an ideal way to introduce first-years to discussion-based learning at F&M. What's your favorite part of the teaching and learning process in a Connections environment?
Leistra-Jones: I love getting to know the students as people, which is something that happens quite naturally when you get people together to talk about the music they love. There ends up being a great sense of community in the class. It's also true that because of the small class size, I get to work with students individually on their projects. Especially with writing assignments, this can make a big difference. We have the time to work through drafts and revisions of each essay that they submit, and I can see a marked improvement in their writing from one assignment to the next. It's rewarding to be a part of that process.
Question: Our faculty are experts in their fields. Can you tell us a little about your area of specialization or the topic you find yourself drawn to through research?
Leistra-Jones: I'm a historical musicologist by training, and a lot of my work has focused on the history of musical performance. I'm interested in what happens when a performer takes a score and brings it to life — especially in the classical tradition, where the act of performance can contain this built-in assumption that the performer's role is to channel a composer's emotions and ideas. Right now, I'm working on a larger project that examines how performers helped to create what's sometimes called the "myth" of Beethoven in different historical contexts. If you think of all of those images of a scowling Beethoven with wild and windswept hair, you'll know what this means! It connects to the subject of this class, because so much of the act of musical performance involves conveying thoughts, ideas, and emotions in a way that is perceived as meaningful and authentic within a particular cultural context.
I love getting to know the students as people, which is something that happens quite naturally when you get people together to talk about the music they love.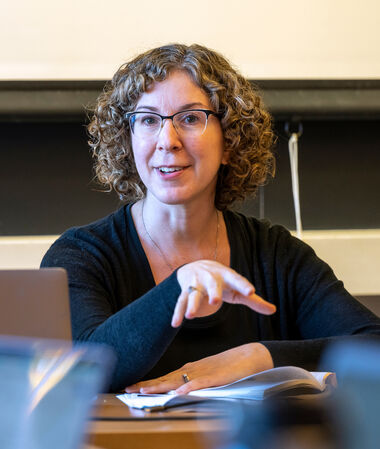 Related Articles
November 13, 2023
Let's Talk: Students and Their Community Conversations
A restorative practice initially for developing and upholding F&M community values evolves into College-House and residence-hall conversations where students become closer as they resolve their issues together.
November 10, 2023
5 Questions with Matthew Butterfield, F&M Professor of Music and Chair of the Department of Music
Music Professor Matthew Butterfield talks teaching and learning, his research, and what motivated him to launch F&M Idol, an all-campus singing competition for students.
May 23, 2023
'97 Alum Reconnects with A Cappella Roots
By the time they graduate, many Franklin & Marshall College students have a favorite place on campus. For music producer Ed Chung '97, room B-11 in the Steinman College Center meant so much to him that he named his business after it. Chung, who majored in music, spent countless hours rehearsing in B-11 with The Poor Richards, F&M's oldest a cappella group. He now owns the production company B-11 Entertainment and recently returned to campus to produce an album with current students.