Memories of War Bring Sorrow and Hope
In writing "The Mountains Sing," her 2020 debut novel in English about the Vietnam War, author, poet and translator Nguyễn Phan Quế Mai said she plumbed the depths of human despair and depravity to find forgiveness and hope.
"I found out that forgiveness is the best gift we can give ourselves," the Vietnamese writer told the Franklin & Marshall community at Common Hour Sept. 23. "Only with forgiveness and compassion can we stop the many cycles of violence which are taking place in the world this day."
Students with F&M's Asian American Alliance proposed featuring the author, who earned her creative writing degree at Lancaster University in the United Kingdom. Her book is a fictional, but stirring, account of her family in time of war.
"With the novel's publication, Quế Mai has become the first Vietnamese citizen whose fiction in English is published to international acclaim," F&M senior Trinity Nguyen said in introducing the writer. "Her second novel in English, 'Dust Child,' is forthcoming from Algonquin Books."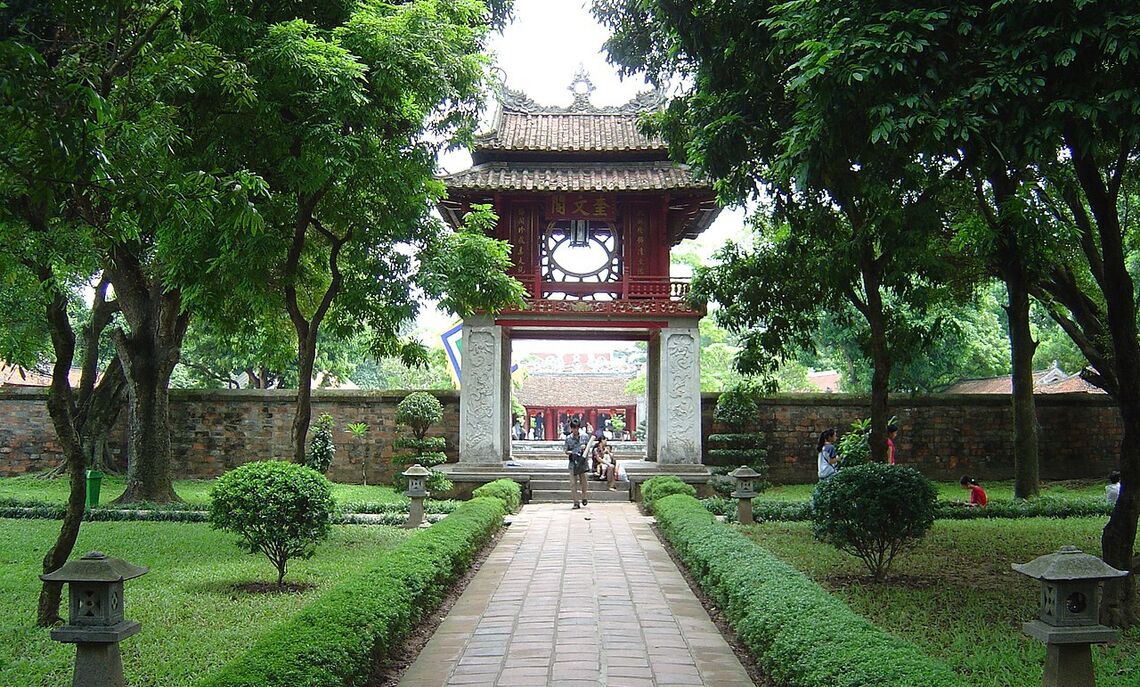 For this Zoom event, Quế Mai spoke about her homeland from Kyrgyzstan, where her husband works in international development. She was born in 1973 in a village in northern Vietnam, and grew up in the Mekong Delta in southern Vietnam.
This geographical division would mark the division between communist North Vietnam and republican South Vietnam, which the United States backed during the Vietnam War that ended in 1975 after more than 19 years.
"My parents were teachers and rice farmers, sadly they lost their parents at a very young age," Quế Mai said. "My father's mother died in the Great Hunger of 1945 during the French and Japanese occupation of Vietnam, together with nearly 2 million other Vietnamese. My mother's father lost his life because of the land reform, which took place in the 1950s."
Having experienced loss so young, her parents "wanted to live in peace to pursue their dreams and to raise their children, but they were subject to incredible hardships and horrors," she said.
"Our village was bombed repeatedly during the Vietnam War. My parents barely escaped death, several times."
In the research Quế Mai did for "The Mountains Sing," she said she was "horrified" to learn that "from 1965 to 1975, the United States and its allies dropped more than 7.5 million tons of bombs on Vietnam, Laos and Cambodia."
"Countless innocent civilians perished... because of those bombs," she said. "It is estimated that 800,000 tons of unexploded bombs are still buried deep in the earth in Vietnam, those bombs still kill people... They make many areas dangerous to farm and live."
Quế Mai recalled a remark made about the Vietnamese by the American commander in Vietnam, Gen. William Westmoreland, who said, "Life is cheap in the Orient "
"Unlike Gen. William Westmoreland, my character Hương in 'The Mountains Sing' refuses to dehumanize American people. She said, 'I had resented America, too, but by reading their books, I saw the other side of them, their humanity. Somehow, I was sure that if people were willing to read about each other and to see the light of other cultures, there would be no war in us. There would be no war on Earth.'"
Related Articles
November 7, 2023
Post-Soviet Memories Shaped Professor's Path
F&M Professor of Economics Yeva Nersisyan was just a child in Armenia when the Soviet Union collapsed, but the following turmoil shaped her life's work. She'll discuss Modern Money Theory at a Nov. 9 Common Hour lecture.
October 16, 2023
'09 Alum Shares Passion for Political Organizing
Shakya Cherry-Donaldson '09 returns to campus to discuss her career in political organizing with students at Thursday's Common Hour during F&M's second annual Inclusion Week.
September 13, 2023
First "Campus Hour" Features Panel on Banned Books
Franklin & Marshall College faculty and staff will be joined by local librarians and school board candidates at the upcoming Campus Hour discussion, "Who's Afraid of Banned Books? The Rise of Book Censorship in the U.S." The event will be held Thursday, Sept. 14, at 11:30 a.m. in Bonchek Lecture Hall.