Mindful Moments: Unwinding in Nature
Sometimes, it's the quiet and contemplative moments in between class and co-curriculars where the most personal growth occurs. In this mindfulness miniseries, we explore moments of calm and introspection for students.
The atmosphere is boisterous as Franklin & Marshall College students set off on the Chickies Rock Overlook Trail, chatting with friends and enjoying the warm weather. As they reach the overlook, a more contemplative mood takes over while the group watches the sun set over the Susquehanna River.
The event was organized by the Center for the Sustainable Environment (CSE), which serves as a hub for campus initiatives related to environmental stewardship and sustainability.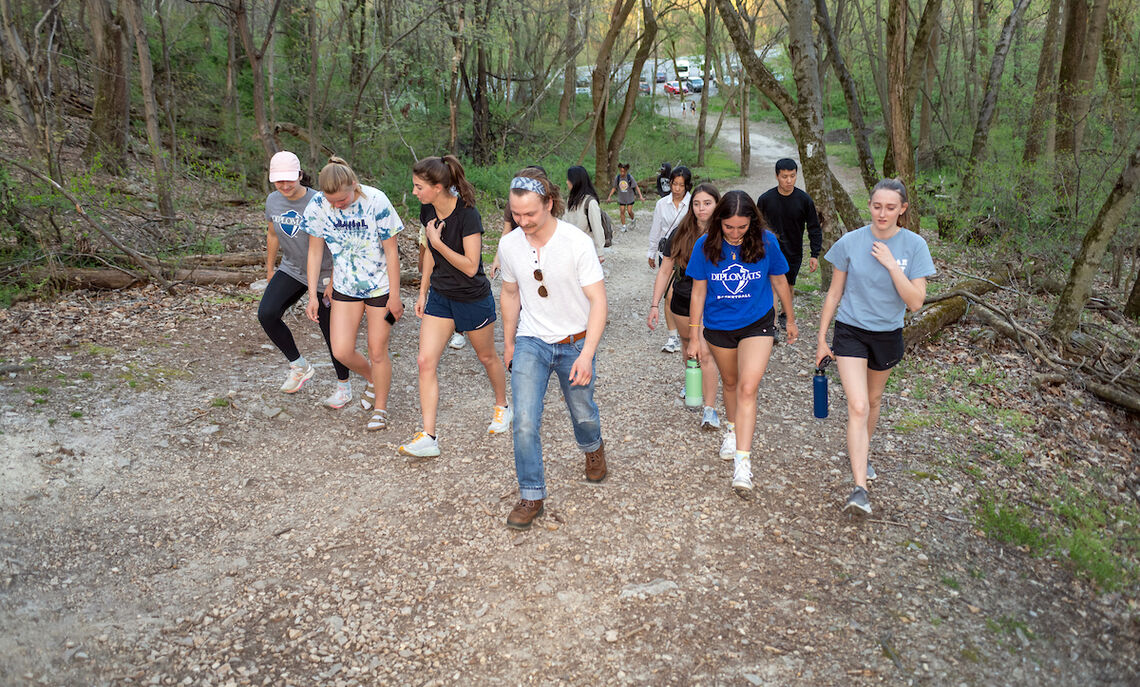 Julia Kreuzer, a senior environmental science and German studies major, has worked at CSE for two and a half years. This is the second CSE-sponsored trip to Chickies Rock this semester.
"We're trying to fill the gap for students with an interest in the outdoors who don't always have access," she said, adding that CSE organizes trips throughout Lancaster County as well as activities within walking distance of campus.
Kreuzer said one of her goals is to make students aware of nearby outdoor recreation opportunities.
"You don't have to travel far and spend a bunch of money," she said. "You can take an hour and a half and go watch the sunset."
Sophomore Kate Cowan, who is also a CSE employee, said her love of the outdoors started in high school, when she would go hiking almost every day after classes.
"I love being in nature," she said. "It's nice to get out and off campus."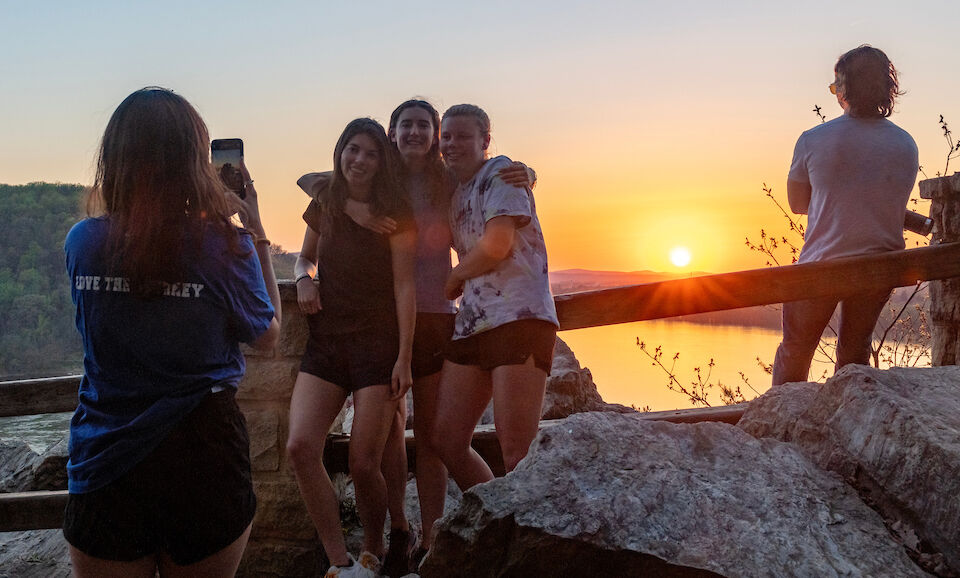 First-year student Elshaday Melkamu said the field trips taken by her environmental science class inspired her to sign up for the Chickies Rock hike.
"The nice thing about the environmental science classes is that you get to see many sites in Pennsylvania and get out of the city," she said.
Melkamu had visited nearby areas with her class, but wanted a new perspective: "I heard you could see the river from here, and I really wanted to see that."
Kreuzer said these outings offer students important opportunities to take a break and unwind.
"It's a way to get away from campus and all the busyness that's going on, and a reminder that there's something out there bigger than the exam you have coming up," she said.
Related Articles
September 26, 2023
Students Stargaze at Cherry Springs Retreat
Students attended a recent weekend retreat to Cherry Springs State Park for two nights of stargazing in September. Night sky enthusiasts flock to the park for its spectacular views of the Milky Way.
September 19, 2023
Pedal Power: F&M Bike Loans Benefit Students
At F&M, renting a bike is as easy as checking out a book from the library. The F&M Bike Loan program provides a bike, helmet and lock to students free of charge.
July 5, 2023
Students Build Mindfulness on Camino de Santiago
Students overcome challenge and achieve mindfulness on the Camino de Santiago. Join their transformative journey of self-discovery and personal growth.