Mueller Fellow Reflects on Lifetime of Disability Rights Activism
When Judith Heumann's elementary school barred her from attending class due to wheelchair use, she quickly learned about activism.
"The principal said I couldn't register because I was a fire hazard,'' Heumann told the Nov. 4 virtual Common Hour audience at Franklin & Marshall College.
Now a prominent disability rights activist, Heumann did eventually gain access to the classroom when her mother joined forces with other parents to advocate for children facing disability discrimination.
"I was really learning from an early age on that things which could appear to be insurmountable were surmountable if you organized," Heumann said.
Heumann is F&M's 2020-21 Mueller Fellow. She discussed her childhood, career, and path to activism in a conversation moderated by Dr. Gretchel Hathaway, vice president for diversity, equity and inclusion, and Conor Larison '21.
The Mueller Fellowship Endowment was established in 1980 to bring distinguished national speakers to the College for conversations with the campus community.
In 2010, Heumann became the Special Advisor on International Disability Rights for the U.S. Department of State, appointed by former President Barack Obama. She was the first to hold this role, serving from 2010 to 2017.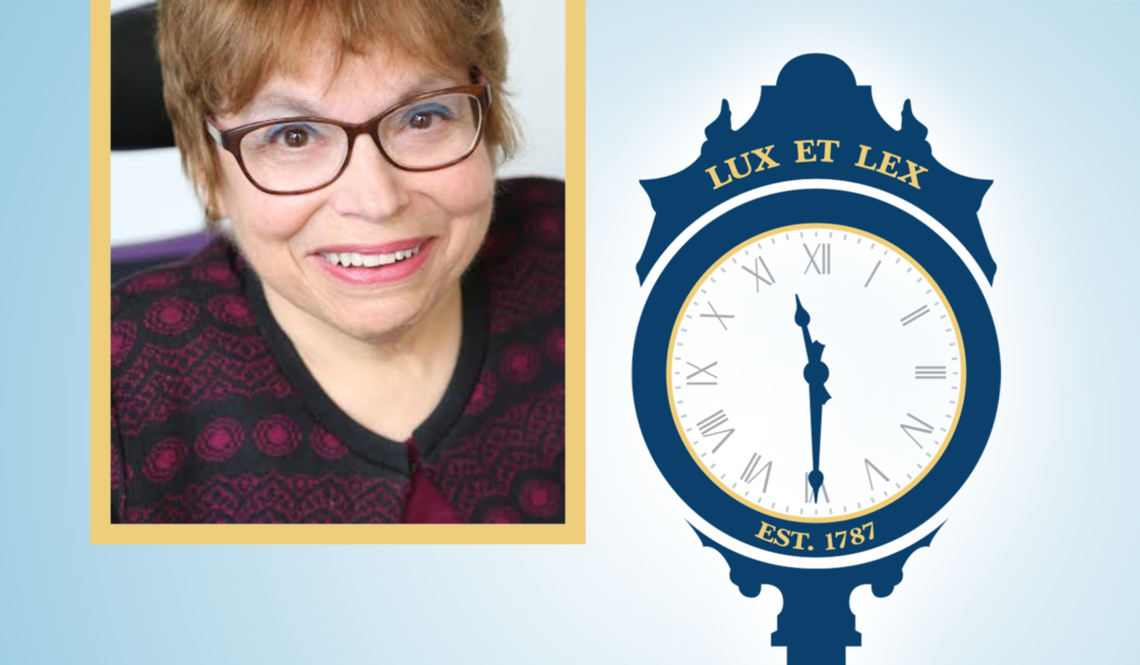 After contracting polio as an infant, Heumann has used a wheelchair most of her life.
"My parents really had made a decision that they were going to raise me like they would if I hadn't had polio, but they really quickly recognized that society didn't share that same view," Heumann said.
Undeterred, she pursued a career in speech therapy and teaching.
While attending Long Island University, Heumann organized rallies and protests with other students, seeking access to classrooms by ramp and the right to live in a dormitory.
Even taking her state teaching exams posed a challenge; "My friends had to carry me up," Heumann said.
Heumann was initially denied her teaching license. In turn, she sued the Board of Education on the basis of discrimination and became the first wheelchair user to teach in New York City.
From there, Heumann's activism soared.
While serving as a legislative assistant to the chairperson of the U.S. Senate Committee on Labor and Public Welfare in 1974, Heumann helped develop legislation for the Individuals with Disabilities Education Act.
Heumann and activist Kitty Cone led the historic 504 Sit-in to demand that the government enforce Section 504 of the Rehabilitation Act, which stated that federally funded organizations could not discriminate against people with disabilities.
The 504 victory laid the groundwork for the Americans with Disabilities Act, signed in 1990.
"Remember, all of these civil rights laws are a floor. They're not a ceiling. The ADA was a more advanced, complicated law because we wanted to get as much specificity in the law as possible," she said.
To close, Heumann discussed what F&M and other campus communities can do to champion disability rights.
"It's beyond compliance. It's the sincerity that leadership puts into listening to faculty, students, and staff to learn about what's working and what's not working. To have a plan that people can be participating in and holding people accountable," she said.
"The work in disability, like in other aspects of diversity, should be enriching, and should be something that we are learning from."
"I was really learning from an early age on that things which could appear to be insurmountable were surmountable if you organized."
– Judith Heumann

Related Articles
November 7, 2023
Post-Soviet Memories Shaped Professor's Path
F&M Professor of Economics Yeva Nersisyan was just a child in Armenia when the Soviet Union collapsed, but the following turmoil shaped her life's work. She'll discuss Modern Money Theory at a Nov. 9 Common Hour lecture.
October 19, 2023
F&M Receives Higher Education Excellence in Diversity Award
For the second year in a row, Franklin & Marshall College has received the Higher Education Excellence in Diversity (HEED) Award from Insight Into Diversity Magazine.
October 16, 2023
'09 Alum Shares Passion for Political Organizing
Shakya Cherry-Donaldson '09 returns to campus to discuss her career in political organizing with students at Thursday's Common Hour during F&M's second annual Inclusion Week.