Professor, Students Celebrate Women and Computing
Before she died in 1992 at age 85, U.S. Navy Rear Admiral Grace Hopper was a pioneer in the computer science field. As one of the first code writers for the Harvard IBM computer used during World War II, Hopper invented the first compiler for a programming language.
"She was really important back in the 1940s," said Associate Professor of Mathematics Christina Weaver. "A compiler translates the instructions that humans understand into commands a computer can execute. She was a pioneer as a scientist as well as one of the first prominent women in computer science."
In October, the Franklin & Marshall College professor took three students and one alumna to Houston for the annual Grace Hopper Celebration of Women in Computing, a three-day national conference of workshops, speakers, poster sessions, a career fair and other networking events.
"Just knowing what you can do with a mathematics or a computer science degree is really powerful for our students," Weaver said.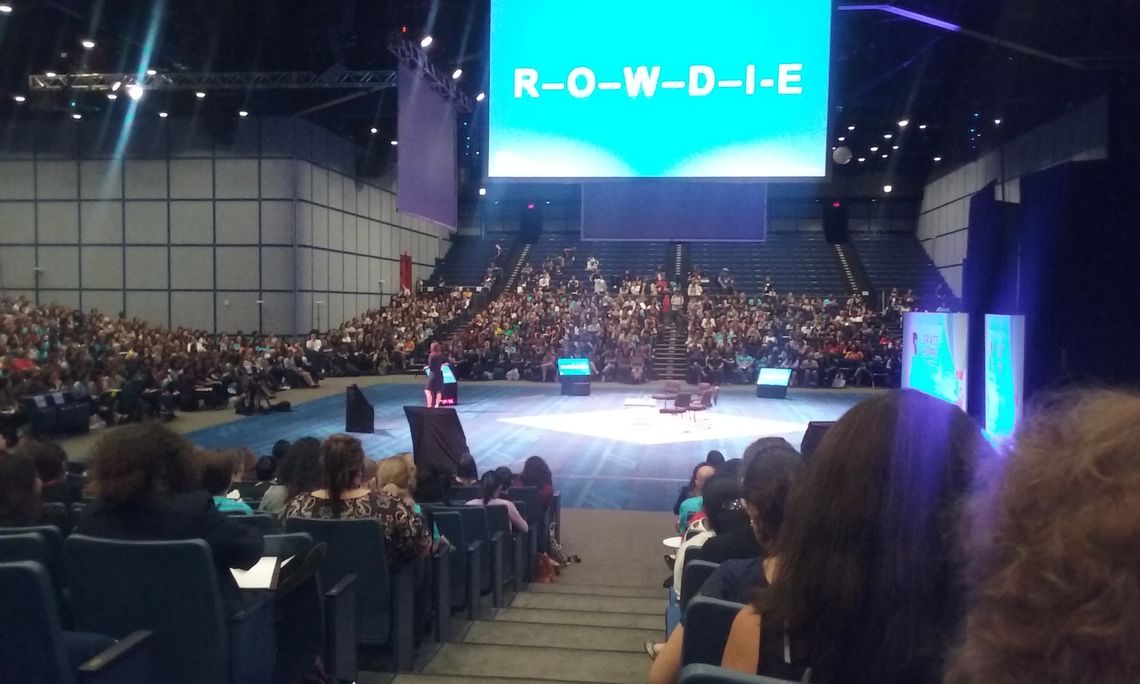 Attending the Oct. 19-21 conference with Weaver were computer science majors Julia Ramsey, a junior, seniors Britte Genzlinger and Michaela DeForest, and Amy Reyes '16, one of the first two female computer science majors to graduate from F&M, which established the program in 2012.
Reyes said the conference was "remarkable" and has renewed her confidence about graduate school, where she is "looking at programs that have image processing/computer graphics applications, and scientific computing research projects."
The conference drew about 15,000, most of them women. It featured conversations about new trends in computer science and information technology by such speakers as IBM CEO and President Ginni Rometty; Director of Harvard's Data Privacy Lab Latanya Sweeney, the first black woman to earn a PhD in computer science from MIT; and U.S. Chief Technology Officer Megan Smith.
Ramsey, who also is a mathematics major, was encouraged by these women and others she heard and met at the conference.
"It felt empowering; I had a glimpse into a world I didn't know existed," Ramsey said. "Realizing I have a lot in common with these brilliant women gives me the confidence to follow their footsteps through the tech world."
Weaver said the conference offered much for the students — from the computer graphics of Pixar, Disney, and Lucas Films, to civic hack-a-thons and the ethical dilemmas inherent in the "Internet of Things" and machine-learning algorithms.
"It was so gratifying to see our students and alum excited about the fields of computer science that they encountered at the meeting," Weaver said. "All of them came away excited about the broad-range impact they could have in the future."
Related Articles
October 20, 2023
Google Software Engineer Shares True Blue Wisdom
Class of 2019 grad Horace Facey's path led him from Jamaica, to F&M, to Google. See how he helps other STEM students succeed. "Mentoring has been an excellent way for me to give back," Facey says.
October 20, 2023
Wrestler Pins Post-Grad Career Thanks to F&M Mentor
Wrestling captain Noah Fox excels on and off the mat, thanks in part to guidance from his True Blue mentor. "This program has helped me jump-start my career and secure my dream job as a software engineer," Fox said.
August 21, 2023
Genesis Familia: Raising Others Through Philanthropy
For most, home is the place where they are raised. For Genesis Familia, it is also the place to give back by raising others. This summer, the Posse Scholar returned to New York City for an internship with Bloomberg Philanthropies in human resources and management. In addition to her overseeing managerial duties, Familia also contributed to hands-on philanthropic efforts.