Sana Rafi '06 Delves Into Her Childhood to Bring Authenticity to Her Writing
One clear strength of Franklin & Marshall College throughout its 235-year history is its outstanding alumni. Today, its living graduates number more than 29,000 and stretch around the world. They are leaders at every level, committed to successful careers and meaningful lives.
They also are determined to support F&M and one another, continuing their quest for knowledge as they create the way forward together. While graduates of any age are Diplomats Forever, many of those making a difference in their communities are under 40. Several are featured in banners across the Franklin & Marshall campus and on the Diplomats Forever website. In this series, we'll introduce you to a few of our many alumni making a difference.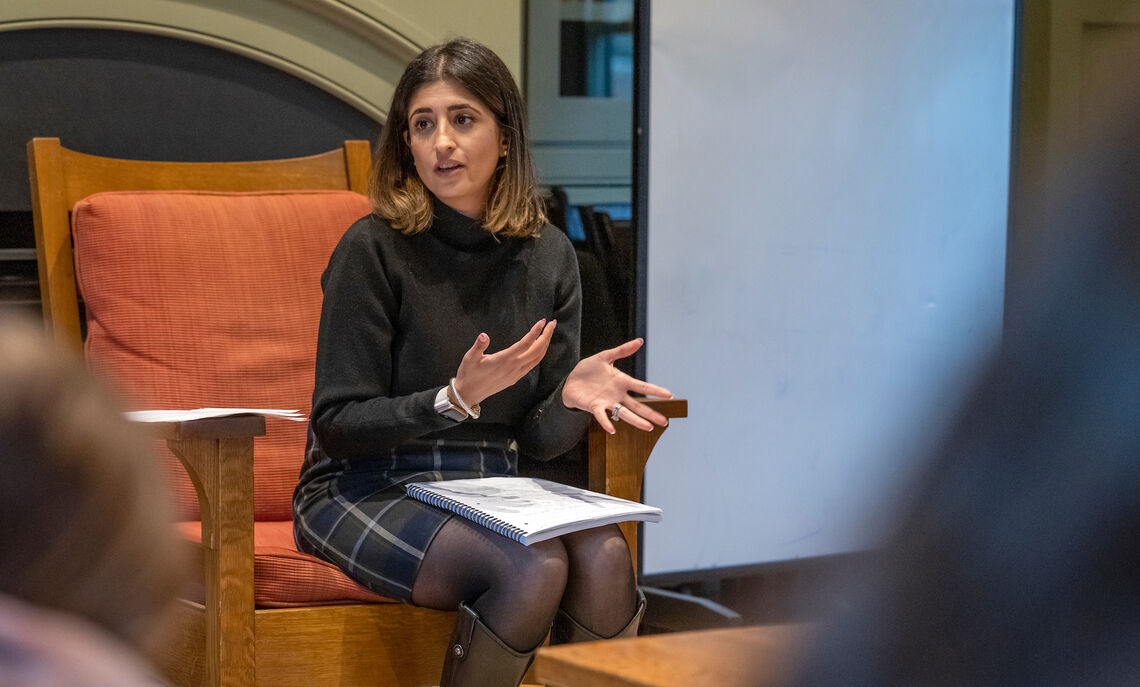 Sana Rafi '06 is a children's book author and college admissions counselor based in California. The Pakistani American's works include "A Mermaid Girl" (2022) and "Little Seeds of Promise" (2021), both of which draw from her personal experiences as a child growing up in a Muslim household.
After Rafi graduated from F&M, where she majored in creative writing and French, she went on to earn her master's degree of fine arts at Columbia University. She recently returned to campus during True Blue Weekend (Oct. 21-23) to share her experiences as a writer during a workshop and craft talk at the Philadelphia Alumni Writers House. We followed up with her to talk about her journey to F&M and how it shaped her life and career in the years since she left Lancaster.
Question: Your journey to Lancaster for your undergraduate years is fascinating. You lived in Pakistan and Switzerland and earned your graduate degree in New York. How did you learn about F&M and why did you choose to come here in the early 2000s?
Rafi: I attended high school in Switzerland, where I didn't have access to a college counselor. My father and I researched U.S. colleges on our own, and I was immediately attracted to F&M because of several reasons. It was small, and that appealed to me — I was coming from a tiny high school and I wanted a similar student-to-faculty ratio. Additionally, I remember reading that F&M had a large international population, which was also a bonus for me. It ended up being a perfect fit.
Question: F&M is known for connecting students and faculty in inspiring ways. Tell us about a professor or mentor who helped kickstart your love of writing and what you learned from them.
Rafi: I have so many professors that have inspired me and given me the tools I needed to become the best student that I could. Nicholas Montemarano was instrumental in my growth as a creative writer. His classes were nothing like I'd experienced before. I admired his own writing and I can still recall some of his classes. I know I wasn't the only one who felt that way — he was a beloved professor among serious writers. Once F&M introduced creative writing as a major, I switched from being an economics major, and Nick's classes helped me take a deep dive into the world of writing. I'm indebted to him for my success as a writer. Others who impacted me with their attention and way of teaching include Padmini Mongia, professor of English, with whom I felt a great connection. I also thoroughly enjoyed my French classes with Professor Lisa Gasbarrone.
Question: Writing teachers and coaches often advise aspiring writers to "write what they know." How did your personal experiences inform the narratives of your two books?
Rafi: My debut, "Little Seeds of Promise," was loosely based on my own experience as a young immigrant. When I moved from Pakistan to Switzerland, I was only 12 and spent those early years abroad feeling lost and missing home. In Pakistan, I used to live in the same house as my paternal grandparents, whom I adored, and I deeply missed their daily presence in my life. Years later, I wrote in "Little Seeds" about a character who missed her home, who felt different than others, and who longed to fit in.
My second picture book, "A Mermaid Girl," was inspired by a trip to Malaysia, where I saw a woman swimming in a red burkini. It made me reflect on the fact that the women in my family, including me, didn't know how to swim, and perhaps one of the reasons was because we didn't have access to modest swimsuits. Soon, I realized that it wasn't just me and my family — my Pakistani and Muslim friends had similar stories. Our moms and grandmothers didn't know how to swim. At the beach, we would dip our feet and bodies in the water in regular clothing. So, I was inspired to write a book where children like my younger self could see themselves, their mothers and aunts. I wanted to make an experience like swimming feel normal for them.
About Sana Rafi
Majors at F&M: Creative writing and French

F&M activities: Writer for Plume magazine and student newspaper, The College Reporter; organizer of Emerging Writers Festival; member of the International Club, Nur-Al-Islam, and SANGAM (South Asian Club)

Current home: Danville, Calif.

Family: Husband, Shoaib, and children, Zeyb and Zayan

Hobbies and interests: Reading, yoga, playing with my kids

Your favorite place on the F&M campus: Shadek-Fackenthal Library. "It became my home during my last two years at F&M!"

Place on your wish list to visit: Japan
Related Articles
November 30, 2023
F&M Honors Alumni, Volunteers for Philanthropy, Service and Professional Accomplishment
More than one dozen F&M alumni were recently celebrated for the countless contributions they have made to the College and to their careers and industries.
November 21, 2023
60 Years After JFK's Death, Alumni Author Finds Missing Link
Was the star of NASA's first female astronaut program linked to the assassination of JFK? "A Woman I Know," by filmmaker turned author Mary Haverstick '82, searches for the truth.
November 16, 2023
Young Alum Shines Light on LGTBQ Global Rights
Erin Hallenbeck's Franklin & Marshall degree has taken her as far as the U.K. and the Netherlands. But today, the 2017 grad is making a global impact right from campus.