'Someone Like Me Does Have the Opportunity to Make Change in This Country'
Senior government major Ali Husaini discusses how financial aid and extraordinary hands-on experiences are launching him toward his dreams of entering politics and making positive changes for those in need.
Before his legislative career officially began, Franklin & Marshall College senior Ali Husaini already saw a bill signed into law.
As part of an Advanced Placement® (AP) government class, Husaini and his classmates introduced a civil rights bill to Congress. Husaini described traveling from his home state of New Jersey to Washington, D.C., to lobby members of Congress and garner support for the bill. The bill—the Civil Rights Cold Case Records Collection Act of 2018, which aims to bring justice to the victims of civil rights cold cases—was signed into law in January 2019 when Husaini was in his first year at F&M.
This experience foreshadowed what Husaini envisions for his future.
"I want to be in the front and center and be immersed in the political system, getting outcomes that benefit the people that are most in need," he said.
A government major and religious studies minor, Husaini has had many professional opportunities to discover what legislative affairs look like and explore what happens in the halls of Congress. He previously interned with U.S. Rep. Bonnie Watson Coleman, enjoyed state-level legislature internships, and most recently interned with Massachusetts Congresswoman Ayanna Pressley under the Islamic Scholarship Fund's Congressional Internship Program, which matches Muslim students with internships. Funding for the experience came from the Ken Duberstein '65 Public Service Internship Endowment, which provides financial support to F&M students who earn federal government internships in Washington, D.C. Duberstein passed away on March 2, 2022.
"I had the opportunity to meet Mr. Duberstein—that's not anything small," Husaini said. "That was a big deal to me to meet the (former) chief of staff of a U.S. president. The opportunity to get to know him and have follow-up conversations with him, that was a big deal to me."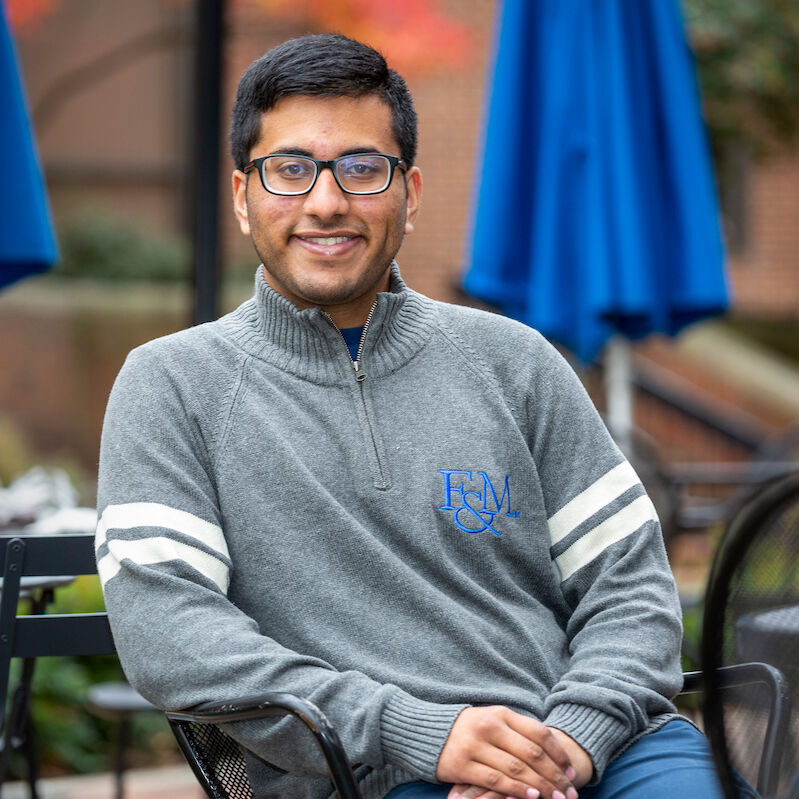 Husaini said he's grateful that money wasn't a barrier to these opportunities, nor to his F&M experience.
"I get to study the things I want to study, and I get to do that because of the opportunities afforded to me through financial aid," he said.
Husaini said his F&M financial aid package allows him to focus on his studies and fully immerse himself in everything F&M has to offer. He said his coursework not only teaches him about congressional and legislative processes, but shapes him into a well-rounded person who can think, analyze and communicate. He has learned to appreciate, accept and value the complexity of thought and the spectrum of diverse views and perspectives. Husaini also enjoys the friendships and one-on-one relationships he has formed, and the leadership opportunities that are "unheard of at other institutions." He is parliamentarian of the Diplomatic Congress, president of Model UN, treasurer of the Ware College House Parliament and a member of Alumni Leaders of Tomorrow.
"I've benefited from this institution, and it all goes back to (the fact) that I can afford to be here because of financial aid," he said. "To have somebody like me, who is of South Asian descent, who is a Muslim—Muslims are really underrepresented within policymaking spaces—this opportunity has helped me understand that someone like me, the son of immigrants, does have the opportunity to make change in this country."
Husaini said he plans to pay it forward in the future.
"The fact that F&M invested in me, that is going to make me invest back in F&M later," he said. "It reinforces the idea that you're a Diplomat for life."
Related Articles
October 26, 2023
F&M October Poll: President Biden Leads Donald Trump in Pennsylvania
President Joe Biden narrowly leads Donald Trump in Pennsylvania, in the newly released October Franklin & Marshall College Poll.
September 21, 2023
Exploring Theater as a Tool for Social Change, Education, and Awareness
Aviva Katz '24, a government and theatre joint major, discusses how F&M's Diversity and Equality in Education Certificate is helping her along her path toward a career in educational theater.
August 21, 2023
Genesis Familia: Raising Others Through Philanthropy
For most, home is the place where they are raised. For Genesis Familia, it is also the place to give back by raising others. This summer, the Posse Scholar returned to New York City for an internship with Bloomberg Philanthropies in human resources and management. In addition to her overseeing managerial duties, Familia also contributed to hands-on philanthropic efforts.