Student Finds Humor, Homer in Ancient Poem
After a three-year odyssey in academic research, Franklin & Marshall College senior Therese Watkins' achievement is nearly homeric, worthy of seasoned scholars.
Professor of Classics Zachary Biles, her co-author on work that an international journal will publish later this year, initially opened the assignment to every student in his class, but everyone declined.
Except Watkins, a studio art major and, now, a classics major as well.
"This all began in the spring of Therese's first year when she was enrolled in Latin 202," Biles said.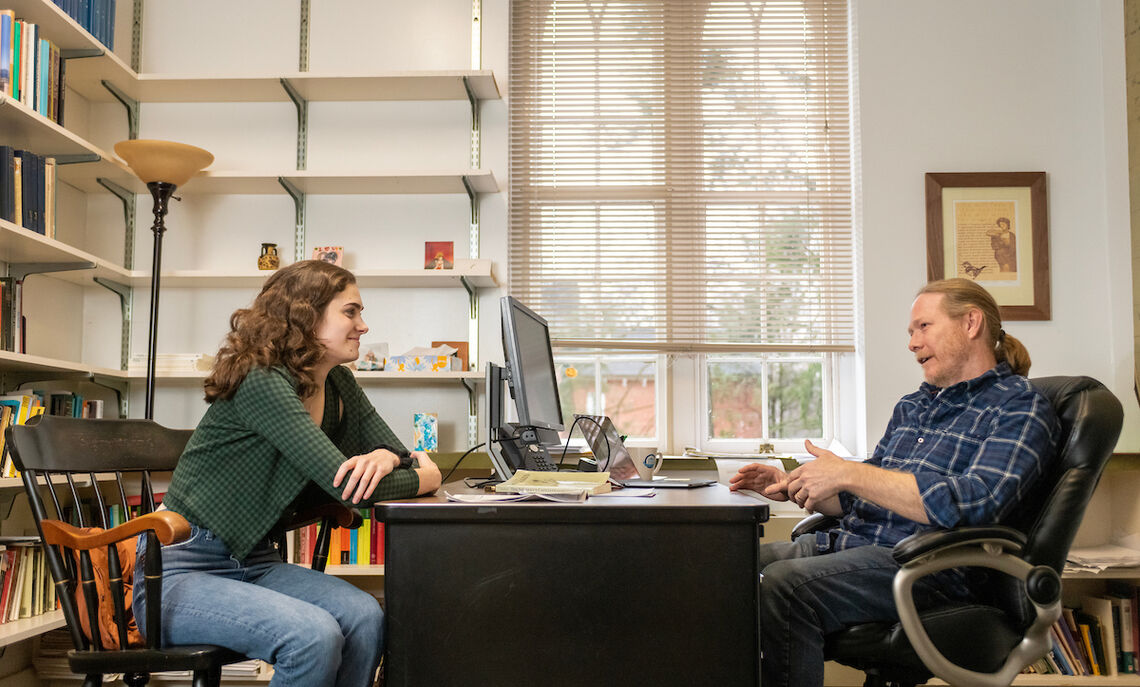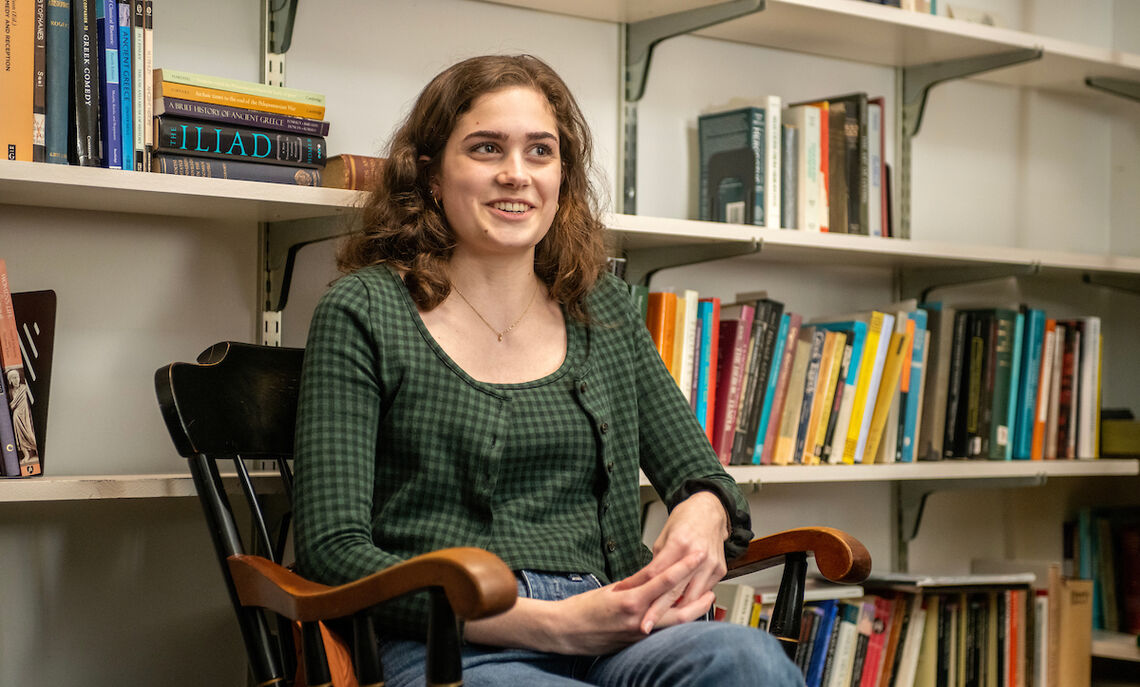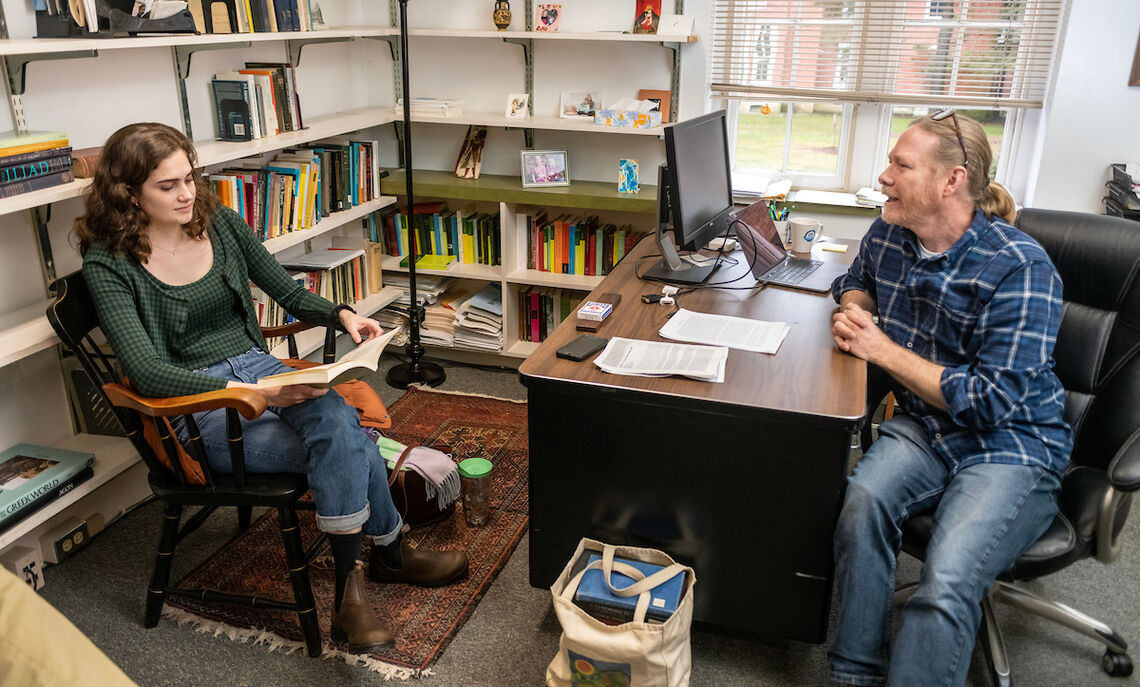 It actually began well before Watkins started studying Latin in middle school, and, in fact, centuries ago, when Homer, the Greek poet, wrote the "Iliad," and Catullus, the Roman poet, alluded to Homer's work in the poem that Watkins and Biles analyzed.
Watkins embraced Biles' challenge to write a paper on Catullus' poem "37" (his poems are numbered, never named).
"I do like the 'Iliad' as a story," she said, chuckling. "An easier answer would be that it is difficult to come up with paper ideas and topics sometimes, so having a paper offered to me was like 'Why not? I'll look into this.'"
However, something happened along her research journey, which COVID-19 interrupted to some degree, that many liberal arts students experience at F&M.
"I came here completely art-focused, but knew I would do other things, which is why I didn't go to design school," Watkins said. "I really just wanted to continue Latin, but I didn't think I'd be a classics major or even a minor."
In Biles' Goethean Hall office, she relates how in Catullus's rather salacious poem 37 the poet-narrator uses military terms to berate a group of men in a tavern who are hanging out with his ex-girlfriend.
"He addressed them as tent mates almost," she said. "He goes on later and talks about how he's fought great wars for this girl, which could be seen as an allusion to the Trojan War in the 'Iliad.' He converts his imagined face-off with his love rivals as an actual battle."
She read a brief excerpt from the poem in which Watkins and Biles are the first scholars to recognize the allusion to a passage in Homer's work.
Or, because 100 (or 200?) of you stupids sit in a line, you think that I would not dare to force you 200 sitters together to perform oral sex on me?
"There are other numbers Catullus uses in other poems that he just throws out … but he never uses 100 or 200 in combination like this. That same kind of combination exists in the passage of the 'Iliad' that we are looking at in Book 8," Watkins said.
Moreover, she said, "In the 'Iliad' passage, the Greeks offer a similarly framed threat of vengeance against the Trojans for their theft of Helen, which is how the Trojan War began. This larger set of parallels allows Catullus to play off the Homeric background in an amusing way."
What The Critics Say ...
The research work Watkins and the professor submitted to the journal, Mnemosyne, has been well-received by peer reviewers.
Biles quotes two of them:
"This is an excellent article," one wrote. "I found the Homeric allusion both illuminating and convincing, and I agree with the author that the allusion makes the military parody in the poem even richer and even more sophisticated than readers have previously realized."
The other said, "The argument for direct allusion is one that I find convincing and I think it adds something substantive to our understanding of this particular poem and also as the author notes as to our understanding of how Catullus read Homer. ...I recommend publication with few or no revisions of this fine piece of scholarship on Catullus."
"There are other scholars out there who had close to the same idea, especially the military themes," Watkins said. "But nobody had picked up on that specific allusion to the 'Iliad' so that was new and unique to us."
Related Articles
December 1, 2023
Faculty Awarded $1 Million in Recent Grants
As F&M students turn the final pages of the fall semester, it's important to also celebrate members of the faculty and professional staff who help create an enriching academic environment.
November 7, 2023
Post-Soviet Memories Shaped Professor's Path
F&M Professor of Economics Yeva Nersisyan was just a child in Armenia when the Soviet Union collapsed, but the following turmoil shaped her life's work. She'll discuss Modern Money Theory at a Nov. 9 Common Hour lecture.
November 2, 2023
Career Boot Camp Helps Future Grads Find Footing
Meet two seniors preparing for life after college. Within six months after graduation, 95% of F&M's 2022 graduates were either employed or continuing their education.