'I See a Brighter Future for Myself'
Rising senior Thomas Downs Jr. shares how financial aid has impacted his dreams to pursue a career in school psychology or counseling psychology.
"As you climb your ladder of success, reach down and pull others along with you."
This quote from author Frank Sonnenberg is one Franklin & Marshall College rising senior Thomas Downs Jr. described as his favorite—and it's one that perfectly illustrates his personal and career motivations.
"I've always been somebody who was there for people," he said.
When he was in high school, Downs said his friends tended to confide in him and would turn to him when they needed help. When he learned he could offer support professionally as a therapist, Downs knew it was his calling.
Downs followed this calling to F&M, where he applied Early Decision and was accepted with financial aid support from endowed scholarships. When he arrived his first year, Downs planned to hit the ground running and declare his major as psychology. However, since a key element of the liberal arts model encourages students to explore a variety of courses and disciplines before choosing a major, he couldn't do this quite yet. So, Downs took a couple sociology classes, and that's when it clicked: this blend of psychology and sociology was exactly what he needed to pursue therapy.
"Combining them together has really helped me understand why people are who they are," Downs said.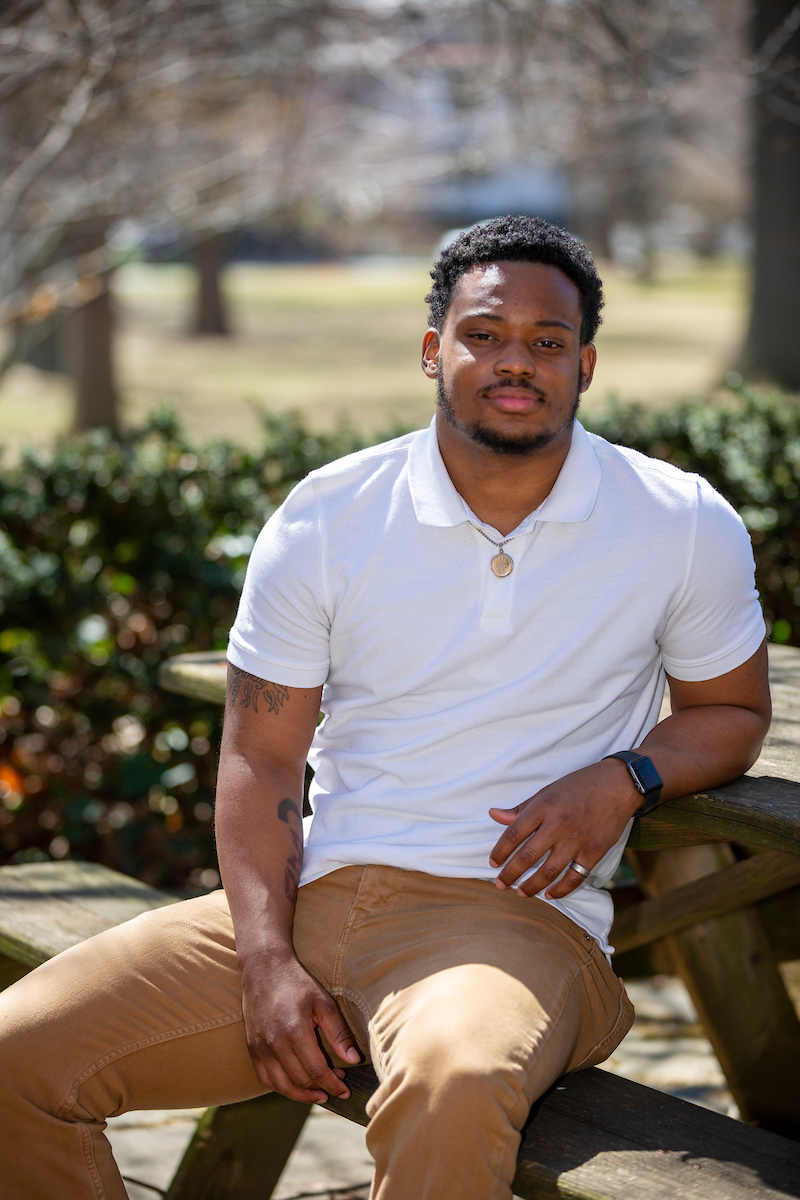 Now entering his senior year as a joint psychology and sociology major, Downs has found his place at F&M in several organizations. He is the president of the Diplomat Christian Fellowship; a member of the Black Student Union, I.M.P.A.C.T. (Intelligent Men Purposefully Accomplishing College Together), and Alumni Leaders of Tomorrow (ALOT); and plays safety for F&M football.
Downs said that having the opportunity to attend F&M with financial aid has been a blessing. When he learned he was accepted to F&M, Downs said he "ran around" with excitement and was also "ecstatic that I was going to be able to go to school and not break the bank."
Downs appreciates donors who want to financially support future generations of students.
"I see a brighter future for myself because donors took time out of their day to be a blessing and help students," he said.
This philanthropy—and Sonnenberg's quote—has also inspired Downs to give back when he's in the position to do so.
"Financial aid has helped me not just be at F&M, but realize when I become something better than myself, I can do something great for someone else, too," he said.
This desire to pay it forward is perfectly linked with Downs' desire to become a school psychologist.
"I'm a firm believer that everyone has a distinct purpose on this earth, and I'm somebody who likes to help people reach their full potential," he said.
Through his psychology and sociology courses at F&M, Downs has learned what happens in a person's early years can help solidify who they ultimately become later in life. He's hoping that by supporting students in early childhood, he can give them a good foundation to build upon and become the best version of themselves.
"I'm hoping that as a school psychologist, I can make more of a difference for people who need help in the beginning so they can cultivate themselves into something greater," he said.
Going into his senior year, Downs plans to pursue this dream by applying to graduate school for school psychology or counseling psychology. Until then, Downs will continue to do what he can to support others and pull them along as he climbs the ladder of success.
Related Articles
October 31, 2023
True Blue Weekend Marks Milestones
An estimated 2,100 students, parents and alumni filled Franklin & Marshall's campus Oct. 27-29 for True Blue Weekend. The annual Homecoming and Family Weekend offered something for members of every generation.
October 6, 2023
Sociology Student Takes Action Against Human Trafficking
Sophomore Gubat Abdullaev spent the summer in Sweden researching the human-trafficking industry and presenting his findings to the Danish Institute for Study Abroad.
August 29, 2023
Davidson Named Vice President for Enrollment Management
M. Leslie Davidson has been appointed Franklin & Marshall's new vice president for enrollment management. She will begin her duties at F&M Oct. 16.