Two F&M Swimmers to Compete in Olympic Trials
Victory in the pool is often decided by one hundredth of a second.
But for two Olympic hopefuls on the Franklin & Marshall College men's swim team, one year has arguably made all the difference.
For senior Chris Schiavone, one gap year after high school steered the multi-sport standout away from water polo and toward swimming. The postponed 2020 Olympic games gave junior Brendan Cline time to realize his full potential and qualify for trials just weeks before the May 31 deadline.
Both Cline and Schiavone will compete June 7 in the 50-meter freestyle Olympic trials in Omaha, Nebraska. Swimmers with a top-two finish will advance to Wave II trials slated for June 13-20.
The qualifying time for Wave I trials is 23.19. Schiavone clocked 23.08 on November 14 at the Toyota U.S. Open in Richmond, Virginia. Cline hit 23.09 on May 8 at the same facility during the Jim Frye Memorial Long Course Meet.
They are the first F&M Olympic trial qualifiers since Gordon Chalmers '35, a member of the 1932 U.S. Olympic team. Two-time Paralympian star Becca Meyers '21 was a student at F&M when she won three gold and one silver medal at the 2016 Paralympic Games in Rio de Janeiro.
Initially interested in playing Division I water polo, Schiavone didn't consider F&M until he took a gap year to work and explore his interests.
"One of the biggest things was the academics. It's a small liberal arts college, but it has a very big focus on research activities," Schiavone said.
The eight-time All-American enters his senior year as team captain and the school record holder in both 50-free and 100-free — and well situated on his path toward becoming an astrophysics teacher.
"Not many schools across the country have an astrophysics major. Most have physics with astronomy. That was a big draw to me," Schiavone explained.
"Also, the team environment was great. The facilities were great. There was a lot of potential on the team to do great things. It's a culmination of what I saw in the school back then, right now," he said.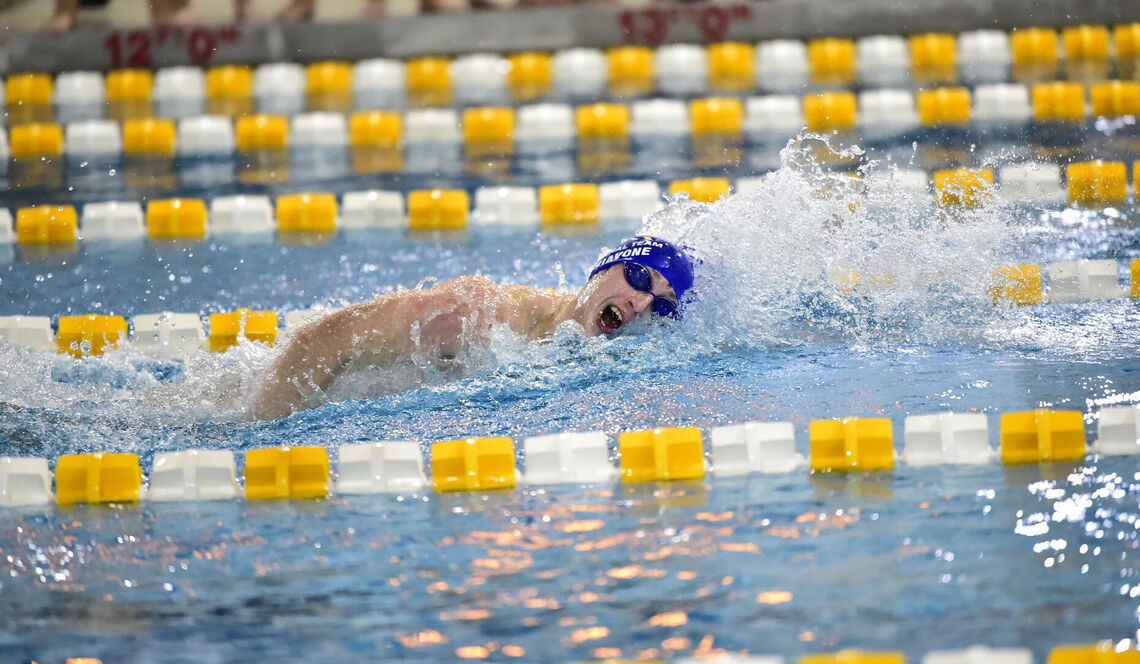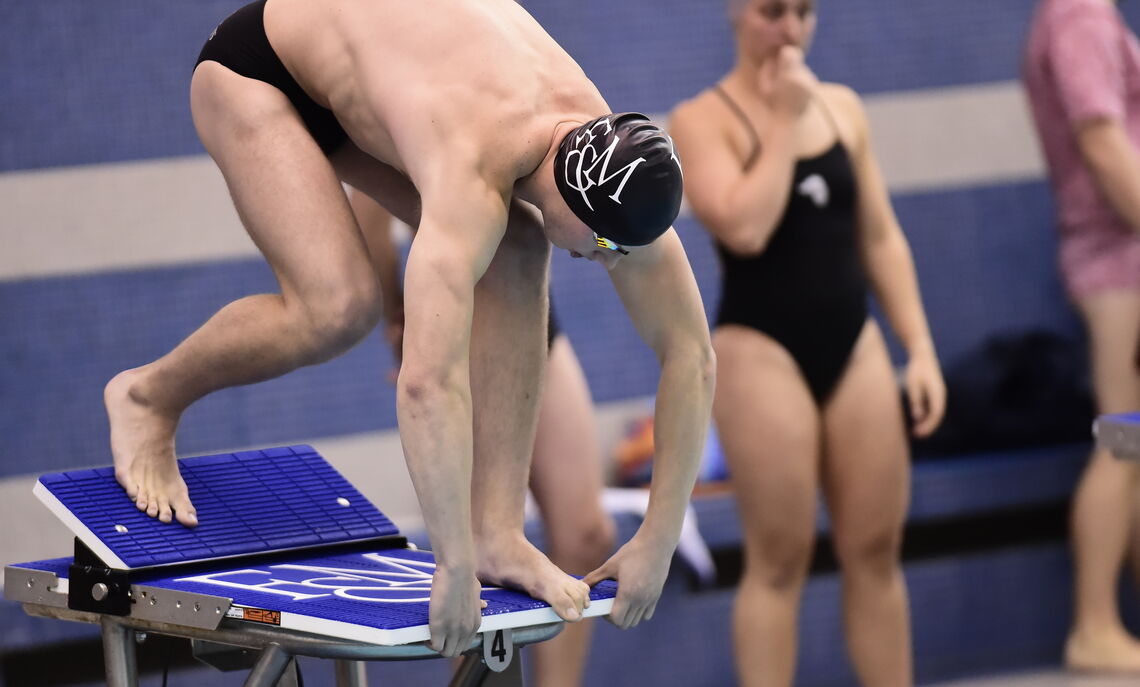 Something clicked for Cline when the pandemic disrupted his normal class and swim schedule.
"With the COVID shut down last spring, he fully committed to transforming his body into that of an elite sprinter, and since then we have seen huge strength gains,' said Ben Delia, F&M head swim coach. "By the fall of 2020, I was convinced he was capable of qualifying for trials."
"I never imagined I would be where I am today," Cline said.
"It wouldn't have happened without my teammates. All of the support from my family and friends. Once I really applied myself, I was able to see results right away. It's been a constant improvement ever since," he added.
Cline won the 50-yard freestyle race at the Middle Atlantic Senior Championships in April. He picked up his first All-America honor as an individual in 2021, and was a member of two All-America relay teams during the 2019 and 2020 seasons.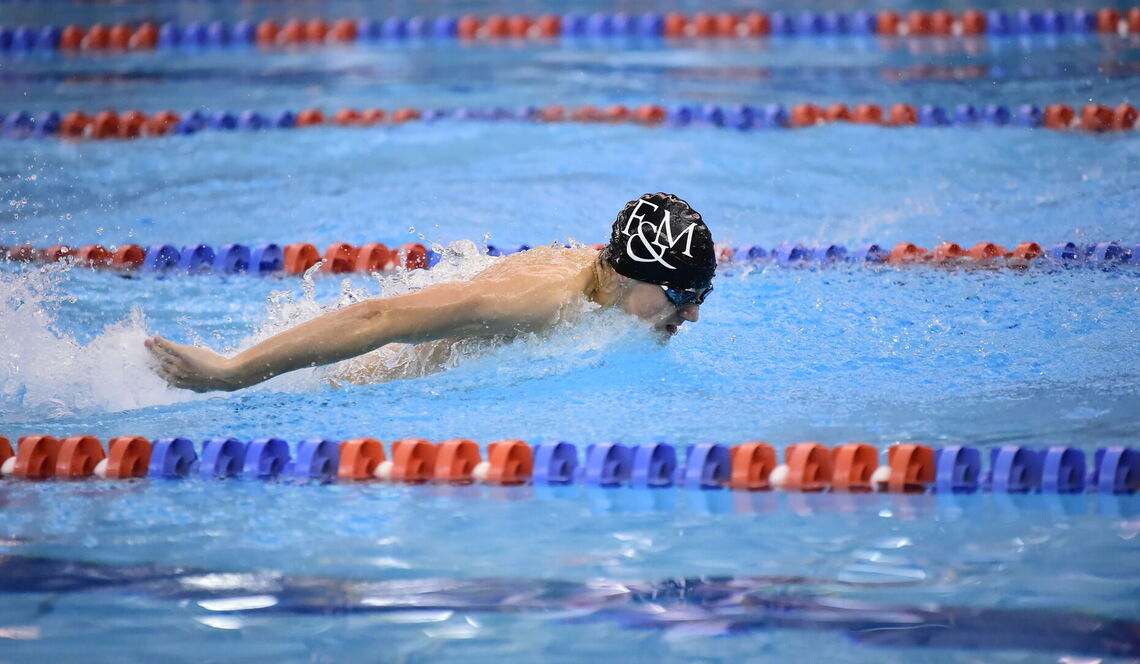 Despite the cancellation of two consecutive swim seasons due to COVID, Cline and Schiavone— who roomed together and remain good friends — stuck to a strict training schedule, swimming once a day every Monday, Wednesday, Friday and Saturday and swimming twice a day and lifting every Tuesday and Thursday.
"It seems like it would be difficult. It's actually made things a lot easier for me, that sense of structure," Schiavone said. "Being a student athlete and swimming give me the structure to accomplish a lot more."
Cline echoed that sentiment. The business organizations and society major is currently balancing time between two summer internships and training.
"In short, qualifying for Olympic trials has been a years-long process for both Brendan and Chris. The 2021 qualifying time for the 50-free is the fastest Olympic trials qualification standard in history, and for that we should be proud of these accomplishments," Delia said.
Schiavone and Cline will enter Olympic trials ranked 52nd and 53rd, respectively — and separated by one hundredth of a second.
"One of the biggest things was the academics. It's a small liberal arts college, but it has a very big focus on research activities."
– Chris Schiavone '22

Related Articles
October 31, 2023
Campbell's CEO Mark Clouse Challenges F&M Students to Seek Leadership Experiences
Campbell Soup Company's President and CEO Mark Clouse delivered the keynote presentation at the 2023 Diplomat Leadership Scholars Dinner, hosted by the Steinman Foundation.
October 20, 2023
Wrestler Pins Post-Grad Career Thanks to F&M Mentor
Wrestling captain Noah Fox excels on and off the mat, thanks in part to guidance from his True Blue mentor. "This program has helped me jump-start my career and secure my dream job as a software engineer," Fox said.
October 4, 2023
Diplomat Fall Sports in Full Swing
Nearly 30% of the F&M student body competes in varsity sports. Browse an update of in-season sports on the turf, track, court and course.