Students, Faculty Monitor Air of F&M
On an evening smoky from Canadian wildfires that engulfed the Northeast earlier this month, Robert Walter '75, chair of Franklin & Marshall's Department of Earth and Environment, reported the air-quality index (AQI) registered by a campus monitor.
"The AQI in Lancaster County on a bad day is 80-120, which is bad enough," he says. "In parts of Lancaster County today, the AQI reached 282. This is unprecedented by a long shot."
From their studies of weather patterns and wildfire plume movement, Walter and his students predicted AQI would exceed 400 the next day, but it actually was more than 480 in parts of Lancaster County, the worst in the nation.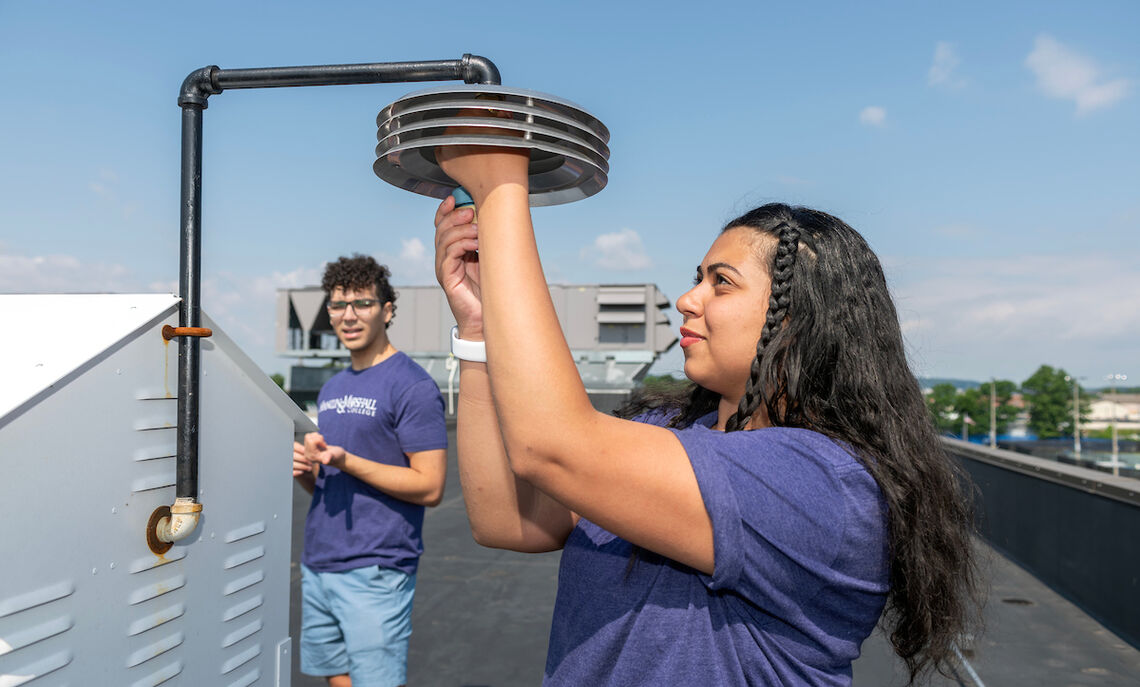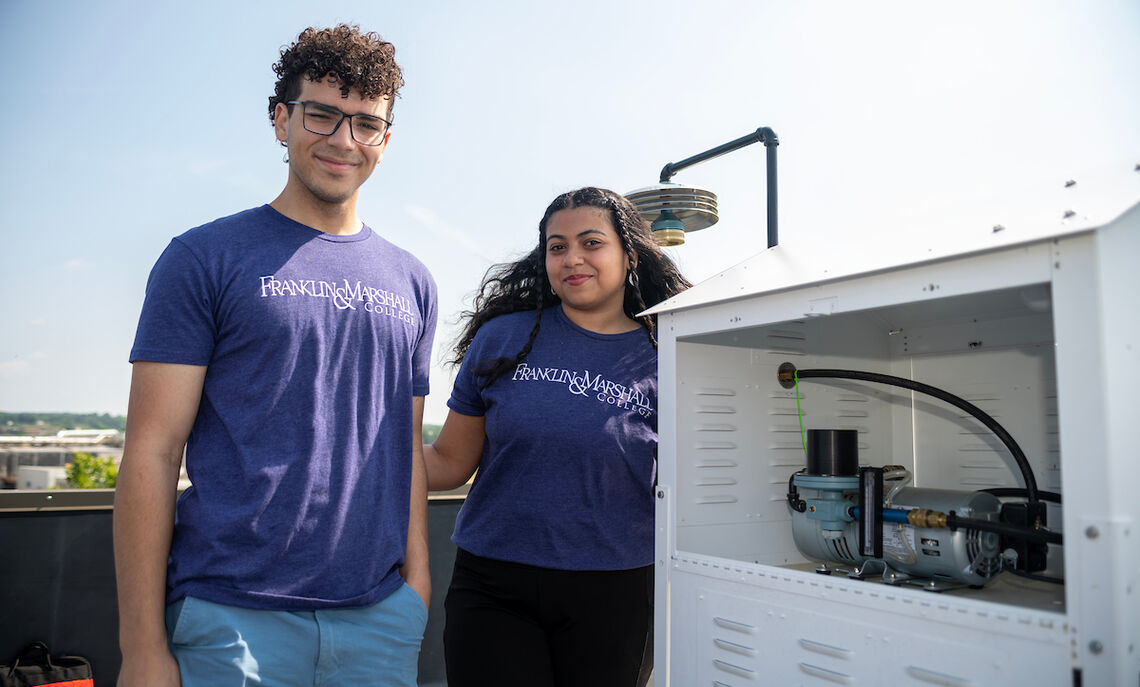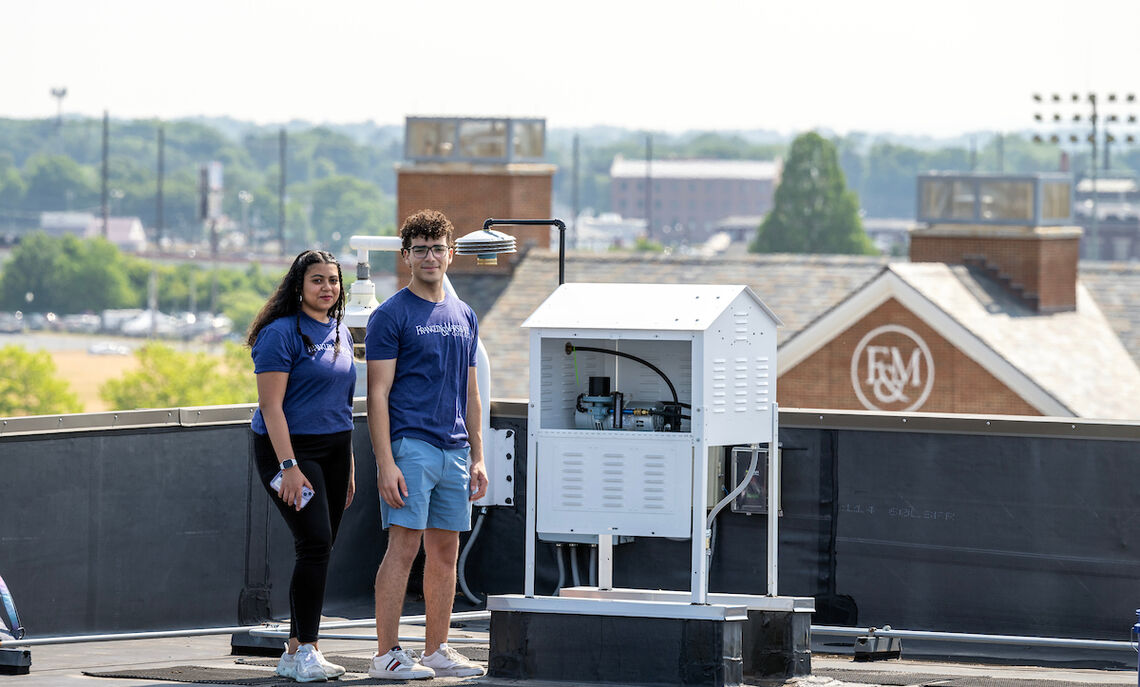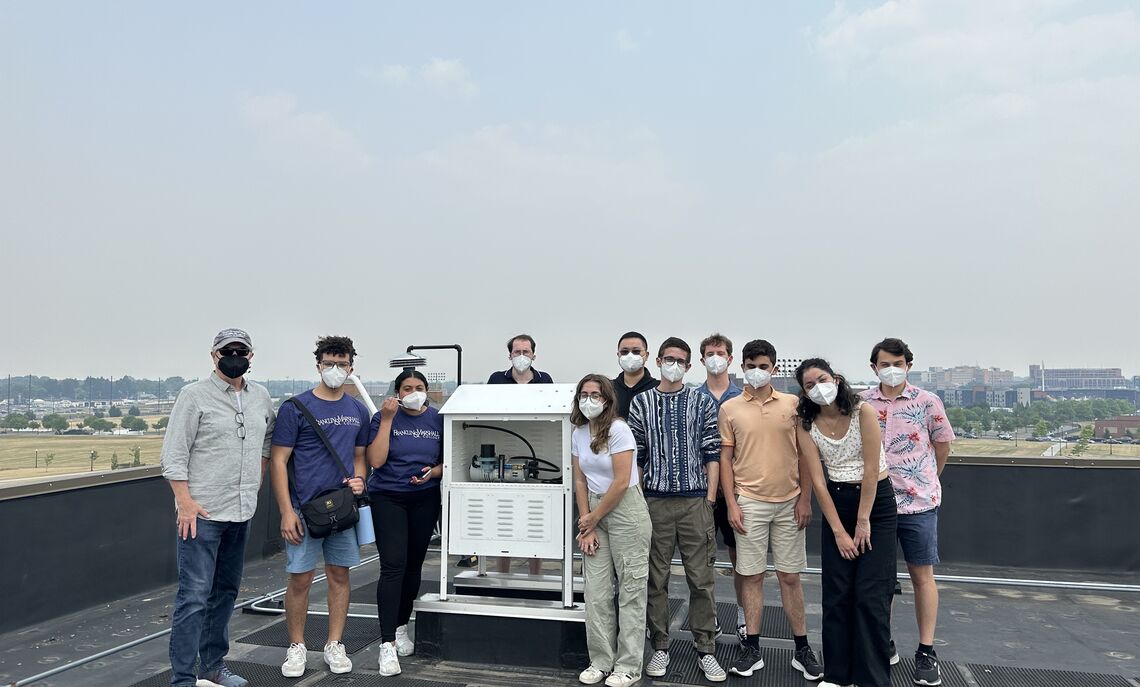 Next morning, Walter gathered a group of students and alumni at Hackman Physical Sciences Laboratories to discuss the health and environmental dangers of pollution. Andrew Foley '13, M.D., spoke about his public-health concerns.
"These unprecedented numbers are due mainly to the Canadian wildfires, which are themselves unprecedented, but also to some homegrown air pollution," Walter says.
The Dr. Earl D. Stage & Mary E. Stage Professor of Geosciences recorded the numbers with two rising sophomore researchers, Alaa Abo El-Magd and Ali Nawar, from Cairo and Giza, Egypt, who plan to pursue studies in environmental sciences.
"Many countries and regions are suffering from a significant burden of diseases directly linked to poor air quality," Abo El-Magd says. "By conducting research in this area, I aim to contribute to the identification of the sources of pollutants and its health effects."
That Walter and the summer researchers were conducting research on local and regional air quality during an extreme climatic event was not coincidental, but was the result of a donation to the College three years ago of a variable speed air sampler unit.
The sampler, a white metal unit shaped like a little house, was installed in January atop the roof of the Alumni Sports & Fitness Center. Initially, it was not for monitoring air pollution.
"The idea was that we were going to set this up and simply look at what are called natural radionuclide fallout atoms, these elements that are radioactive but they are natural; they are in the air all the time," Walter says.
At least a dozen samplers are required around nuclear power plants to sniff the air for leaks. Walter says F&M received one because Eric Schwarz, a 10-year volunteer researcher in the department's Gamma Spectroscopy Lab, is a scientist at Peach Bottom Nuclear Power Plant.
Just before the pandemic, Schwartz was telling a sales representative for the air samplers about F&M's work with gamma spectrometry, and the rep donated the sampler to Walter's lab.
It was not until after the pandemic that they installed the $12,000 unit on the ASFC's roof.
"We set this up somewhere between resting breathing rate and physical activity because we're out there next to the football field, the soccer field, the tennis courts," Walter says. "After one week of pumping, we were shocked to see the pure white filter paper was pitch black with soot."
He decided to start an air-quality research project, which attracted Abo El-Magd and Nawar.
"This research is particularly important for me because I am interested in finding the root causes of this environmental problem," Nawar says. "I am enjoying the fact that this research is still in its infancy, which [creates] a space for creativity as well as learning."
The students worked with Lancaster farmer and retired geophysicist, Aaron Sheaffer '95, who is greatly concerned about the illegal burning occurring in the county, which he discussed at the Hackman meeting on pollution.
"I regularly watch piles of trash get burned and piles of brush get burned," Sheaffer told the students. "In general, there are large volumes of burning in the early hours starting at around 4 a.m. and then the burning starts more heavily at 7 and 8 p.m. in the twilight hours."
Each week, the students record AQI readings and replace the sampler's blackened filter, which Schwarz analyzes in the Gamma Spectrometry Lab. They collect weekly pollution data Sheaffer reports and create regional maps with the information.
"He sends us locations of burn pits in Lancaster; he keeps us informed about the pollution in his area; from his farm, he can see pollution plumes," Nawar says. "We're all collaborating."
Walter says the AQI research is now an ongoing project for his department. The students are excited about the prospects of helping the community.
"The prospect of achieving tangible results and making a positive impact on public health is truly exciting," Abo El-Magd says. "We are collaborating with public health organizations to raise awareness among the community, which adds another layer of fulfillment to the work we're doing."
Related Articles
November 27, 2023
Paleontologist in the Making
Senior Conner Minkowitz's passion for extinct creatures changed when he began studying under a retired Franklin & Marshall College paleontologist.
August 31, 2023
NATO Humanitarian Demining Robot Tested at F&M
A team of two cooperating robots roamed a field at Franklin & Marshall's Baker Campus Aug. 29 to demonstrate to an international audience their capabilities at demining war-torn areas.
August 16, 2023
Closing the Gender Gap in Finance
Kriti Krishna '18 and Lia Tavarez '20 are working together to make investments more accessible for female entrepreneurs through HearstLab, a a venture fund for women-led startups.