Students Help Program Robots for Dangerous Mission in Ukraine
The "Jackal" rolls quietly across Hartman Green, its four-wheeled boxy shape with wires, lights and twin dome-shaped GPS antennas catch the attention of a passerby: "What is it?"
It is a robot, resembling a yellow toy dump truck, and one of four prototypes in the world that has been under development at Franklin & Marshall College's physics lab. Students and their professors are researching Jackal's future assigned task—helping to remove landmines.
"The robots will be cleaning up explosive remnants of war or maybe not these particular ones, but machines based on their design," says Tim Bechtel, director of F&M Science Outreach and senior teaching professor of geosciences.
Russia's latest invasion of Ukraine began in February 2022, but since the first invasion in 2014, F&M has worked with an international research coalition to build and design the robots, each with a specific mission on former battlefields, much of them agricultural lands in the Ukrainian "breadbasket of Europe."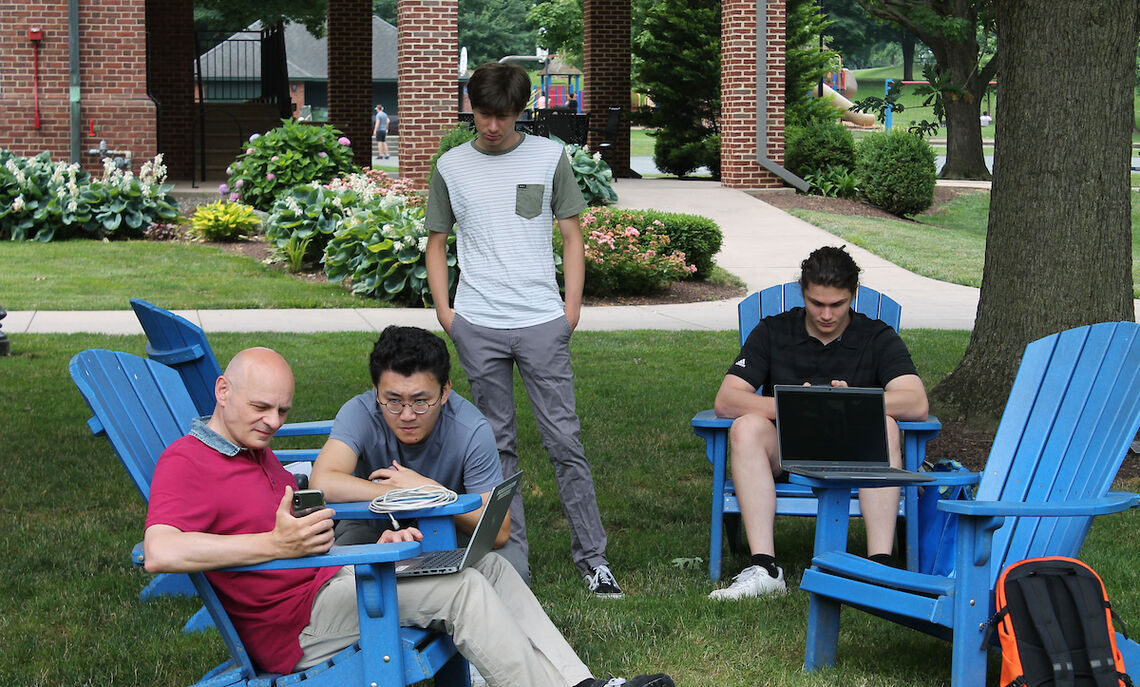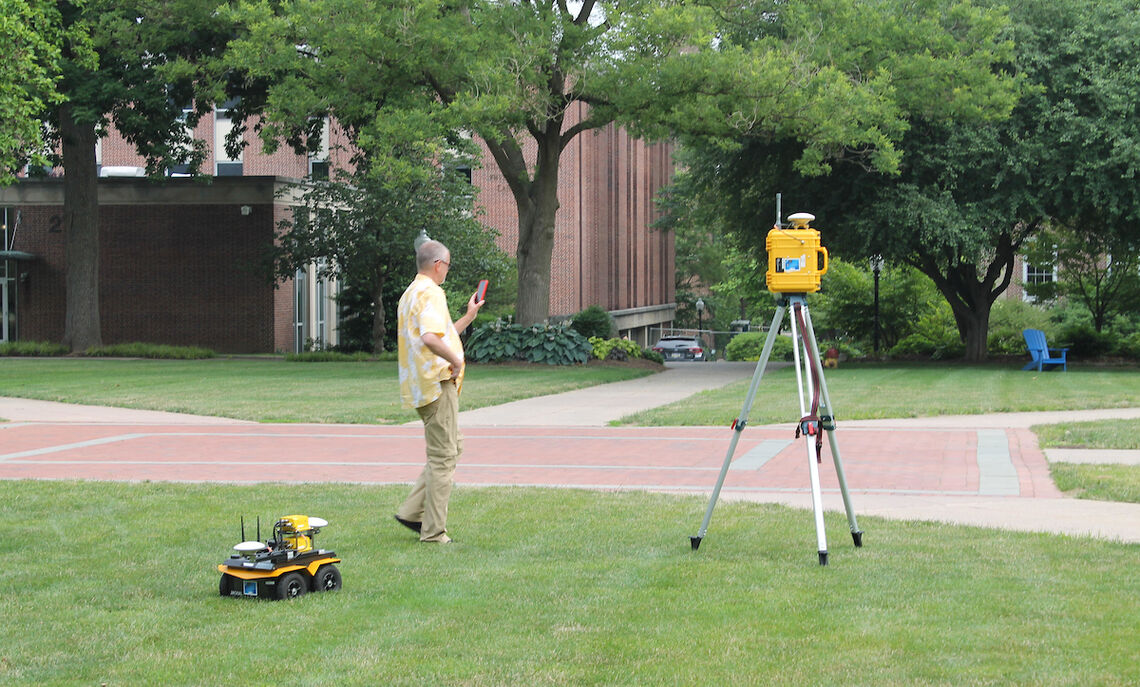 "The mission of F&M's robot is to go in with a camera," Bechtel said. "Some of our students, along with a student in Ukraine, have just developed an amazing algorithm for taking a complicated scene and spotting even partially obscured horizontal lines that might be tripwires of the type found throughout regions where Russian troops withdrew following their failure to take Kyiv."
F&M senior and junior physics majors Yihao Zhang and Ethan Senatore worked with Maksym Maiboroda, a junior data science researcher at The Institute for Radiophysics and Electronics at the National Academy of Sciences Ukraine in Kharkiv.
"This robot is going to have a trip-wire camera and a LiDAR camera — light detection and ranging— that maps the relief so the robot [which has low ground clearance] can spot places on the terrain where it might get stuck, avoiding those while looking for trip wires," Bechtel said.
The collaborative work with the institute in Ukraine, Jordan University of Science and Technology in Amman and the University of Florence in Italy has involved Florence engineering post-doc Luca Bossi spending two weeks this summer at F&M with the research students.
"Luca has been working with us to get our robot completely set up, using Wi-Fi to connect the robot to a server in the Cloud," Bechtel said. "Anybody that has an app in their cell phone, and the right code for this machine, can operate it anywhere in the world from their cell phone."
Bechtel said they have already had two successful experiments with researchers in Ukraine and Jordan taking control of F&M's robot and driving it around on Hartman Green.
"We are trying to make it so that anyone anywhere in the world can make one of these," Bechtel said. "You've seen pictures of the shelling in Ukraine. We had a job to clean up eastern Ukraine when this whole thing started. Now it's going to be decades."
Related Articles
November 27, 2023
Paleontologist in the Making
Senior Conner Minkowitz's passion for extinct creatures changed when he began studying under a retired Franklin & Marshall College paleontologist.
September 26, 2023
Students Stargaze at Cherry Springs Retreat
Students attended a recent weekend retreat to Cherry Springs State Park for two nights of stargazing in September. Night sky enthusiasts flock to the park for its spectacular views of the Milky Way.
August 31, 2023
NATO Humanitarian Demining Robot Tested at F&M
A team of two cooperating robots roamed a field at Franklin & Marshall's Baker Campus Aug. 29 to demonstrate to an international audience their capabilities at demining war-torn areas.