Students Lob a Few Axes to Get Loose as End of Term Looms
As the end of the semester inches ever closer at Franklin & Marshall College, students are looking for every opportunity to remain sharp heading into finals. This past weekend, about 50 students looking to take the edge off took a trip to a local venue, Meduseld Meadery, to enjoy some downtime by throwing axes.
The April 10 ax-tossing event was sponsored by the College Entertainment Committee. We asked the lead organizer, junior Kelsi Baird, to talk about planning the event. The Kansas City, Mo., resident is double majoring in economics and government and minoring in history.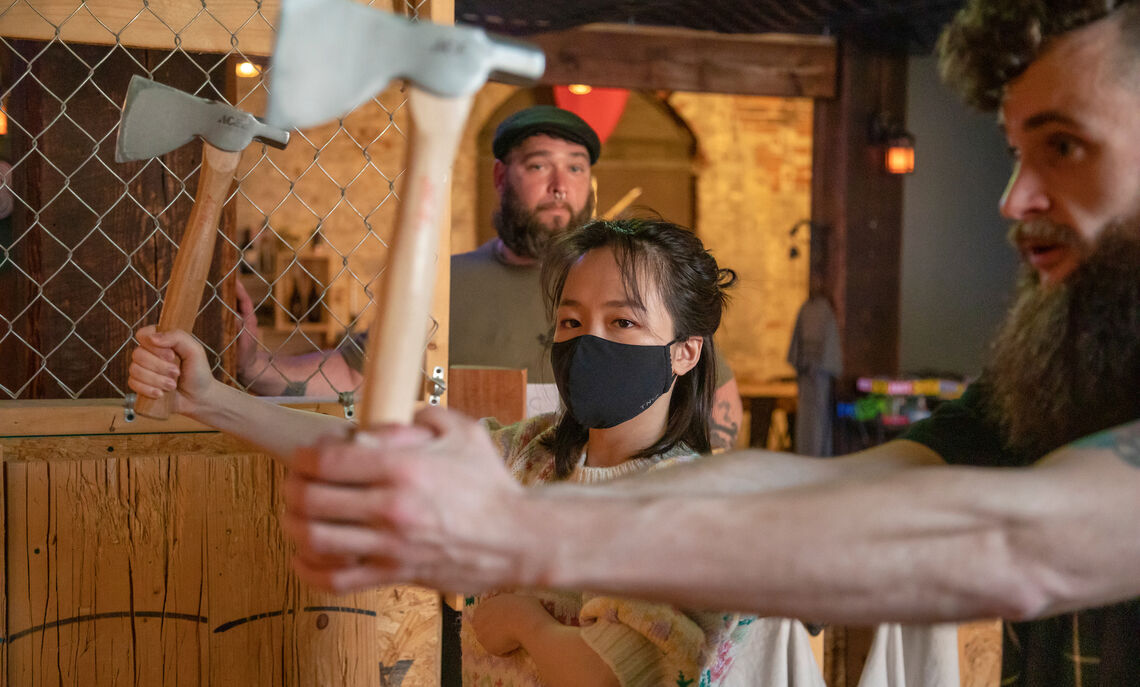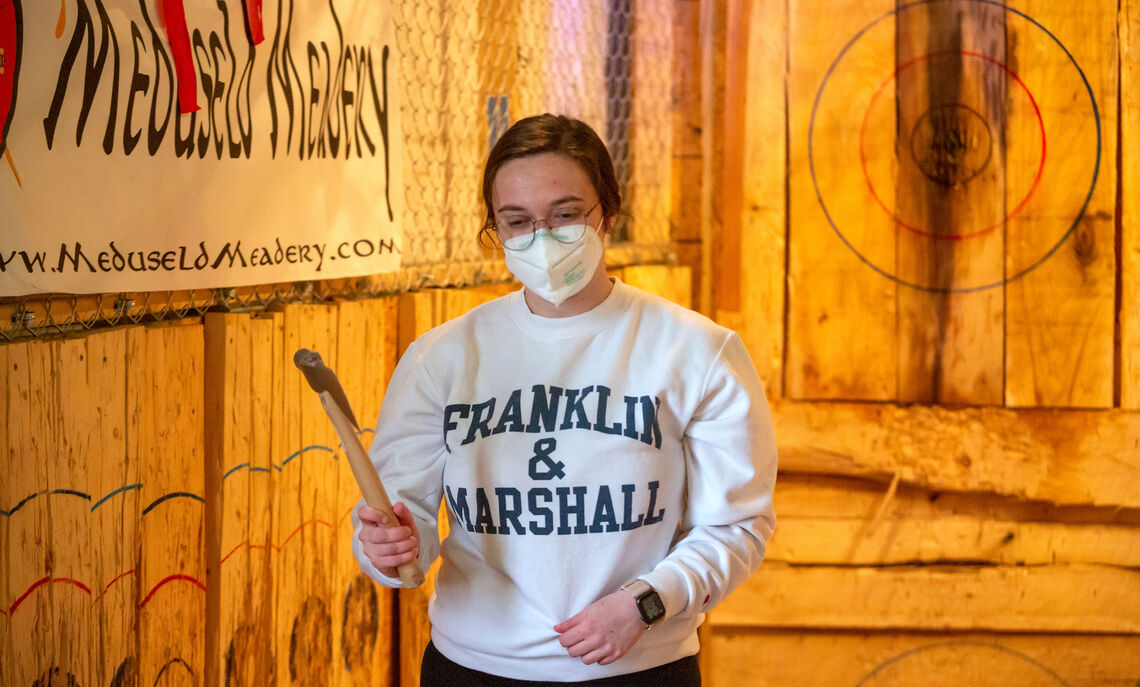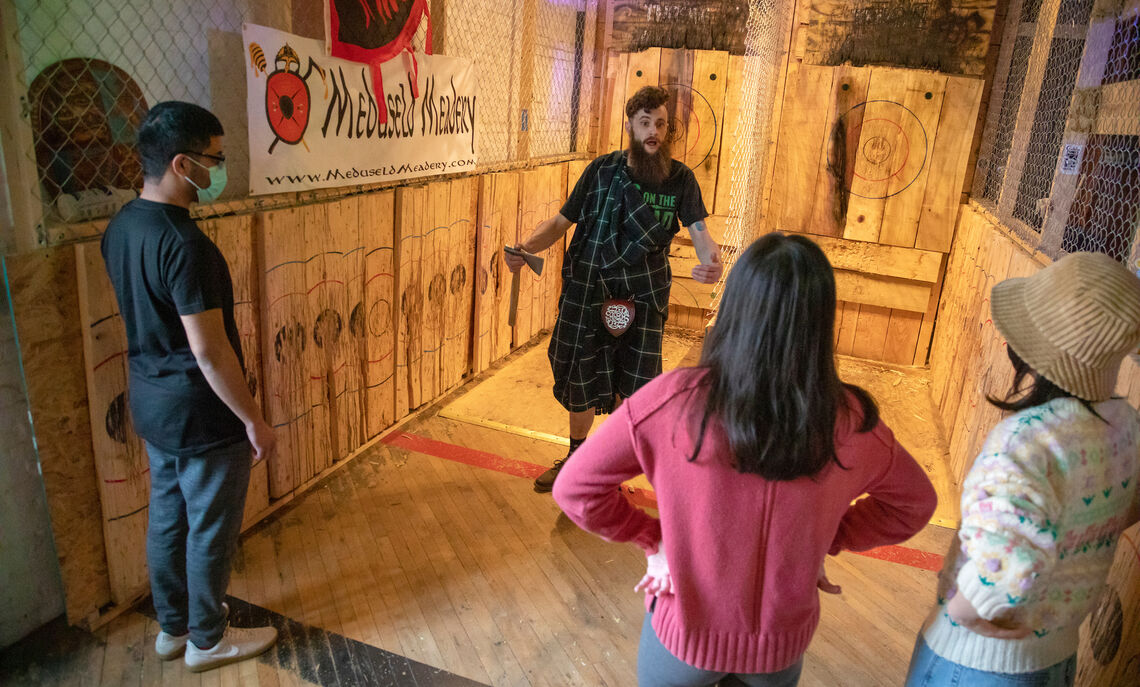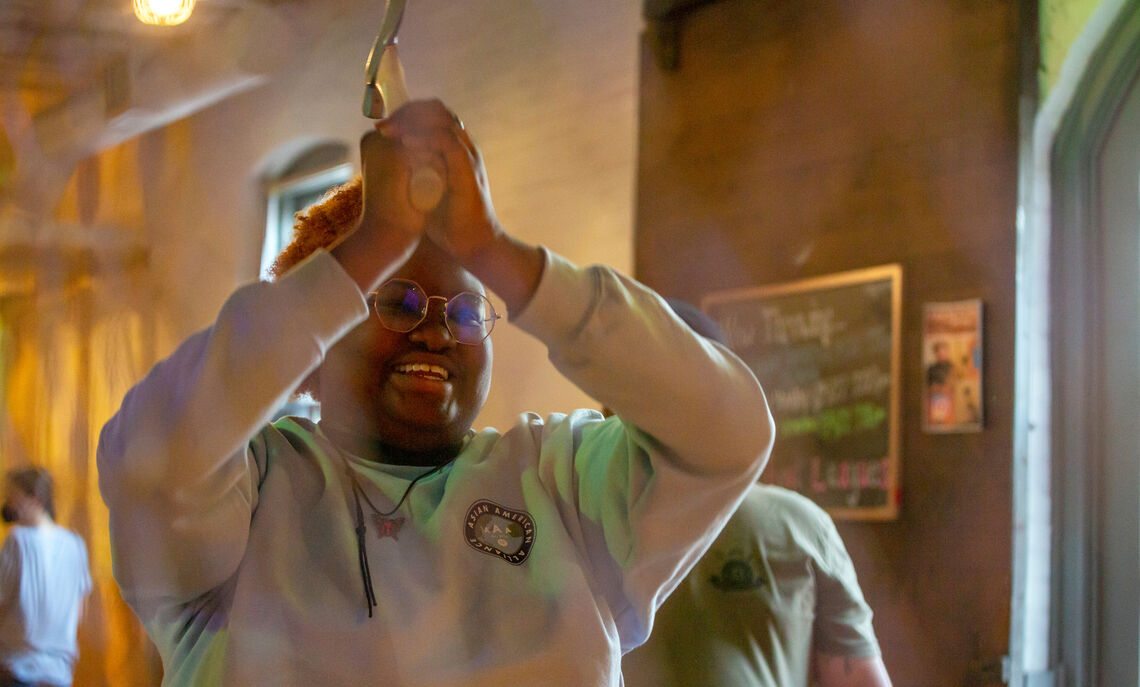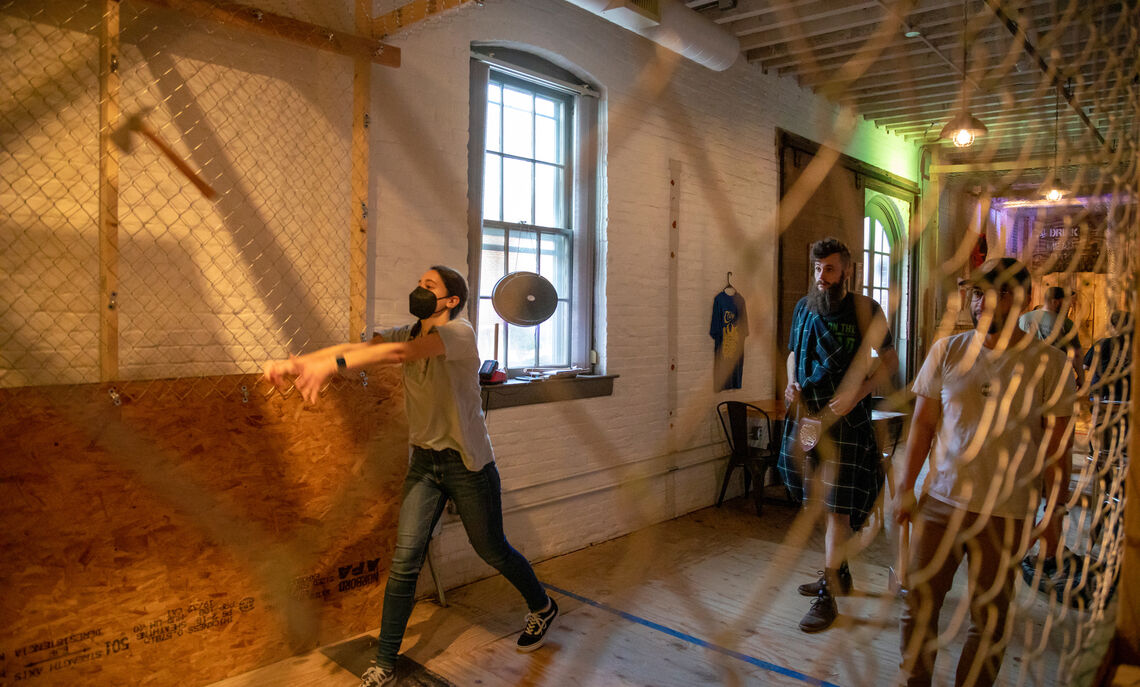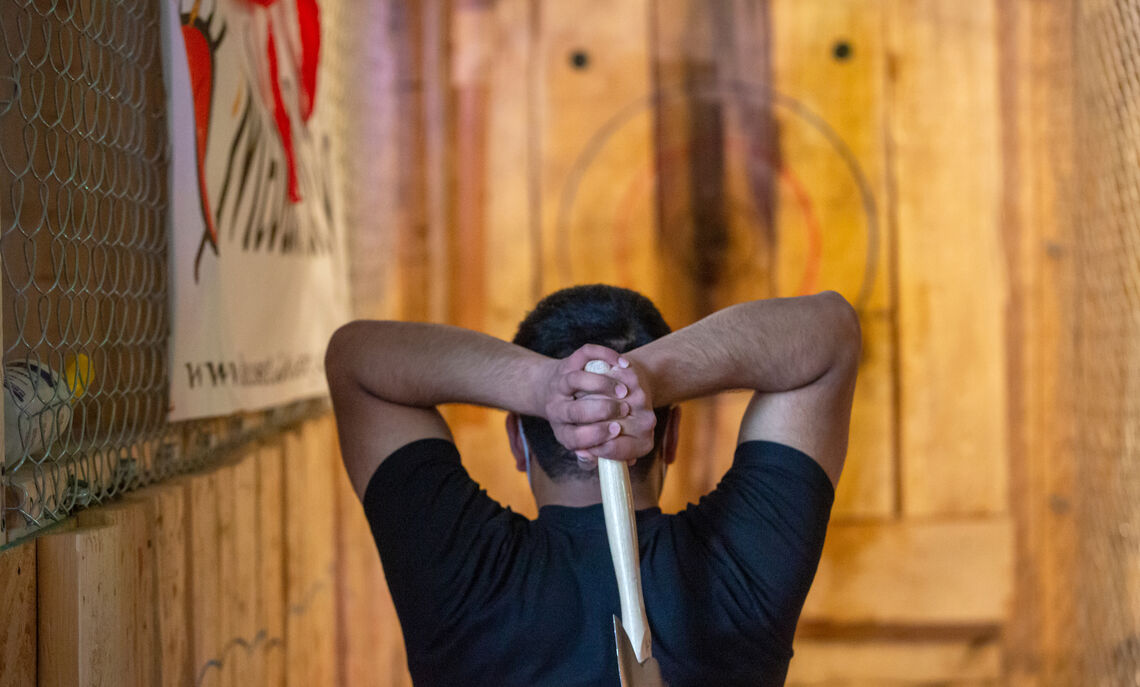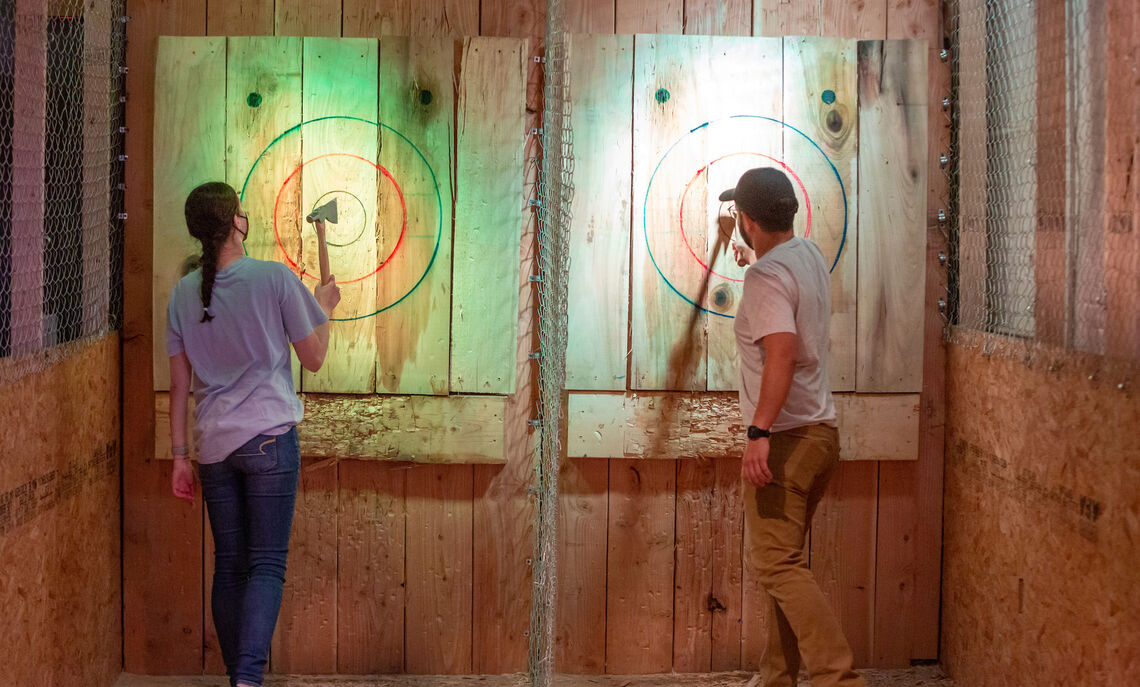 F&M: How did you and the CEC get the idea of building a student event around ax throwing?
Kelsi: The committee got the idea from Assistant Dean for Student Engagement Meredith Bielaska and Director of Student Engagement and Leadership Stephanie Kessler. They had gone to Meduseld Meadery before the start of the second semester and had a blast. I have always wanted to go ax throwing and jumped at the idea of doing this as a CEC event and supporting a local Lancaster business in the process.
F&M: What did you learn from planning this activity, from a leadership perspective?
Kelsi: As the chair of CEC, I learned that planning sooner rather than later is always to your advantage, so we started planning this event quite early. This event taking place the weekend after Spring Arts (a traditional April celebration for F&M students) was a bit of a challenge to navigate because of all of the time and attention that Spring Arts requires. Also, because this was an extremely busy weekend on campus, we wanted to schedule this so that it did not conflict with any of the other great events — the Asian American Alliance's Night Market, Admitted Student Day and more — taking place this weekend.
F&M: What was your favorite part of the evening?
Kelsi: Watching students throw axes for the first time. As someone who has never done this before, it was pretty fun to try something out of my comfort zone and relieve some stress before the last three weeks of class. The meadery had amazingly kind and supportive staff. I would recommend that anyone wanting to try ax throwing visit for an amazing experience that you will never forget!
Related Articles
October 31, 2023
True Blue Weekend Marks Milestones
An estimated 2,100 students, parents and alumni filled Franklin & Marshall's campus Oct. 27-29 for True Blue Weekend. The annual Homecoming and Family Weekend offered something for members of every generation.
October 27, 2023
F&M Alumni Contribute to Thriving Community in Lancaster
This week, F&M alumni are returning to campus for True Blue Weekend, and some won't have far to travel. Many Diplomats choose to stay in Lancaster after graduating or move back after living elsewhere, thanks to the city's strong community and career opportunities. F&M alumni are eager to give back to Lancaster through careers in public service or by volunteering with local nonprofits.
October 12, 2023
Students List Favorite Fall Traditions
Autumn marks the commencement of countless campus traditions at F&M. Check out this list of fall favorites, curated by our very own students!