Summer Research Goes Interstellar
Rising junior Delaney Adair is spending her summer analyzing data from telescopes around the world to learn how the remnants of a dying star might set the galactic scene for the formation of new ones.
A 2023 Hackman scholar, Adair is working with Franklin & Marshall Assistant Professor of Physics and Astronomy Deborah Schmidt to study M1-92, a protoplanetary nebula approximately 8,000 light-years away from Earth.
Protoplanetary nebulae are the remnants of low-mass stars like our sun and occur as a dying star transitions from a red giant to a planetary nebula. Because this phase is relatively short compared to the overall lifespan of a star, it can be difficult to study.
"Very few examples of these objects are known and consequently their molecular composition is poorly understood," Schmidt said.
By expelling elements initially created inside stars, however, these nebulae shape the chemical makeup of galaxies. Researching their composition could help scientists better understand the "interstellar medium," the material that lies between stars and from which new stars form.
The goal is to better understand how a nebula's molecular composition changes over the course of its lifetime. By using data from radio telescopes to plot the intensity and freqency of light emitted, Adair is working to identify molecules present in the nebula.
"Each molecule has its own unique spectral fingerprint, meaning it emits light at a discrete set of frequencies," Adair said.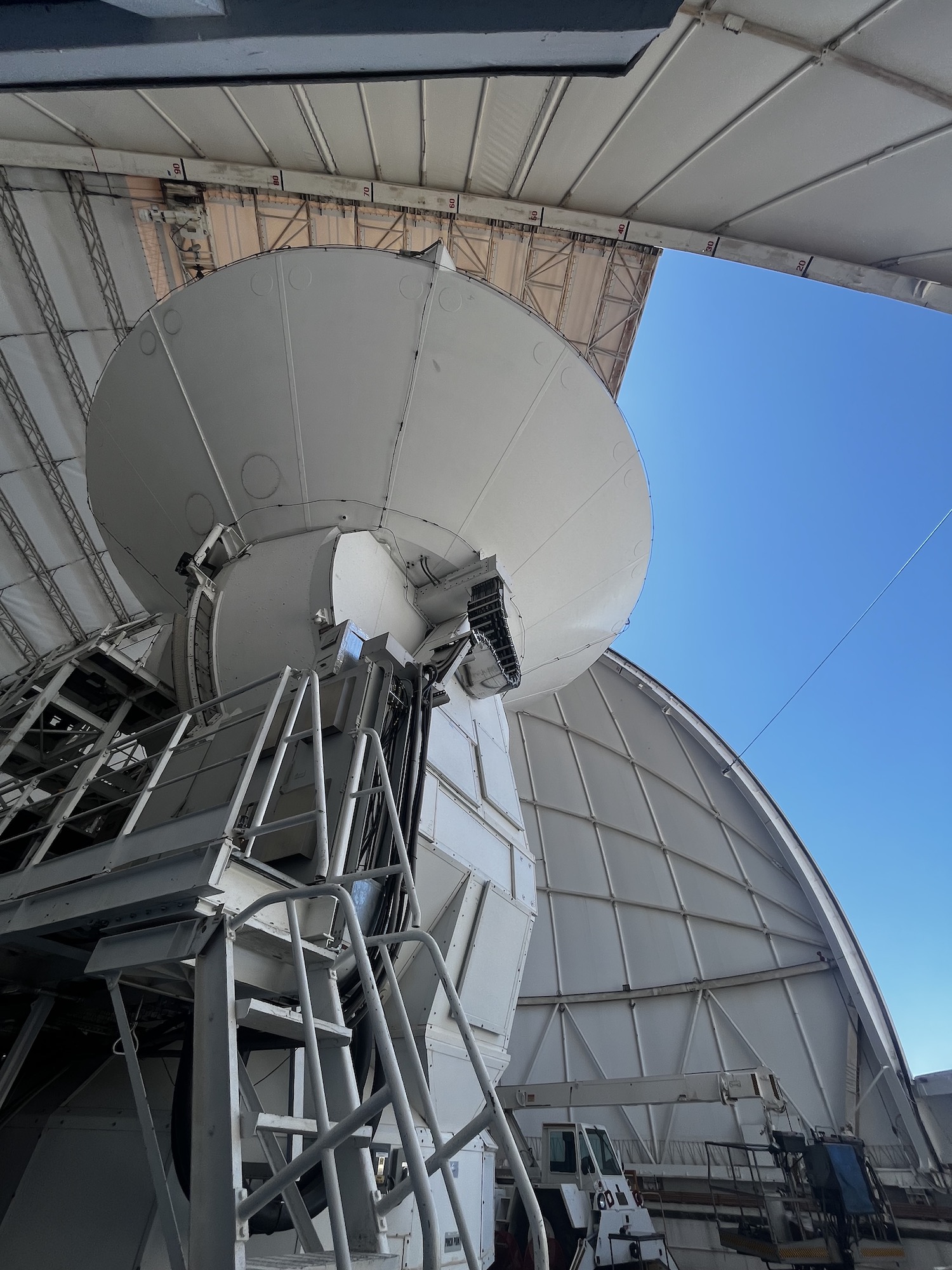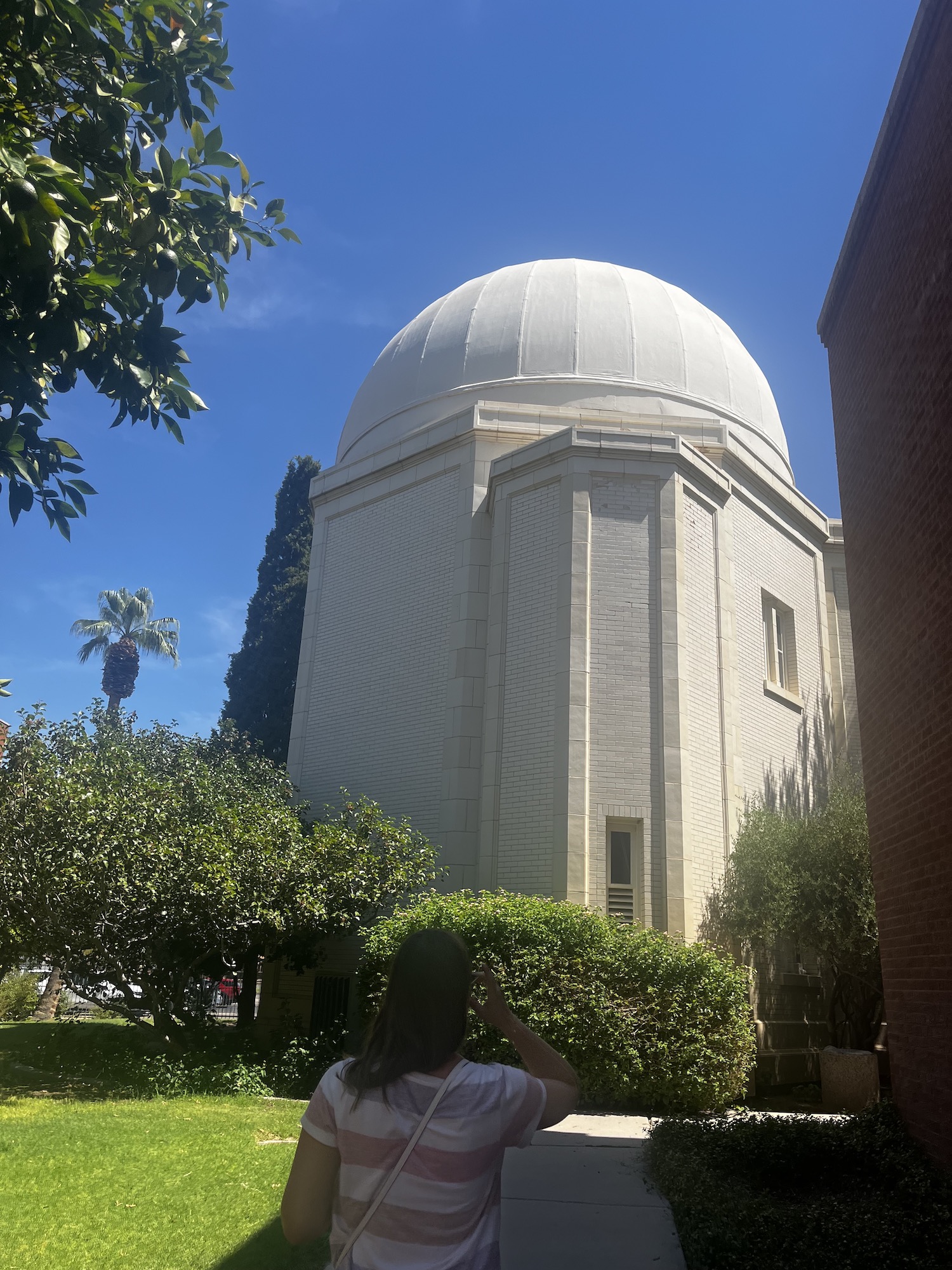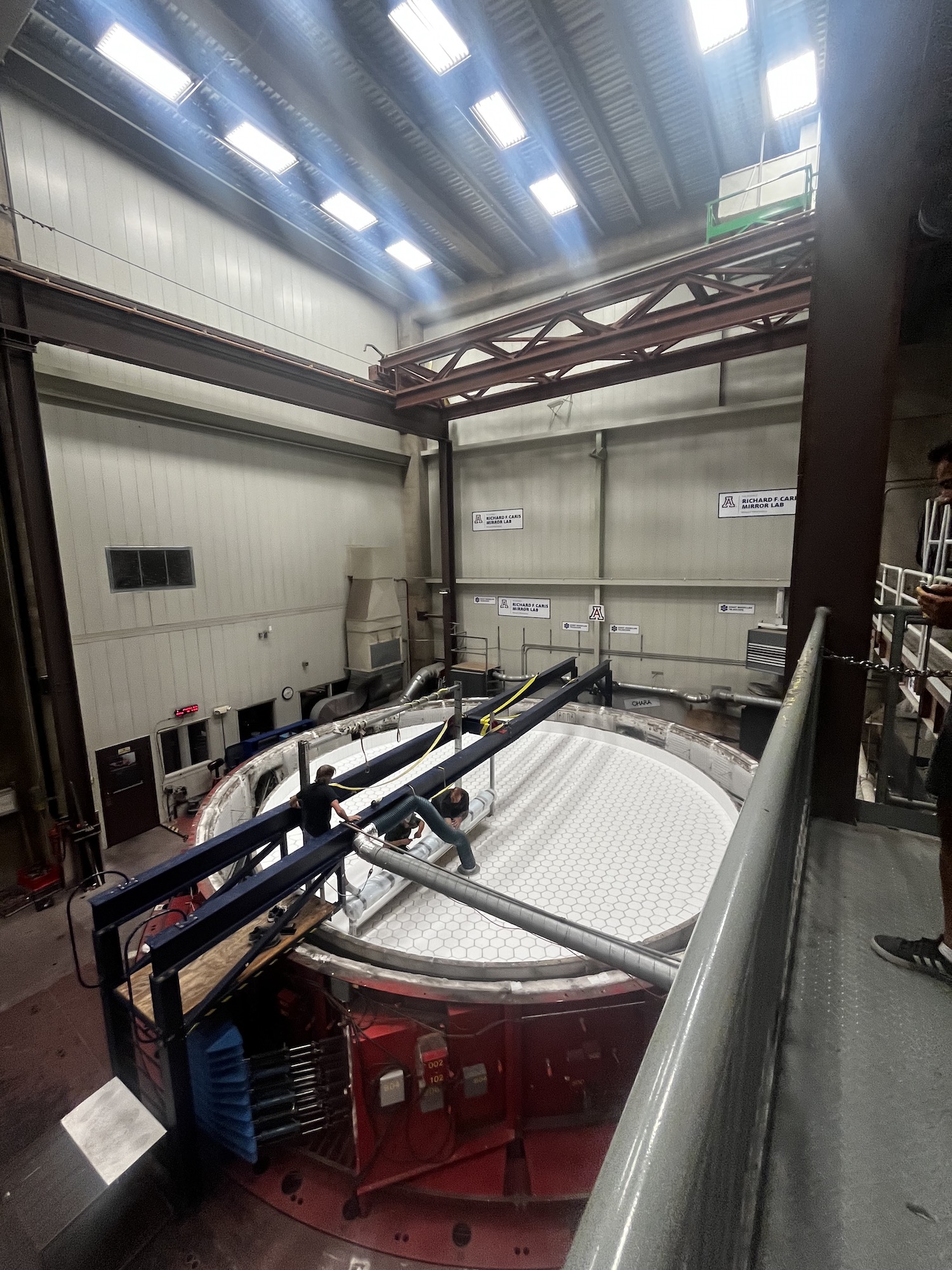 Adair recently traveled to Arizona to visit two of the telescopes observing M1-92: the Arizona Radio Observatory 12-meter Telescope and the Submillimeter Telescope. She also toured the University of Arizona's Richard F. Caris Mirror Lab, which produces large, lightweight mirrors for telescopes using an innovative honeycomb structure.
"It's a chance to speak with professionals in the field and see how these telescopes work in person," Adair said. "I was not expecting to take a trip or meet with the team behind the research, so this has all been one exciting surprise."
Studying astrophysics has been a longtime goal for Adair, who cites the work of Neil deGrasse Tyson as sparking her interest in the field. After taking Introduction to Astrophysics in spring 2023, she knew she wanted to put what she'd learned into practice through hands-on research.
Her work this summer has included everything from compiling data to writing the code used to analyze it. Adair noted that she's been using a variety of skills: "[Astrophysics] is an interdisciplinary field, requiring knowledge of many STEM subjects."
"The research is truly fascinating and it feels incredible to be able to contribute to something far bigger than myself."
Delaney Adair '26
Major: Astrophysics
Minor: French
Hometown: Burlington, New Jersey
Activities on Campus: S.I.S.T.E.R.S., the College Chamber Singers, NANOGrav research, F&M Players

The results of this research could provide more insight into how the composition of stars changes throughout their lifetime. Adair is excited to be working toward a better understanding of the processes that shape our universe.
"The research is truly fascinating and it feels incredible to be able to contribute to something far bigger than myself," she said.
The work has also helped her clarify her goals for the future.
"Learning from Professor Schmidt has made me realize that I want to pursue a career in academia," Adair said, adding that she is excited by the possibility of one day guiding her own students through the research process.
"The experience has given me a taste of what my career has in store for me, and the work has greatly validated my passion."
Related Articles
December 1, 2023
Faculty Awarded $1 Million in Recent Grants
As F&M students turn the final pages of the fall semester, it's important to also celebrate members of the faculty and professional staff who help create an enriching academic environment.
November 30, 2023
F&M Honors Alumni, Volunteers for Philanthropy, Service and Professional Accomplishment
More than one dozen F&M alumni were recently celebrated for the countless contributions they have made to the College and to their careers and industries.
November 27, 2023
Paleontologist in the Making
Senior Conner Minkowitz's passion for extinct creatures changed when he began studying under a retired Franklin & Marshall College paleontologist.