Williamson Medalist Credits F&M for Discovering Her Passion
Anastasiia Grigoreva is this year's recipient of the Williamson Medal, the College's most prestigious award for student achievement. It has been awarded annually since 1922. She is graduating summa cum laude with a major in cognitive science and a minor in philosophy. She will receive the medal, which has been awarded annually since 1922, at F&M's 2020 Commencement, which has been postponed until Dec. 12 due to the coronavirus pandemic.
Shortly after learning of her selection in early May, Grigoreva answered several questions by email. Some of her answers have been edited for length or clarity.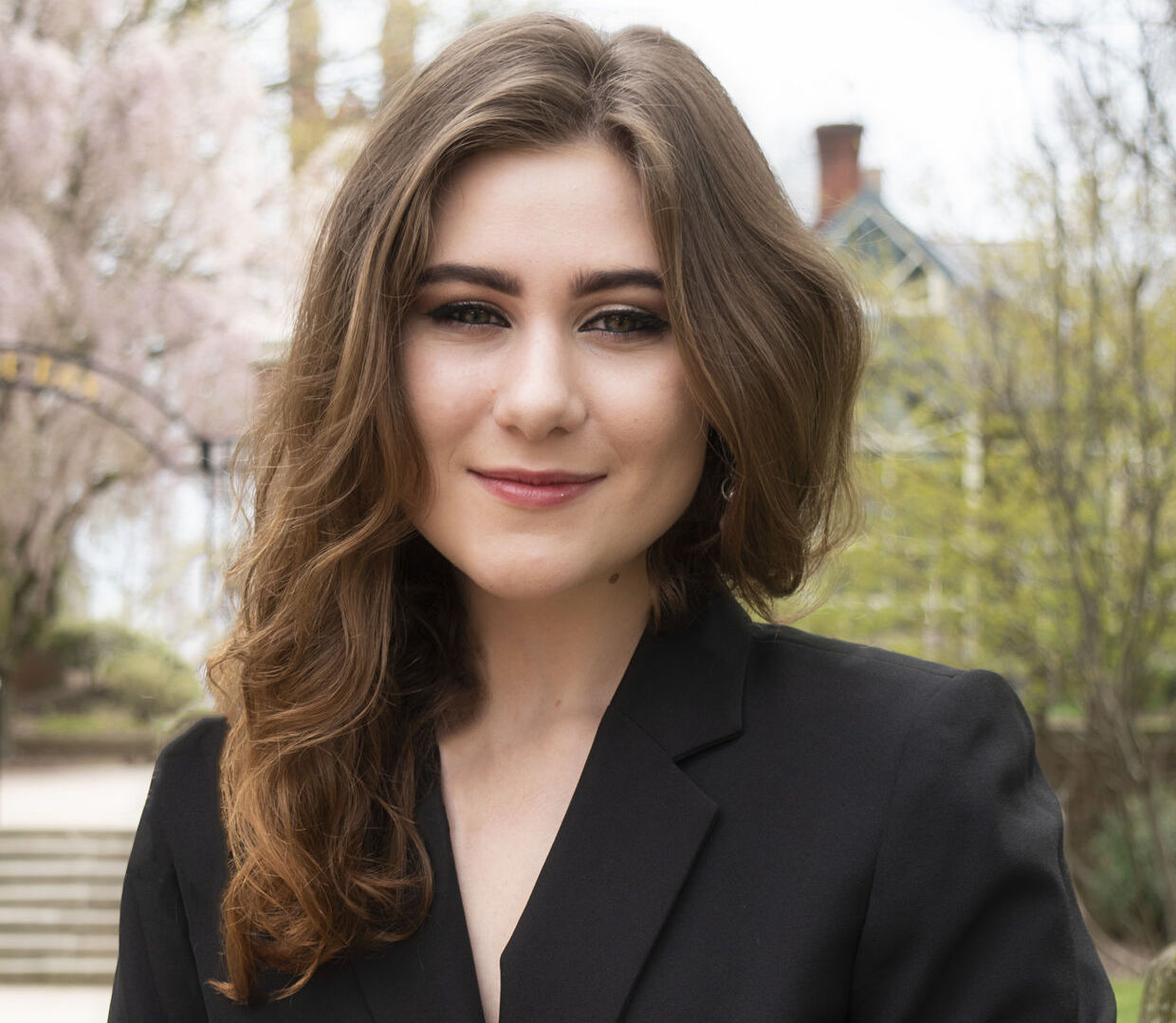 What brought you to Franklin & Marshall?
I come from Penza, a city of more than 500,000 in southwestern Russia. When I was 16, I came to Topeka, Kan., as an exchange student in the Future Leaders Exchange program, a scholarship program of the U.S. State Department. That's where I was introduced to the United States' education system. I enjoy the flexibility that students here have in deciding their course schedules and the way they are exposed to all kinds of career paths. At first, I didn't think about going to college in the U.S. as a realistic option because of the costs; I learned, almost by accident, that some schools offer financial aid to international students. I did some research and applied to 19 colleges that appeared welcoming for international students. F&M was the only school that accepted me.
I have never ceased to feel how lucky I am to be here. That feeling has grown throughout my time at F&M. I have come to appreciate the beauty of the campus and the quality of education—both inside and outside the classroom. I have come to cherish the support and encouragement we get here. Now, I really think the College gave me everything, perhaps most importantly the chance to discover my passion.
What made you decide to major in cognitive science?
I came in thinking I might major in business. When we were choosing our Connections classes, I put "Brain, Mind, and Education" as my first choice. Everything I learned in class with Amy Mulnix (director of the Faculty Center) was fascinating. The following semester, I signed up for more classes relevant to cognitive science and declared my major by the end of the year. I do think I have always been interested in the study of the human mind; I just did not have the conceptual tools to engage with it until I got to F&M. Now I can't conceive of a better way to approach this study than through the multidisciplinary approach of cognitive science.
What was your most memorable class at Franklin & Marshall?
"Concept of a Person" with Bennett Helm (Elijah E. Kresge Professor of Philosophy). I took it last fall; it was a philosophy class that examined what it means to be a person, metaphysically and morally. I was prompted and informed by the texts of great philosophers to think introspectively in new and deeper ways about my life. I had not thought about continuing my education as a graduate student in philosophy; my curriculum was primarily focused on psychology here. But over fall break, I reflected deeply and carefully about my future and I had the revelation that I wanted to pursue philosophy for life.
What was the most rewarding thing about working as a research assistant in the Developing Morals Lab?
I joined the lab right after my first year, working as a summer research assistant, so I was introduced to all stages of developmental psychology research early on. It gave me a head start on my continuing education in psychology and opened doors for me to continue conducting research throughout my college career. I entered the larger academic world through going to conferences and exchanging ideas with other scholars. Perhaps the greatest part was getting to work with Josh Rottman (assistant professor of psychology and scientific and philosophical studies of mind), my research adviser. He has been such an incredible mentor on so many of my projects since then; I presented with him at three professional conferences and co-authored a paper with him and others recently published in the Journal of Experimental Child Psychology. Plus, I've collaborated with other research assistants, many of whom have become my closest friends.
How would you describe your experience as an international student at F&M?
It's been wonderful! Some of my close friends here are international students. It's been invaluable to have people who understand the experience even if we come from very different backgrounds. I think we all are really lucky to have such strong support from the staff in International Student Services, both as it comes to building community and more logistical matters. I could always come in with any question, ranging from an international visa inquiry to the U.S. tax process, and they always had informed answers and helpful suggestions for me.
I know the last several weeks have been hard for you and your classmates. What have you been reflecting about during this time?
I've been missing opportunities for conversations in particular places on campus. I'm sure most of my classmates could name that single place they have missed the most these last two months. For me, it's the Atrium in the Barshinger Life Sciences and Philosophy Building. What I miss most is running into people there and having conversations that would carry you away for more than an hour without you even noticing. I had a lot of those spontaneous, yet meaningful, interactions when I passed through LSP Atrium.
And not to be too melancholy, but I realize how much I miss my family. Due to the pandemic, the earliest I will be able to go home and see them is next summer, which means we'll have been apart for two years. It's a time like this that makes missing your loved ones most salient.
What are your plans after you leave F&M?
I begin graduate school this fall at Georgia State University as part of its interdisciplinary neurophilosophy fellowship program. I haven't taken that many philosophy courses at F&M, so I applied to nine master's programs in philosophy that would provide me with a sufficient background in a range of areas requisite for doctoral program success. This program will encourage me to pay careful attention to the knowledge gathered through empirical research as I dive deeper into my philosophical inquiries. I would love to introduce as many people to philosophy as I can. I also would like to collaborate with thinkers in other areas, perhaps in a think tank, to apply philosophical knowledge to new challenges, such as the ethics of technology.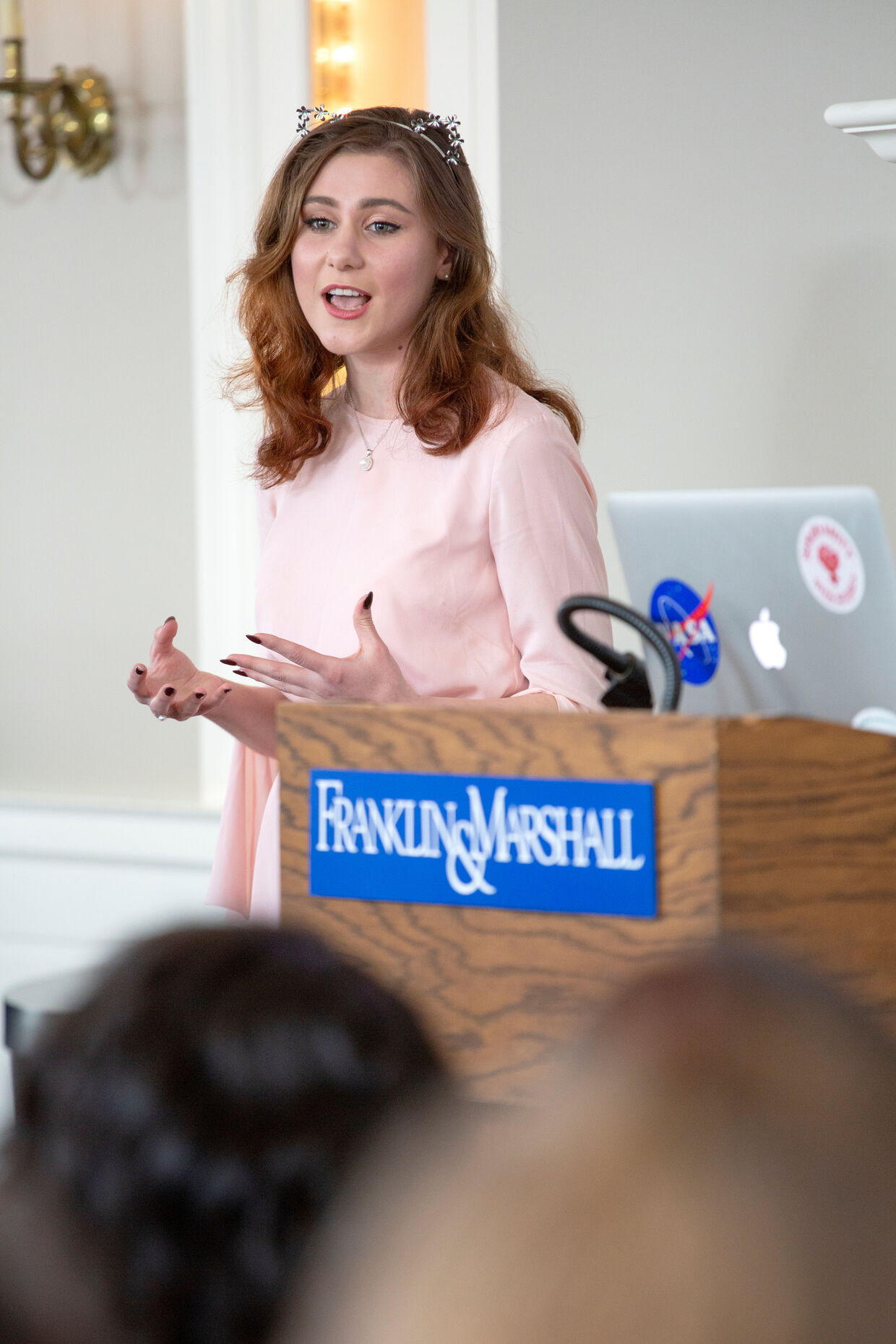 Williamson Medalist Anastasiia Grigoreva '20
Major: Cognitive science (graduating summa cum laude)
Minor: Psychology
Hometown: Penza, Russia
Honors and Awards: Marshall Fellowship (2017), Stanley Craig Memorial Award (2020), Edward S. Reed Prize (2020), Paul L. Whitely Prize (2020), Kenneth H. Brookshire Memorial Prize (2019), among others.
Activities and Memberships: Phi Beta Kappa (2019-20); Phi Sigma Pi national honor fraternity (2018-20), which she served as vice president; Junto Society (2018-20); Black Pyramid Society (2019-20), which she served as president.
Academic Research and Study Abroad: Co-presented at three academic conferences, including those of the Cognitive Development Society and the Society for Philosophy and Psychology. Co-authored paper recently published in the Journal of Experimental Child Psychology. Studied Child Development in a Cultural Context at the Danish Institute for Study Abroad (Copenhagen) and the Semester in Cognitive Science program at Eotvos Lorand University in Budapest, Hungary.
Honors Thesis: Does "No" Mean No if She is a Sex Robot? Assessments of Consent Violation Impermissibility in the Case of Sex Robots"
Reason for Topic: I'm concerned with the larger theme of sexual violence. Technological developments continue in the sex industry and we need to ensure that innovation does not propagate problematic social activities, such as rape. This research is the first step in assessing whether people find non-consensual sex with a sex robot morally impermissible. My aim is to suggest empirically informed ways to approach the ethical and legal decisions involved, including what activities are viewed as acceptable when directed at highly realistic humanoid robots directed by advanced artificial intelligence.
Her Academic Advisers Say:
"Anastasiia has a broad, deep appreciation of the richness of human life—its emotional depth, its range of personal and cultural meaning, and its embeddedness within particular cultures—and of the complexity of human relationships and their moral entanglements. This appreciation informs her academic work in ways that allow her to redirect lines of inquiry in sometimes surprising and always fruitful directions; it is also displayed in the way she lives her life and the relationships she cultivates with others. She is a truly gifted philosopher and a marvelous person."
Bennett Helm, Elijah E. Kresge Professor of Philosophy
"Anastasiia is an exceptional student with an impeccable intellect—but what impresses me most about her is not the quality of her thinking and writing, but rather her unwavering positive energy and her deep resolve to seize every possible opportunity. Anastasiia has emerged as a true collaborator and she has been a consistent exemplar of humility and generosity."
Josh Rottman, assistant professor of psychology and scientific and philosophical studies of mind
Related Articles
December 1, 2023
Faculty Awarded $1 Million in Recent Grants
As F&M students turn the final pages of the fall semester, it's important to also celebrate members of the faculty and professional staff who help create an enriching academic environment.
November 30, 2023
F&M Honors Alumni, Volunteers for Philanthropy, Service and Professional Accomplishment
More than one dozen F&M alumni were recently celebrated for the countless contributions they have made to the College and to their careers and industries.
November 27, 2023
Paleontologist in the Making
Senior Conner Minkowitz's passion for extinct creatures changed when he began studying under a retired Franklin & Marshall College paleontologist.