Williamson Medalist Praises Professors, Peers for Inspiration, Support
Hailan Yu, of Beijing, China, is this year's recipient of the Williamson Medal, the College's most prestigious award for student achievement. It has been awarded annually since 1922. She graduated summa cum laude, majoring in biochemistry and molecular biology and minoring in psychology. She received the medal at Franklin & Marshall's 2022 Commencement May 14.
Were you surprised when you learned you were receiving the Williamson Medal?
I was very surprised when President Altmann told me. Throughout my four years here, I have been consistently impressed by how thoughtful, creative, ambitious and caring my classmates are. Several of them are my role models—they showed me how to be a good leader. I'm extremely humbled by this award; I will try my best to live up to the expectations.
What brought you to Franklin & Marshall?
I first heard about F&M during my last year in high school. I knew I was looking for a small school, so I could form close connections with faculty and peers, and one that was strong in biology and chemistry, my academic interests. My counselor told me F&M would be a good fit, so I opened the website and quickly got the impression that this is a beautiful, peaceful campus where I could focus on studying and improving myself for four years. Those four years have proven that I made the right decision; I will miss F&M a lot after I graduate.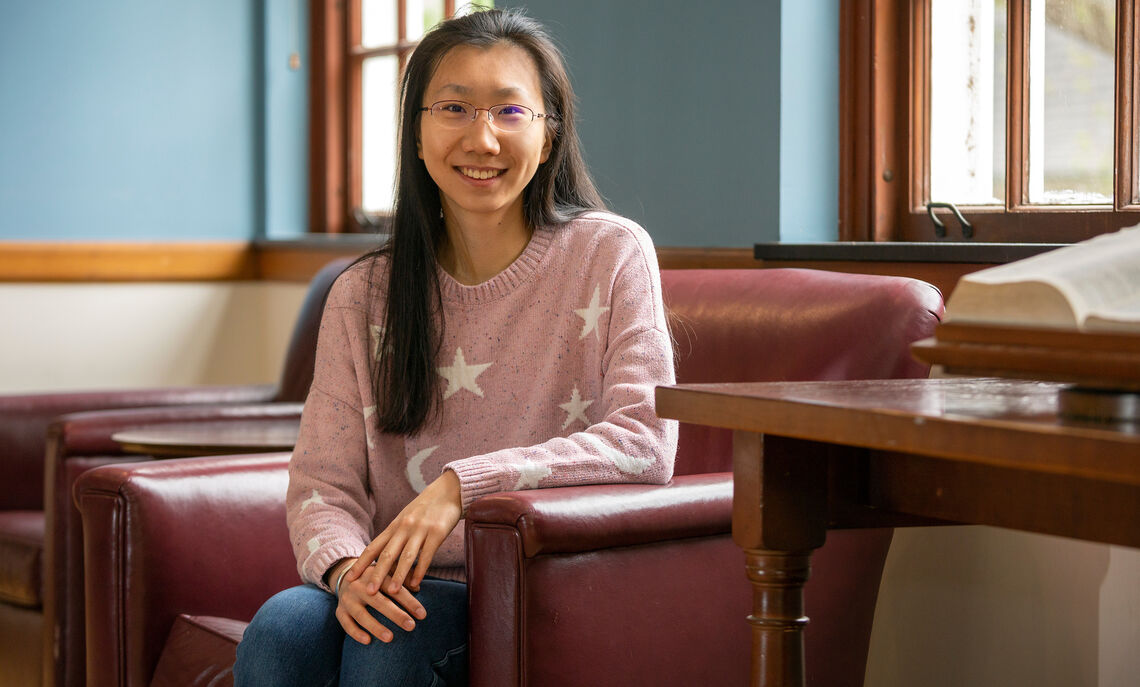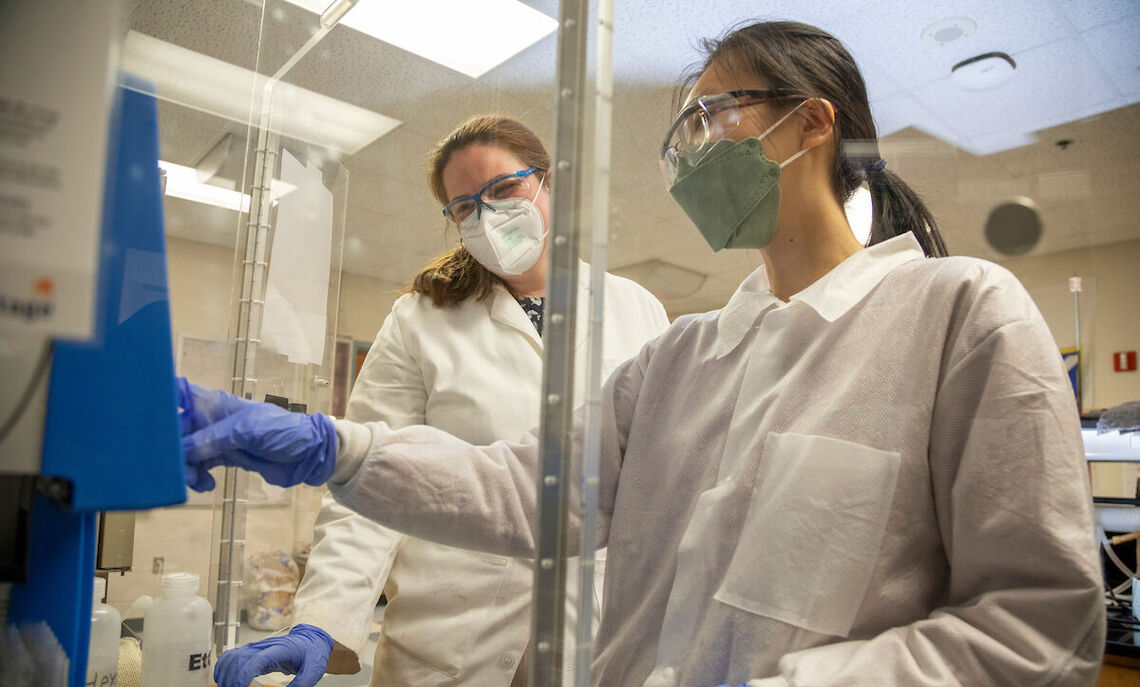 Why did you decide on your combination of major and minor?
I made the decision about my major my sophomore year; it perfectly combined my interest in both biology and chemistry. I wasn't considering getting a minor; I was thinking about graduating a year early instead. However, COVID came, and that meant I was going to need to stay for another year, but it also gave me the opportunity to take some extra classes, so I decided to declare a minor. I considered music, but I've been studying music for a while and wanted to try something new, so I chose psychology. Coming to the United States from China was a big cultural transition. It forced me to think about my identity and the differences between my cultural background and those of others, and how I can form true friendships across cultures. Taking psychology courses helped me answer those questions.
What was your most memorable class at F&M?
"Cross-Cultural Psychology" with Professor Michael Penn. I minored in psychology because I wanted to learn more about how cultural backgrounds shape people's worldviews, and whether there are universal traits strong enough to bond people across cultures. This course was designed to answer those questions, and I completed it more aware of how Chinese culture has shaped my identity and more open about opinions and values significantly different than mine. I've learned that people often think that their values are universal truths accepted by all, causing many interpersonal and cross-cultural conflicts. Diversity allows us to perfect our own worldviews by encountering alternatives to the perspectives we've never questioned. I am so grateful that I had the chance to learn more about myself and others in this class. As F&M students, it's wonderful that we can take inspiring classes like this.
What did you enjoy the most about being a student at Franklin & Marshall?
I enjoyed so many things about being an F&M student, but the conversations I had with my professors top the list. Professors here prioritize student development. Many of them have an open-door policy, and I have never been turned down when I wanted to meet with them, no matter how busy they are. I have talked with my professors for hours—about coursework, research, career development, graduate school applications, my fears and worries, my hopes and dreams. Without them, I never would have become who I am today.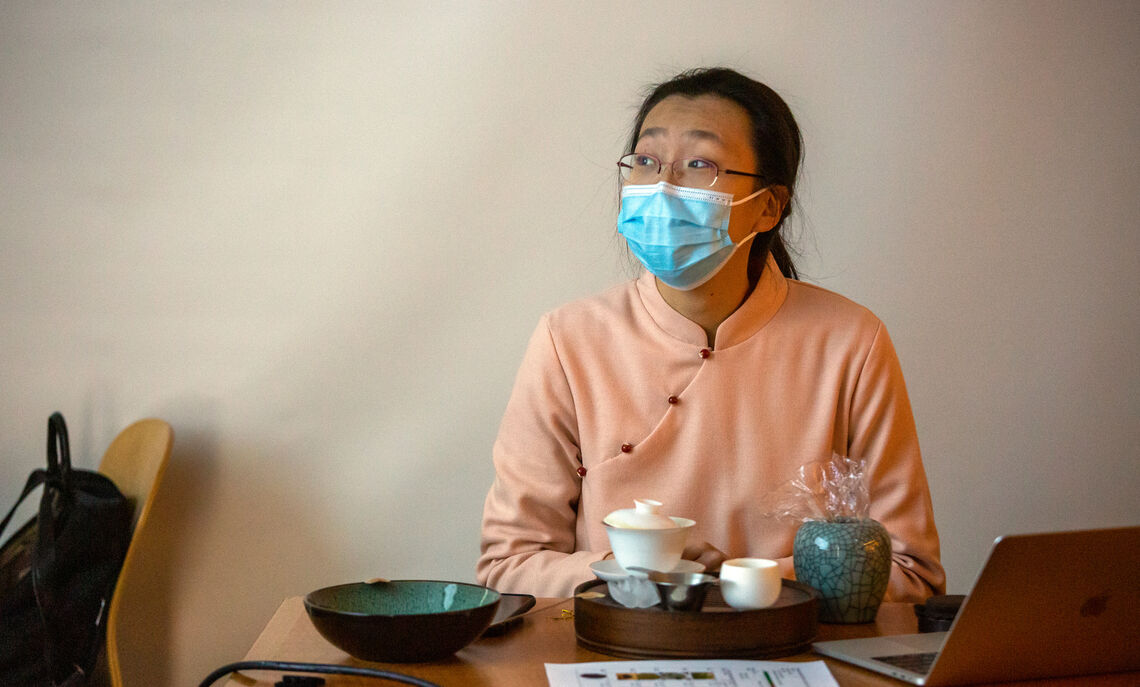 If you had to choose one F&M student activity as your most rewarding, what would it be?
Hosting the Lunar New Year celebration with other executive board members of the Asian Cultural Society. It allowed us to create a platform to share our culture with others. It was very rewarding, especially when people came to me after the event to tell me they had learned something new. It made me feel that I was contributing to better cross-cultural communication.
Tell me about your honors thesis. How did you get interested in this topic?
My honors thesis is on the total synthesis and antibacterial activities of holomycin derivatives. The project combines organic chemistry (particularly organic synthesis) and chemical biology (specifically the activity of the compounds synthesized against bacteria). I've long been interested in studying biological questions related to human health. Antibiotic resistance has become a leading cause of death, and this project could contribute to addressing antimicrobial resistance. I became interested in organic synthesis after taking the course, "Total Synthesis of Natural Products," taught by Professor Sarah Tasker. I was deeply impressed by the creativity and perseverance of scientists who successfully synthesized various complex natural products, and was inspired to harness the infinite potential of organic synthesis to make compounds that are useful for addressing human health-related problems.
You were accepted into five graduate-school programs! How did you decide to attend the California Institute of Technology?
When I visited Caltech, I was impressed by the cutting-edge research there, the friendliness of the people I met and the overall collaborative environment. It's of similar size to F&M. I really enjoyed living in this closely connected community over the past four years, so I would like to continue working in a similar environment. Also, I heard positive comments from professors who went to Caltech for their doctorate.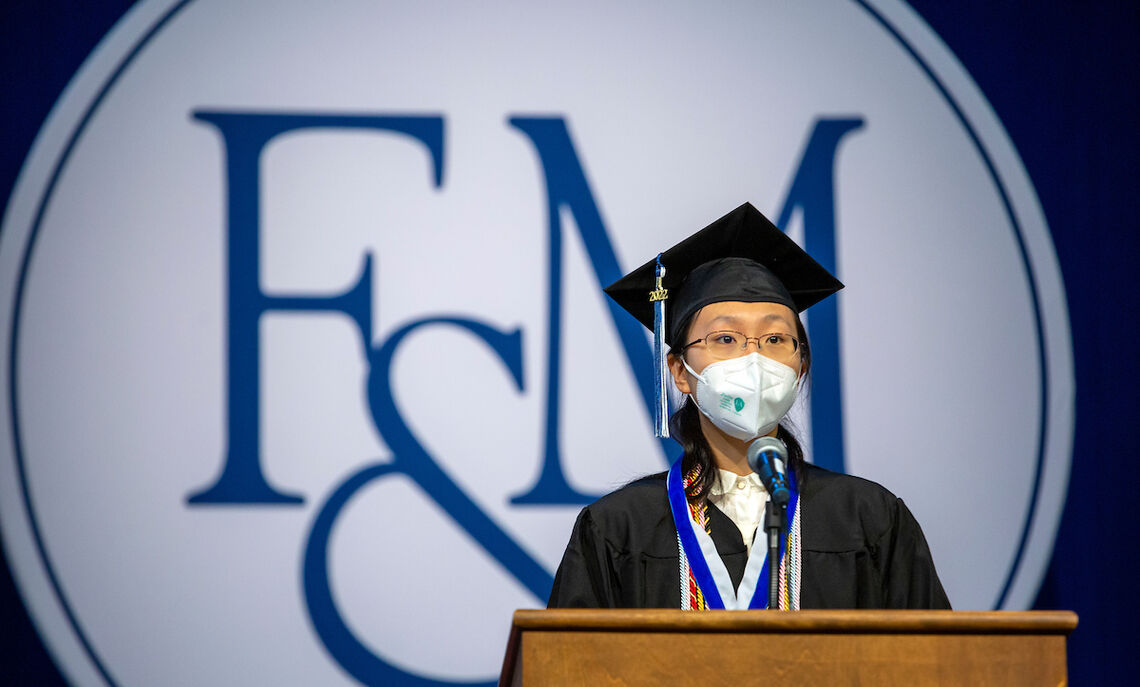 How has the pandemic affected you and your studies at F&M? What have you learned about yourself since March 2020?
Because of the pandemic, I haven't been home or seen my family in person for more than two years. That has made me more independent. I gradually learned how to cook, how to make important decisions, and how to take care of myself. However, being away from home also means I couldn't do anything for my family, the people I'm indebted to the most, which I feel terribly sorry about. This experience has taught me to treasure the simple, common things in my life—being able to see my family easily tops that list.
If you could give one piece of advice to the students who will start attending F&M this fall, what would that be?
College is the perfect time to explore what you are truly interested in. The stakes are low and the opportunities are infinite. At F&M, you don't have to decide your major until the second semester of your sophomore year. Take advantage of the various courses and activities offered here to test out what you want to do for your career. If you're unsure what opportunities are available, reach out to your professors. They will be more than happy to help!
"College is the perfect time to explore what you are truly interested in. The stakes are low and the opportunities are infinite."
Related Articles
December 1, 2023
Faculty Awarded $1 Million in Recent Grants
As F&M students turn the final pages of the fall semester, it's important to also celebrate members of the faculty and professional staff who help create an enriching academic environment.
November 7, 2023
Post-Soviet Memories Shaped Professor's Path
F&M Professor of Economics Yeva Nersisyan was just a child in Armenia when the Soviet Union collapsed, but the following turmoil shaped her life's work. She'll discuss Modern Money Theory at a Nov. 9 Common Hour lecture.
November 2, 2023
Career Boot Camp Helps Future Grads Find Footing
Meet two seniors preparing for life after college. Within six months after graduation, 95% of F&M's 2022 graduates were either employed or continuing their education.