Alone Together: Kayla Mejia Found the Community She Was Searching For
The pandemic that began in 2020 changed the world, college campuses and how students respond and adapt to the challenges that lockdowns, Zoom classes and hybrid classes presented. In this ongoing series, Franklin & Marshall students discuss their experiences over the last 19 months.
Name: Kayla Mejia (she/her)
Class Year: 2024
Major (or intended major): I intend to complete a joint major in film and theatre
What town do you call home?: Fort Lauderdale, Fla.
Activities at F&M: Weis House adviser, Kappa Delta sorority, assistant stage manager for F&M theatre, club volleyball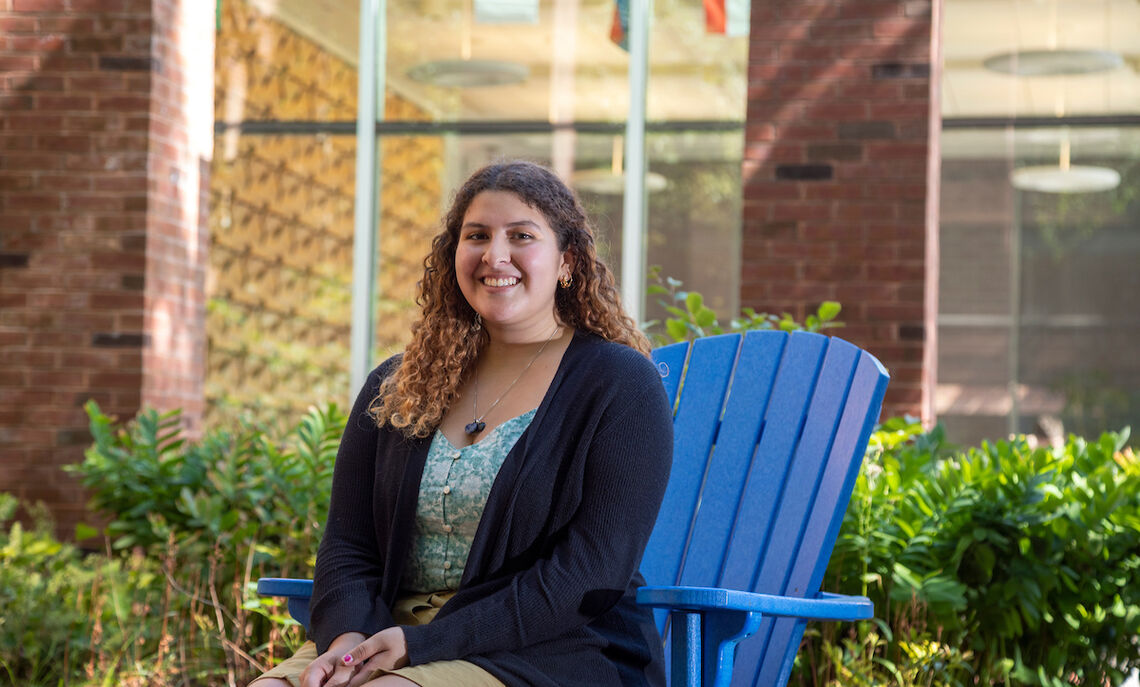 Tell us about your last year at F&M:
Since I was a first-year student last year, my experience was a little unconventional. Coming from Florida, I had to stay in quarantine longer than other students on campus. Despite feeling isolated initially, I really found myself connecting with students and professors easily. Everyone from F&M created a welcoming environment that pushed myself to get involved immediately in clubs and organizations. From working on a live theatre production to attending house activities, I felt the community I was searching for when I heard of F&M.
What did you find challenging?
Being on campus for the fall semester was an amazing experience. However, leaving it was difficult. The transition coming back home felt odd. I had just experienced meeting new people and being busy constantly. I came home to completely online courses with little social interaction with my newfound friends as I was thousands of miles away. It was nice to spend time with family, but you certainly miss the independence of being on your own.
What did you find rewarding?
Last school year, I appreciated the ways I connected with others in my living vicinity. I took pride in the little moments with friends and attending the events that we could. Getting to know the Lancaster area was certainly something I enjoyed venturing out for. The most rewarding part about finding a community here last year was establishing the student-professor dynamic. The professors treated me with the utmost respect and genuinely cared about my well-being in and out of the classroom.
What are you looking forward to this year?
I am excited for in-person events and programming, especially with the use of indoor facilities. Having access to all the buildings this year feels like you are using an untapped power. I am especially excited for the live art showcases and theatre productions that will take place this year.
What challenges do you foresee this year?
What makes me slightly nervous about this year is the task to manage my time accordingly. I feel as if this was not quite an issue last year due to a limited virtual capacity.
Have you found a place on campus that is meaningful to you?
Weis common area — where I met my first friends
2nd floor of Blueline — beautiful view of campus
What advice do you have for other sophomores like you?
Always be proactive. Take advantage of all the opportunities F&M can give you.
"From working on a live theatre production to attending house activities, I felt the community I was searching for when I heard of F&M."
– Kayla Mejia

Related Articles
November 21, 2023
60 Years After JFK's Death, Alumni Author Finds Missing Link
Was the star of NASA's first female astronaut program linked to the assassination of JFK? "A Woman I Know," by filmmaker turned author Mary Haverstick '82, searches for the truth.
September 21, 2023
Exploring Theater as a Tool for Social Change, Education, and Awareness
Aviva Katz '24, a government and theatre joint major, discusses how F&M's Diversity and Equality in Education Certificate is helping her along her path toward a career in educational theater.
September 7, 2023
Microgrants Fund Student Passion Projects
Writers House microgrants enabled six F&M students to explore passion projects aligned with their fields of study this summer.