Always Handle Reptiles With Care
A research project to evaluate whether positive human interactions could improve the welfare of leopard geckos led to questions in Franklin & Marshall College's Biological Foundations of Behavior program about how to handle the creatures without causing them stress.
"Reptiles are used heavily in scientific studies, but are often misunderstood compared to their mammalian counterparts," Professor of Psychology Meredith Bashaw said.
Junior animal behavior major Stephany Casola is part of a three-member student research team who through the Hackman Endowment Fund is working with Bashaw, chair of the program, on answers to those questions.
"I would look for information regarding how the reptiles were handled in the study as well as the results they were able to report on," Casola said. "This information was then placed in a database that Professor Bashaw created with the information we gathered from all the sources."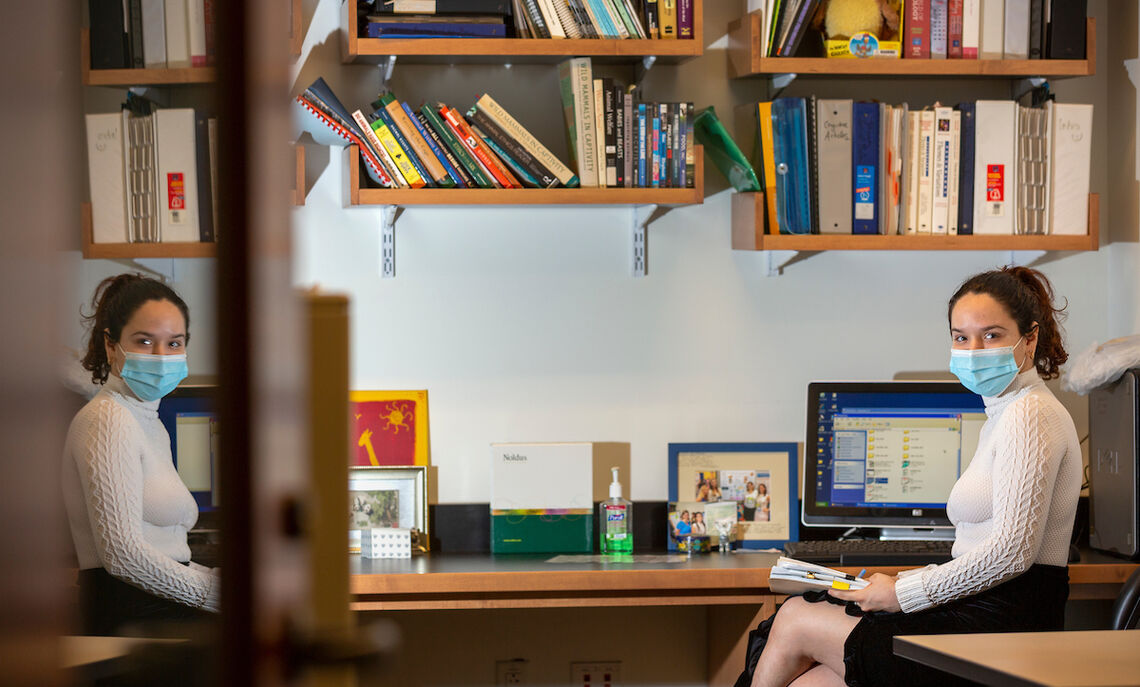 To analyze and interpret the handling techniques most effective at eliciting stress, Bashaw said the research team found 253 studies on a variety of reptiles and conditions that could potentially affect their results, such as whether the reptiles in question were born captive or caught wild.
"What we found in the literature was that some studies concluded that handling reptiles was always stressful for them, while other studies concluded that reptiles were not stressed by handling and may even have enjoyed it," the professor said.
However, after sifting through the studies, they determined that handling "may not be the best determinant of stress responses, but we did find that animals that were enclosed were more likely to have a stress response unless they were being transported," Casola said.
Bashaw agreed. "Reptiles who were enclosed and left alone were more likely to be stressed and reptiles who were enclosed and moved were less likely to be stressed," she said.
For Casola, who is considering conservation to help endangered animal species, her two summers working on research with Bashaw was an enlightening experience.
"I truly consider her such an amazing mentor," Casola said. "I was able to learn more about reptiles and their physiology as well as the other forms of research. I think it's really important to combat the negative effects that humans have had on the world and the animals in it."
Related Articles
October 10, 2023
Sophomore Explores Animal Behavior and Builds Alumni Connections at Bergen County Zoo
Sophomore Lauren Velazquez spent her summer learning about animal behavior and connecting with F&M alumni during an internship at the Bergen County Zoo in New Jersey.
August 21, 2023
Genesis Familia: Raising Others Through Philanthropy
For most, home is the place where they are raised. For Genesis Familia, it is also the place to give back by raising others. This summer, the Posse Scholar returned to New York City for an internship with Bloomberg Philanthropies in human resources and management. In addition to her overseeing managerial duties, Familia also contributed to hands-on philanthropic efforts.
July 10, 2023
Child-Robot Research Merges Psychology and Technology
Learn how F&M students conducted an interdisciplinary graduate-level study and gained valuable insights into the future of education.