Visiting Lancaster? See Our Students' Favorite Spots
Visiting Franklin & Marshall College this summer? Check out this list of places to visit, curated by our very own students! The suggestions below are just the start – most are a short walk from campus. For maps and more fun things to do, see our F&M Visitors page.
For more suggestions – including a comprehensive restaurant list – check out our spring edition of student favorites.

Book Shops
401 W. Lemon St.
"Walking or biking to local businesses to buy life's necessities (including good reading material) and to experience music, art and performance are prospects unique to city living. DogStar Books seeks to be part of that revitalization as an excellent bookstore and as a gathering place for the neighborhood." - DogStar
903 Wheatland Ave.
Opened in 2022, this new neighborhood bookstore is just blocks from campus and has an eclectic, indie charm.
23 N. Prince St.
"A super cozy bookstore and incredible staff!" - Muna Sultana '24

Coffee Shops
237 N. Prince St.
"Open seven days a week, Endo Cafe is a small, bike-themed coffee shop in downtown Lancaster. The shop has a large selection of great coffee, tea, pastries and plenty of seasonal drinks. The cafe offers an open and inviting atmosphere to spend time and relax. The cafe is a great place to study, get off campus for a while, hang out with friends and enjoy great food and drinks." - Julie McFadden '23
29 E King St.
"New Holland Coffee Co. is a downtown cafe that offers good food and great coffee that's perfect for a breakfast or lunch. It also offers a calming atmosphere that is great for getting work done, which attracts numerous students. The cafe is small and aesthetic, and offers cute seating and decor as well." - Maddie Bickel '23
7 W. King St.
"I love the aesthetic of Passenger Coffee to get some work done and feel productive! They have great coffee and generally have a low noise level, making it a perfect spot for any college student!" - Muna Sultana '24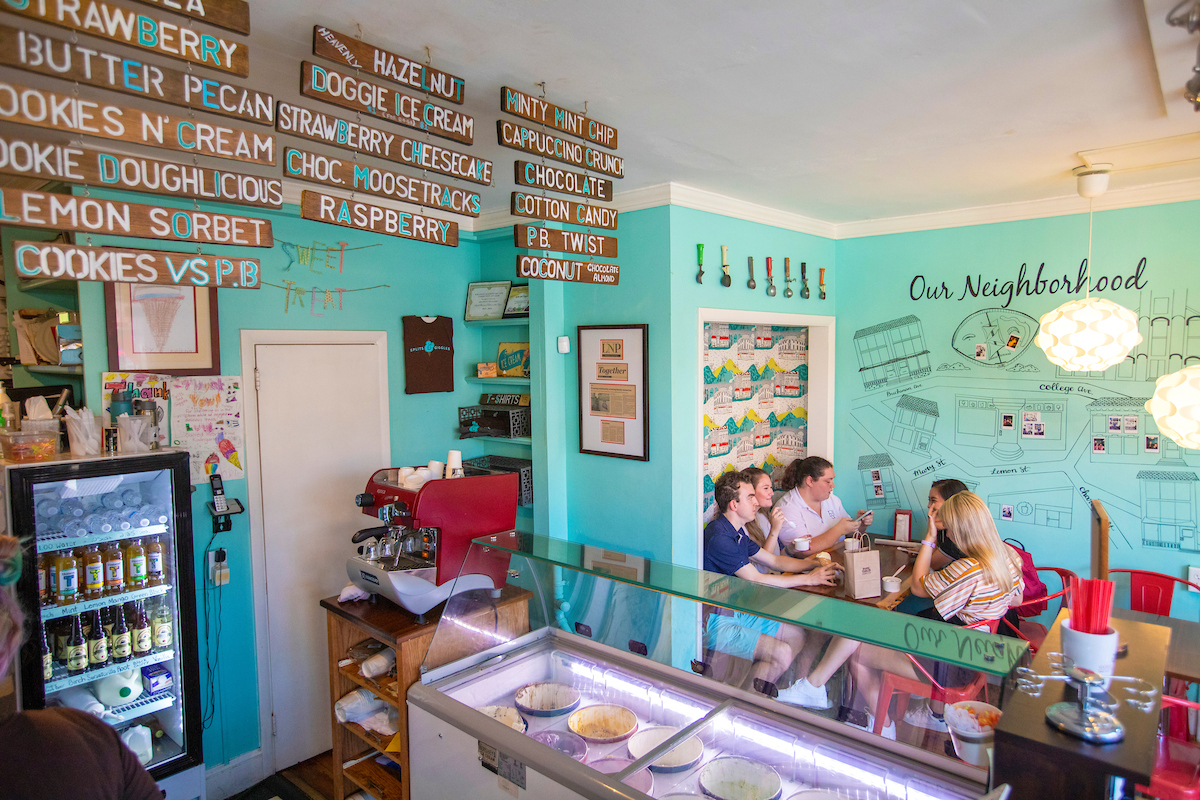 Ice Cream
2225 New Danville Pike
"Pine View Dairy is one of the best ways to connect to local Lancaster and agricultural societies. Pine View offers some of the best ice cream that I've had to date, while also allowing me to pet baby cows and see how a dairy farm runs. This is one of my favorite places to go as the weather gets nicer. Not only is it great ice cream, but it's a fun drive through scenic Lancaster farm country to get there." - Bennett Wasch '23
24 E. Orange St.
"A fantastic family-friendly spot downtown that has some of the best ice cream in Lancaster!" - Ann Medina '22
500 W. Lemon St.
"Splits and Giggles is an ice cream shop only about a 10-minute walk from campus. Whenever I need a study break, some fresh air, and of course, some amazing ice cream, my roommates and I walk over and sit outside on their little patio. They even have a vegan ice cream! Splits and Giggles will always remind me of warm fall nights, good friends, and my college town I will treasure forever." - Camryn Parsons '23

Farmers Markets
23 N. Market St.
"Central Market is a true gem of Lancaster. It is the best place to get fresh and locally sourced produce, flowers, coffee, sandwiches, baked goods and more. Market is affordable, unique, and a great way to support small businesses in Lancaster. Only a 15- to 20-minute walk from campus, it's a must-do experience, especially in the warmer months." - Liz Joslin '24
100 S. Queen St.
Reopened in January 2022, Southern Market has triumphantly returned to prominence as a marketplace and community hub. Its centerpiece is an international food hall and bar, along with coworking space, retail and community rooms.

Outdoor Activities
880 Chickies Hill Road (Columbia)
"On warmer days, I love to head to Chickies Rock with my friends. It's a short drive from campus and a small hike with a beautiful view. Great spot to catch the last bit of light before the sun goes down." - Darbie Klopp '23
See photos from a recent student trip to Chickies Rock.
Lancaster Barnstormers Baseball
650 N. Prince St.
"One of my favorite activities to do in Lancaster is to watch the Barnstormers! It is the perfect activity to do with a group of friends when it is nice outside. The tickets are very reasonable and the stadium is close to campus. Many interactive activities make the games very entertaining. They also have a lot of great food options!" - Sarah Delaney '23
1050 Rockford Road
Just four miles away from F&M, Lancaster County Central Park offers 544 acres for hiking, biking and horseback riding.
1402-1447 Vermont Ave.
Just one mile from campus, the 50-acre Spalding Conservancy has been used in F&M coursework and research since the 1980s. This urban conservancy serves as a natural laboratory for students and local environmental groups.
Related Articles
October 31, 2023
True Blue Weekend Marks Milestones
An estimated 2,100 students, parents and alumni filled Franklin & Marshall's campus Oct. 27-29 for True Blue Weekend. The annual Homecoming and Family Weekend offered something for members of every generation.
October 27, 2023
F&M Alumni Contribute to Thriving Community in Lancaster
This week, F&M alumni are returning to campus for True Blue Weekend, and some won't have far to travel. Many Diplomats choose to stay in Lancaster after graduating or move back after living elsewhere, thanks to the city's strong community and career opportunities. F&M alumni are eager to give back to Lancaster through careers in public service or by volunteering with local nonprofits.
October 12, 2023
Students List Favorite Fall Traditions
Autumn marks the commencement of countless campus traditions at F&M. Check out this list of fall favorites, curated by our very own students!