Sandra Cisneros, a dual citizen of the United States and Mexico and a noted author and activist, chose a different way to discuss the immigration question during her recent visit to Franklin & Marshall. She read at great length from interviews she had conducted with many people for her latest project with their ideas about how to break the national impasse on immigration policy.
"I talked to politicians, business leaders, academics, housewives and farm workers," she said. "I talked to U.S. citizens, legal immigrants, undocumented immigrants. Everyone had a story to tell."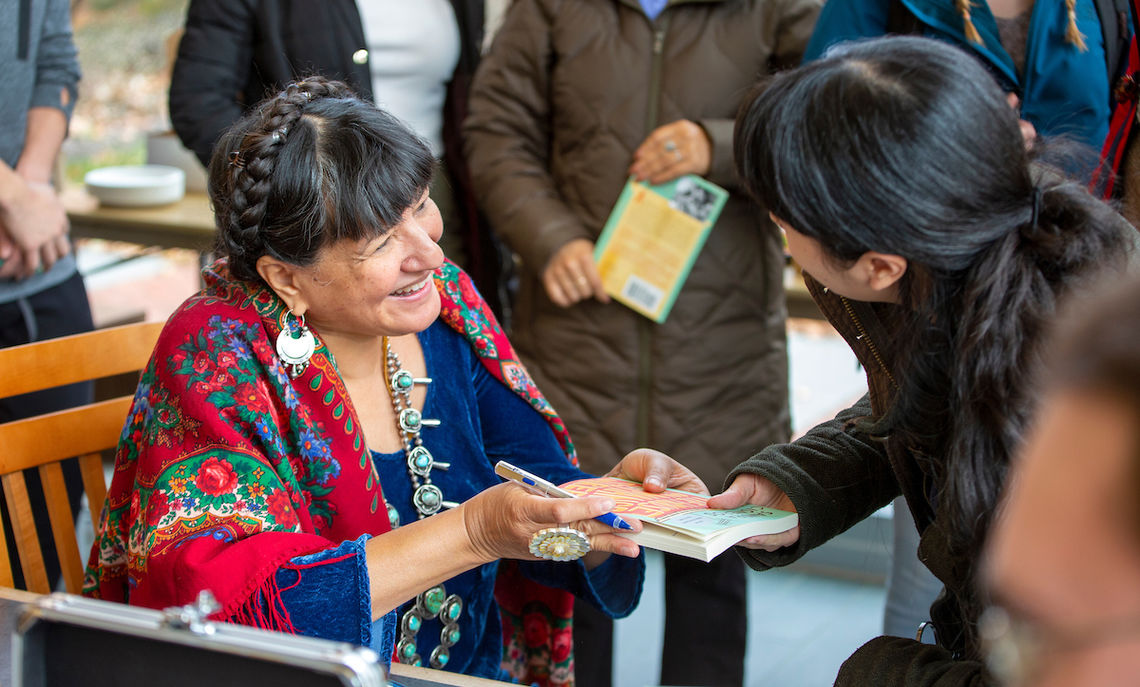 Sandra Cisneros, author of " River of Voices: Documenting the Undocumented," met with students during a book-signing reception after the Nov. 14 Common Hour. Image Credit: Deb Grove
Cisneros discussed "A River of Voices: Documenting the Undocumented" at the College's Nov. 14 Common Hour, a community conversation scheduled every Thursday classes are in session. She has written novels, short stories, poems and a children's book, and has won numerous awards, including a MacArthur Fellowship and National Endowment for the Arts fellowships in both poetry and fiction. She earned the National Medal of the Arts in 2016 and most recently, the Ford Foundation's Art of Change Fellowship.
Cisneros spent two days on F&M's campus as this year's Mueller Fellow. The Mueller Fellowship Endowment was established in 1980 by the Mueller family to bring distinguished national speakers to F&M to participate in conversations with the campus community. Past Mueller fellows include Kareem Abdul-Jabbar, legendary NBA player, author and activist; Amory Lovins, physicist and environmental activist; and Sharmeen Obaid-Chinoy, Academy Award-winning Pakistani documentary filmmaker.
At the end of her address, Cisneros received a standing ovation from the large crowd at Mayser Gymnasium. "I accept your applause on behalf of all the people whose stories I am privileged to tell," she said.