National Internship Brings Two F&M Students to Nation's Capitol
In a two-story building along a busy, tree-lined avenue in Washington, D.C., volunteers for Martha's Table are preparing food for the hungry and homeless. But in the same building, Jaquelin Salg and another intern are working on a different project— telling the story of the nonprofit organization and its people.
"We basically go around conducting interviews with staff and volunteers," said the Franklin & Marshall College senior. "We collect stories about the work that they do here, and their experience working at Martha's Table."
A few blocks away at the World Wildlife Fund's U.S. headquarters, F&M junior Emmanuel Oyalabu works in the Climate Change Department, where he researches, writes articles, posts on social media and advocates for the program, Climatico.
"The mission of Climatico is to educate Latino-Americans about the effects of climate change and how it affects their health," Oyalabu said.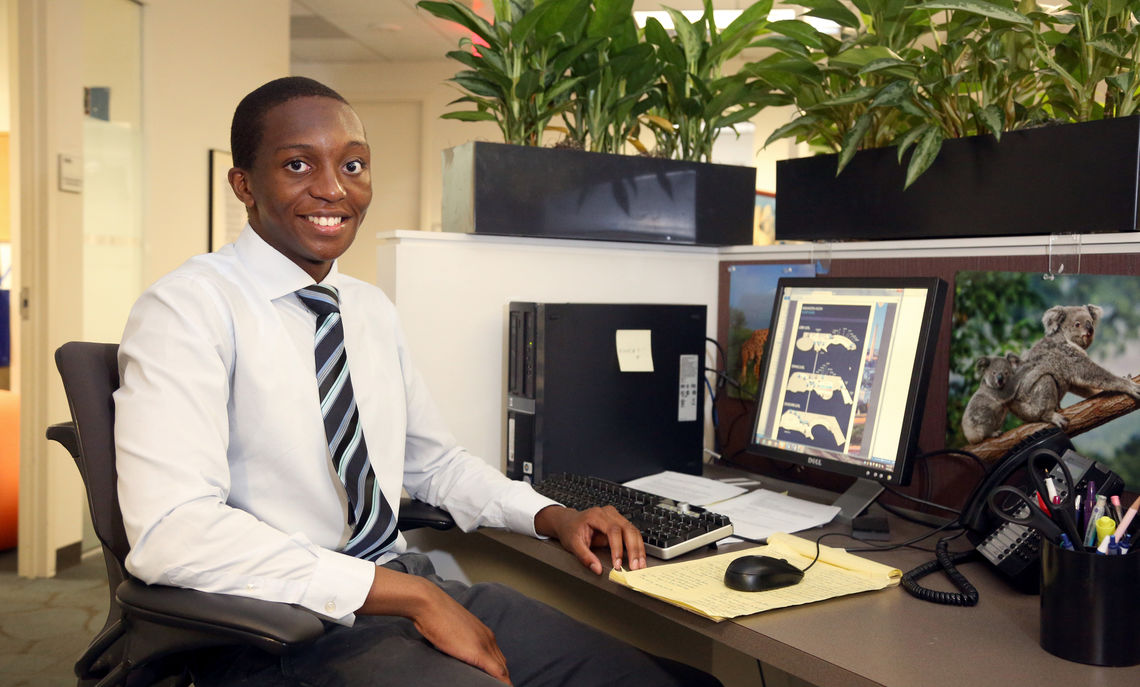 The two students, nominated by their academic advisers, were selected earlier this year for the prestigious Frank Karel Fellowship in Public Interest Communications. They were placed for eight weeks this summer at the two nonprofit organizations to learn how communications tactics and campaigns are used to advance issues of social justice.
"These students are what our country and our planet would wish for in our dreams," Andy Burness, chair of the Karel Fellowship advisory committee, said of the entire 2016 fellowship class. "They are talented, passionate, hardworking and eager to learn. We are particularly thrilled that they have chosen to devote their energies to the public-interest communications field, as this evolving profession needs more diverse change agents committed to social justice in our communities, our nation and the world."
Karel, who died in 2009, pioneered the field of strategic communications in philanthropy during his 30 years as chief communications officer for the Rockefeller and Robert Wood Johnson foundations. According to the foundations, Karel believed racial and ethnic minorities were underrepresented in the field.
Oyalabu, a public health major who plans to study medicine after he graduates from F&M, also hosts WWF forums on a wide array of topics, including droughts, global warming, deforestation and public health. He said the forums coincide with the work he wants to do one day as a doctor.
"I plan to work with underserved populations where there may not be a surplus of doctors," he said. "The internship gives me firsthand experience working with the Latino-American and Hispanic populations, but also shows me how to communicate with these communities. Communication is the first way to be able to advance your specific message."
Last year, Oyalabu volunteered at a hospital in Queens, N.Y., where he worked as an interpreter for Spanish-speaking patients. He said he discovered he "had a great affinity for working with people."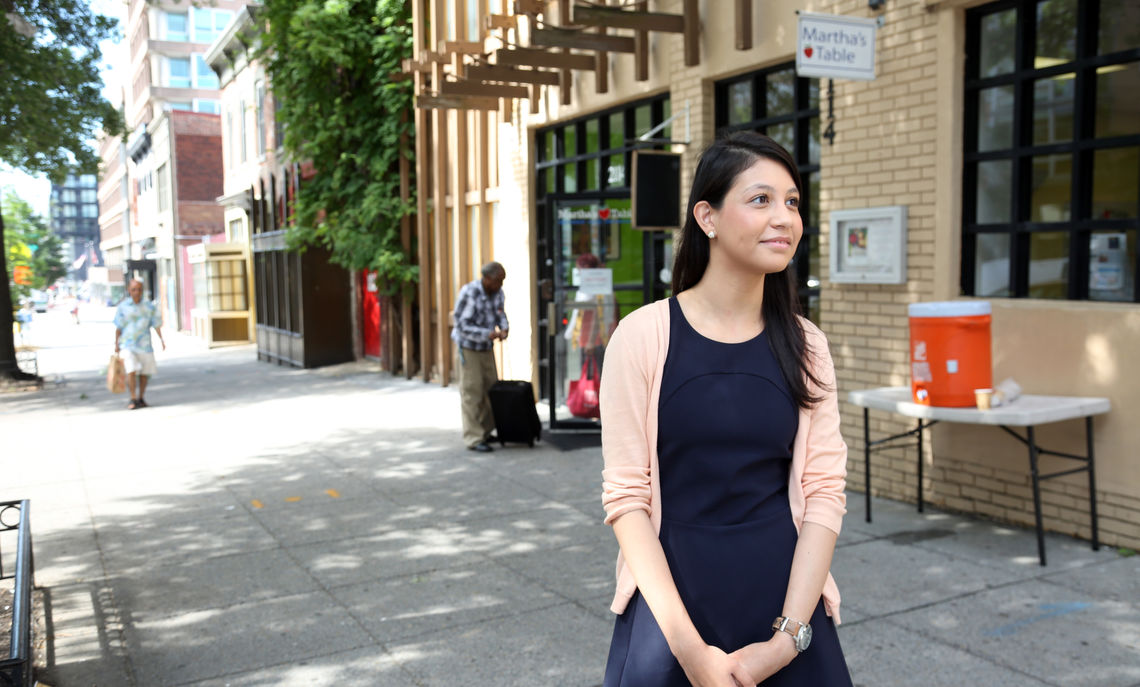 At Martha's Table, Salg edits the stories her fellow intern wrote from their interviews. The stories are used in newsletters, annual reports, the nonprofit's website and social media. She also takes pictures at events and creates captions for them, which the communications team uses for social media. She recently shot photos for a fashion show, then used them for a blog post she wrote for the Martha's Table website. She also works promoting sandwich donations.
"The 'Spread the Love' campaign is about asking people to make and donate peanut butter and jelly sandwiches to Martha's Table," Salg said. "I've been tasked with making a 'Spread-the-Love-sandwich-making tool kit,' to make donating a fun thing like having a sandwich-making party."
As an American Studies and sociology double major who also takes business, organization and society courses, Salg is pleased with her internship experience.
"Obviously, I have a wide variety of interests," she said. "I really like communications and I especially like public-interest communications, so I hope in the future to be doing more of that."
Related Articles
October 20, 2023
Wrestler Pins Post-Grad Career Thanks to F&M Mentor
Wrestling captain Noah Fox excels on and off the mat, thanks in part to guidance from his True Blue mentor. "This program has helped me jump-start my career and secure my dream job as a software engineer," Fox said.
October 10, 2023
Sophomore Explores Animal Behavior and Builds Alumni Connections at Bergen County Zoo
Sophomore Lauren Velazquez spent her summer learning about animal behavior and connecting with F&M alumni during an internship at the Bergen County Zoo in New Jersey.
October 6, 2023
Sociology Student Takes Action Against Human Trafficking
Sophomore Gubat Abdullaev spent the summer in Sweden researching the human-trafficking industry and presenting his findings to the Danish Institute for Study Abroad.